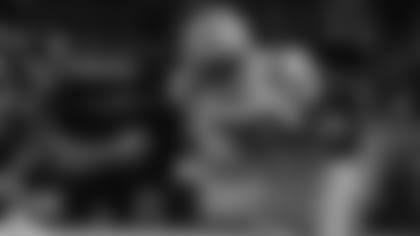 WR James Jones
GREEN BAY—The larger than usual number of pending free agents, on what still remains a fairly young Packers team, raises an interesting question.
Is there a greater chance this year than in years past that the Packers might bring back more of their seasoned veterans – players already beyond their second contracts, who won't be as expensive as those players with expiring rookie deals – because too large an exodus of free agents would create a leadership void in the locker room?
Receiver James Jones is one of those pending free agents, heading into his eighth season, but he doesn't believe leadership will play a major role in the front office's decision-making.
"There are a lot of leaders in this room," Jones said during the final open locker room session with the media earlier this week. "Randall (Cobb) is a leader. He's been here for three years. You can't just point out one or two leaders in the locker room just because they're older. A lot of young guys lead. I don't think that's going to play a part.
"We've got a real good locker room here. Everybody loves each other, everybody works hard, fights for each other. I don't think that's going to be an issue."
Jones said several times he'd like to return to the Packers and continue catching passes from Aaron Rodgers, but he doesn't know how it will shake out. Free agency will be very different for him this time around. Three years ago, he became a free agent for the first time during the lockout. In the short-term signing frenzy after the lockout ended, few receivers other than Santonio Holmes found a strong market for their services.
Back then, Jones had also just completed a season in which he won a Super Bowl ring but was criticized for a handful of high-profile dropped passes during the Packers' late-season run. Since then, though, he led the league in TD receptions in 2012, with 14, and he set a career high for receiving yards this past season, with 817.
"I made some more plays; people know what I can do," said Jones, who played the last couple of games this season with two cracked ribs. "I'm excited about it. Like I said, I'd love to come back. A-Rod's my guy, we've got a great group of receivers. I'd love to come back and play with those dudes, man. I've been here for seven years."
Older veterans like Jones, defensive lineman Ryan Pickett and fullback John Kuhn can have different priorities in free agency than fifth-year players looking for their first really big contract.
In most cases, older veterans have already received and played out the largest contract they'll ever get, and while money isn't dismissed by any stretch, it's just one factor in the process of finding and signing another deal.
"You also have to have a good fit," said Kuhn, who will be entering his ninth year in the league (10th including one on the practice squad with Pittsburgh in 2005, which doesn't count toward accrued service time). "You have to like where you're living, you have to like the offense. You want to win a Super Bowl, especially later in your career. It's something you don't get a lot of opportunities at, so you want to play for a great team."
The Packers, of course, feel they'll always be a contender with Rodgers at the helm, and one key decision will involve the center snapping the ball to him.
Evan Dietrich-Smith has regularly received Rodgers' support, but the Packers also drafted JC Tretter last year as a possible center of the future. Dietrich-Smith is an unrestricted free agent now after coming back to the Packers on a one-year tender as a restricted free agent last offseason.
"I wasn't focused on (the contract) at all," Dietrich-Smith said. "I was just focused on making sure of putting good film out there, battling with my guys, playing with them, making sure we played 60 minutes of football every time we stepped on the field, and everything will take care of itself."
Like Dietrich-Smith, cornerback Sam Shields played for his one-year tender in 2013, and according to media reports he appears to have avoided a serious knee injury in the playoff game against San Francisco.
The price he'll command on the open market will determine whether teams view him as an elite cover corner or just a solid starter. Shields signed the one-year tender last offseason to aim for that elite evaluation, and his position coach, Joe Whitt Jr., believes he earned it.
"I don't get into contracts, but I believe Sam is a top 10, top seven corner in this league, whatever that means," Whitt said. "When he has the opportunity to make a splash play, to make an interception, he makes it."
Fellow cornerback Tramon Williams said after the season he'd like to see less youth and more experience on Green Bay's defense, so it's obvious how he feels about Shields.
"Sam's been a big part of this defense, a playmaker for this defense, and we need him around," Williams said. "These younger guys are starting to look up to him. He's taken the same path I have, coming into the league as an undrafted guy, and he continues to get better, so we definitely need him around."
With Shields, Williams, Casey Hayward, Davon House, Micah Hyde and Jarrett Bush, the Packers have more depth at cornerback than a lot of other positions, though Hyde could be a candidate to move to safety.
Tight end has been a deep position in the past but has more question marks now, with Jermichael Finley's health and free-agent status leaving his future uncertain. Andrew Quarless is also a free agent and made his share of plays down the stretch for the Packers after fully recovering from a major knee injury late in 2011 that cost him all of 2012.
"Only time will tell," Quarless said of his future. "I definitely think I proved a couple things this year."
So did Mike Neal, who transitioned to outside linebacker and played all 16 regular-season games for the first time in his four-year career. His health was still an issue, though, as he missed several practices late in the season due to injuries and then hurt his knee when 49ers running back Frank Gore went low for a cut-block on the first series of the playoff game.
Neal is all for continuing his transition to a stand-up defender on the edge, but like many in his situation, there's no way to know for sure what happens now.
"It's like being a freshman in college and then getting drafted into the pros all over again," Neal said. "If I'm extended here, I'll be happy to be here."