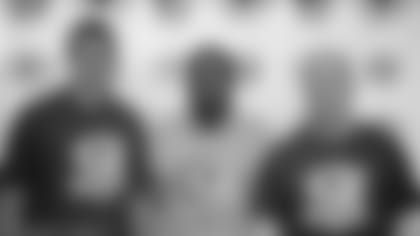 ](http://www.packers.com/media-center/photo-gallery/Lambeau-Field-preparing-for-Tides-Green-and-Gold-Out/a66a28d5-8216-4c95-a643-ded030441674)

View photo gallery

Packers fans attending this Sunday's home opener against the San Francisco 49ers will be a part of the first-ever Tide Green-and-Gold Out. As a part of the Green-and-Gold Out, fans will be greeted at their seats with a T-shirt, which is to be worn between the national anthem and kickoff.
The Green-and-Gold Out is presented by Tide, proud keeper of all 32 NFL team colors. Tide will be present before the game on the Fan Walkway to encourage fans to show their colors and take photos with Packers-branded Tide bottles.
The Packers are looking for volunteers on Saturday and Sunday, Sept. 8 and 9, to help with the Green-and-Gold Out event. Volunteers on Saturday will be helping prep the stadium for the event, while volunteers on Sunday will help with the execution of the Green-and-Gold Out. Anyone interested in volunteering on either day should contact the Volunteer Center of Brown County at (920) 429-9445 or online at www.volunteerspot.com/login/entry/833068112056.
Sunday's contest continues one of Lambeau Field's greatest traditions, as it has been designated the annual alumni game.The game will feature halftime introductions of 31 players from the Packers' 1982 team, one of the most prolific offensive groups in club history.
Two alumni are scheduled to make appearances throughout the weekend at various locations. Lynn Dickey and Jan Stenerud will be taking part in fan activities at the Packers Pro Shop, Tundra Tailgate Zone and Legends Club leading up to kickoff. Both former Packers players will be introduced on Lambeau Field during pregame festivities.
Boyz II Menwill be performing the national anthem. A flyover of Air Force F-16'swill follow.
Also taking place at Sunday afternoon home opener is the premier gameday tailgate party in the Tundra Tailgate Zone (TTZ) in the Lambeau Field parking lot. Among the many fun fan activities in the TTZ is an opportunity to have one's hair painted green and gold.