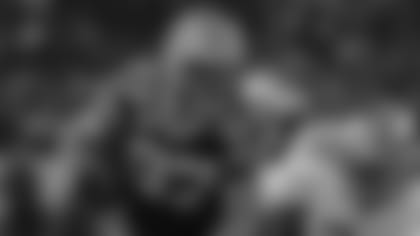 WR Jordy Nelson
Packers.com is taking a look at the Packers' roster, position by position. The third installment focuses on the wide receivers and tight ends.
GREEN BAY—One year after losing two of the more productive wide receivers in franchise history, the Packers may see little to no change at that position in 2014.
Tight end could be another story, however.
This past season was the Packers' first since 2005 without both Donald Driver and Greg Jennings on the roster, but the output of the receiving corps by no means suffered.
Jordy Nelson set career highs in receptions (85) and yards (1,314) and posted his second-best TD total (eight). James Jones' numbers were the best (817 yards) and second-best (59 receptions) in his seven-year career. Randall Cobb even managed 433 yards and four TDs despite missing 10 games to injury, and Jarrett Boykin (49 catches, 681 yards, three TDs) emerged as a bona fide pro in Cobb's absence, with plenty of upside.
Jones is the lone free agent of the bunch, and while his foray into the market will be different this time than it was during the 2011 lockout, his future is just as uncertain for multiple reasons.
Jones turns 30 this offseason, not a magic number, but the younger Nelson and Cobb are heading into the final years of their contracts and could be in line for extensions before they reach free agency in 2015. Also, the Packers already have a number of developmental prospects in the pipeline who will be looking for the same chance Boykin got in 2013.
Rookie Myles White made a cameo on the regular-season roster with nine catches, while seventh-round pick Kevin Dorsey and undrafted Sederrik Cunningham suffered season-ending injuries in training camp. Late-season pickup Chris Harper has impressive size (6-1, 228) and Alex Gillett was in camp last year before being brought back to the practice squad at midseason.
After the season, Jones himself said he'd love to continue playing with his "guys," but he doesn't believe veteran leadership will enter the Packers' decision-making, not with players as young as Cobb already looked to as leaders in the locker room. Stay tuned there.
But while Jones may or may not be the only major change at wide receiver, the tight end position could look considerably different in 2014.
Jermichael Finley's status with a surgically repaired neck and pending free agency remains uncertain, while Andrew Quarless is headed for free agency as well.
Quarless emerged as a fairly reliable target down the stretch for the Packers, but still, he topped 50 yards receiving only twice in 10 games after Finley went down. Finley did it four times in six games before getting hurt.
If Finley doesn't come back, his stretch-the-field, mismatch potential goes with him, and it's not clear if Quarless is the answer, especially with a more significant investment required to keep him now. His blocking also improved but remained inconsistent at times.
From the rest of the tight ends – Ryan Taylor, Brandon Bostick and Jake Stoneburner – Bostick as a converted college receiver has the most down-the-field potential but has limited experience (seven catches, 120 yards, one TD) and will be coming off a season-ending foot injury.
Stoneburner, undrafted from Ohio State, is another developmental prospect in that mold, but he saw minimal game snaps on offense as a rookie. Taylor remains a special-teams stalwart as he enters his fourth season.
Depending on what happens with Finley, the situation points to taking another shot at an athletic, pass-catching tight end in the draft, if one is available in the right spot. Finley, Quarless and the since-departed D.J. Williams were all drafted in a span of four years (2008-11), but the Packers have now gone two straight drafts without selecting a tight end.