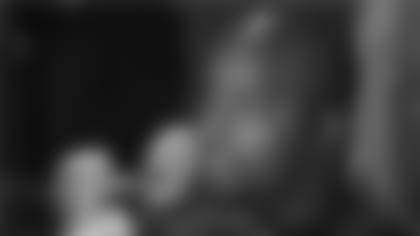 DE Datone Jones
GREEN BAY—Johnathan Franklin graduated from UCLA last June and is ready to begin his pursuit of a degree in professional football.
"I love football. I can't wait for practice today," Franklin told reporters as members of the Packers rookie class introduced themselves to the media on Friday, prior to a scheduled 4 p.m. practice that would be their first in Green Bay.
"They brought us here for a reason. We have to work hard," Franklin added.
That kind of energy seemed to infect each of the rookies, their individual press conferences resembling motivational speeches. Adjacent to Franklin was his UCLA teammate, Datone Jones, the Packers' first-round pick and a key player in the team's effort to rebuild its defensive line.
"This is definitely a dream come true. It starts today at practice," Jones said. "They took a chance on me. I'm going to do my best so we can bring a championship back here."
So ends the draft season, complete with its three-cone drills, pro days and combine interviews. In just a few hours, the rookies would graduate to the practice season.
Through three days of practice this weekend, all eyes will be on second-round pick Eddie Lacy, a player on whom the Packers are depending to provide a power running game. Lacy said it best.
"I think I bring a little bit of balance to the offense," he said.
What about the toe injury, he was asked?
"I've talked about it for months. It is what it is. I don't have a problem with it," he said.
Lacy and Franklin could team to give the Packers a kind of thunder and lightning running game that would stress opposing defenses and open the passing lanes for Aaron Rodgers and his talented corps of receivers. In that kind of offense, Lacy wouldn't have to be a workhorse running back, which would re-cast him perfectly in the role he played at Alabama.
"It made people think maybe I'm not an every-down back cause I've never had to be. I don't have a lot of miles on me," he said.
Fourth-round pick JC Tretter will be a player of interest through the spring. He played tackle at Cornell but the belief is he'll move inside with the Packers, and some have projected him to be a future center.
"All the work you put into getting drafted, you have to put twice as much into getting to the next level," Tretter said.
The Packers' final pick of the draft, Sam Barrington, is ticketed for inside linebacker, where the Packers suffered losses to injury last season and there would seem to be need for new blood. Barrington said he was aware of the need at inside linebacker.
"The wise thing to do is be a little knowledgeable of the program you're coming into. Look at the depth chart. If there's an opportunity, take advantage of it," he said.
Fifth-round defensive tackle Josh Boyd played the SEC card, which worked well for cornerback Casey Hayward as he came out of Vanderbilt last year.
"Playing in the SEC is a big challenge. That was a big thing in getting me to this point," he said.
They all know, of course, what's required to get them beyond this point.
"You're just like him," Tretter said of Rodgers. "You're in an NFL locker room and you have to produce just like he does."
"I feel like my game is just now beginning," Jones said.