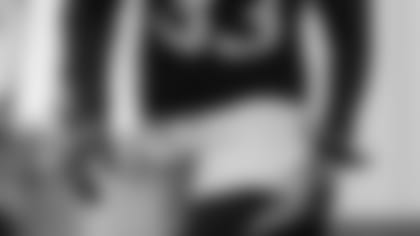 CB Micah Hyde
GREEN BAY—Rookies getting their first taste of the NFL can be everything from wide-eyed at their surroundings to confused by the playbook to nervous about every little mistake.
This crop of Packers rookies is also very willing and open-minded.
"I'll do anything," said cornerback Micah Hyde, a fifth-round draft pick who has lived up to that line through the first two days of rookie orientation, playing both outside and in the slot on defense, and returning punts, just as he did at Iowa. He hasn't dabbled at safety, yet, but perhaps it's only a matter of time.
"Anything I can," Hyde said. "Whether it's on special teams or on defense, it doesn't matter."
Versatility was a running theme for the Packers through the 2013 draft and it's becoming evident it wasn't just a catch-phrase.
Fourth-round offensive linemen David Bakhtiari and JC Tretter started workouts on Friday at left and right tackle, respectively, then flip-flopped for Saturday's second practice, as Head Coach Mike McCarthy suggested they would.
The need to adapt also extended to practice-squad holdover Andrew Datko, who played offensive tackle during his rookie season but was lining up at guard this weekend.
"We're just trying it out," Datko said. "They only dress so many on gameday, so the more versatile you are, the better."
Tretter took that approach throughout the pre-draft process. A left tackle in college – the position that almost all the Packers' current linemen played – Tretter was hearing from scouts he might be a better fit at guard or center in the NFL.
Least familiar with center, Tretter spent time in the offseason working with retired center Dave Wohlabaugh, who played nine seasons (1995-2003) for the Patriots, Browns and Rams. Wohlabaugh happens to be a neighbor of an uncle of Tretter's in Ohio, and he was also represented by Tretter's agent.
"He gave me tricks and tips to make the adjustment easier," Tretter said. "You try to pick up what you can and be ready for anything."
McCarthy acknowledged on Friday the scouting reports on Tretter and indicated his position is undetermined for the time being. Tretter said he hadn't played anything but the two tackle spots through the first two days of rookie orientation, but he believes he could make a go of it at center even with his limited experience at that spot.
"I think it's the football knowledge," he said. "I think I understand defenses pretty well. I think I'm athletic. When a center can pull, that helps out an offense quite a bit. That's definitely a possibility and we'll see where that goes."
As for the defensive linemen thus far, first-round pick Datone Jones and fifth-rounder Josh Boyd both played Okie end in the base defense and then slid inside as nickel rushers. That's a standard expectation for an end in Dom Capers' 3-4 scheme.
Twenty-five pounds heavier than Jones, the 310-pound Boyd also might be asked to give nose tackle a try. He claims the position won't be totally foreign to him.
"We did have packages where we were in a 3-4 and I played the nose or a little bit of end," Boyd said of his days at Mississippi State. "I don't think it will be that big of an adjustment. It's just learning the system."
That, and learning the competition. That'll come in training camp, if not before.
"I feel really comfortable," Jones said of his defensive responsibilities. "But I'm going against better talent now, so who knows?"