PACKERS HOST SAINTS FOR SECOND STRAIGHT SEASON
Green Bay (1-2) returns home to host New Orleans (0-3) at Lambeau Field this afternoon, the fifth time the clubs have met in the past eight seasons.
This will be the second straight year that the Packers and Saints have squared off at Lambeau Field in the month of September. Last season, in a meeting of the two most recent Super Bowl winners, Green Bay topped New Orleans, 42-34, in a Thursday night contest that kicked off the NFL season.
This fifth meeting in eight seasons comes after the clubs played only once over a nine-year span (1996-2004).
The Packers hold a 15-7 edge against the Saints in the all-time series, including a 9-2 mark vs. New Orleans at home.
Today's matchup features the only two teams in the league to finish in the top 10 in total offense each of the past six seasons (2006-11).
The Packers (35.0) and Saints (34.2) finished No. 1 and No. 2 in the league, respectively, in scoring last season. It was the first time in NFL history that two teams each scored 525-plus points in the same season.
In the last four meetings between the two clubs (2005, 2006, 2008, 2011), the teams combined to score a total of 272 points, an average of 68 points per game. That included a 52-point outing by Green Bay in '05 and a 51-point showing by New Orleans in '08.
Including playoff games, both teams have identical 41-16 records (.719) since 2009,tied for No. 1 in the league over that span.
The Packers have won 18 of their last 21 regular-season games (.857) entering Sunday's contest, the best record in the league over that span.
Today's game vs. the Saints is Green Bay's lone home contest over a five-week stretch (Weeks 3-7). The Packers won't play at home again until they host the Jacksonville Jaguars on Oct. 28 (Week 8).
Following today's contest against New Orleans, Green Bay will go on the road for its next three games, the first time it has played three straight road contests since 1998 (Weeks 10-12). Including the Packers' Week 10 bye, Green Bay will play at home just twice over an eight-week span (Weeks 5-12).
The Packers enter today's game having won 20 of their last 22 regular-season games at Lambeau Field.
Green Bay's .909 home winning percentage over that span ranks No. 2 in the NFL behind only Baltimore (21-2, .913).
With their loss to San Francisco in the season opener, the Packers' 13-game regular-season home winning streak came to an end. It was tied for the fourth-longest streak in franchise history (25 games, 1995-98; 20 games, 1929-32; 14 games, 1923-26).
Green Bay has averaged 31.9 points per game at home since 2009, the best in the league over that span.
The Packers have either won the turnover battle or come out even in the category in 20 of their last 21 regular-season games.
Green Bay has posted 15 takeaways in its last five regular-season games at Lambeau Field.
QB Aaron Rodgers has thrown a TD pass in a franchise-record 31 consecutive regular-season games at home (previous mark was Brett Favre, 25 games). Rodgers' streak is the longest in the NFL since Dolphins QB Dan Marino's 39-game streak from 1983-88.
DB Charles Woodson needs a half-sack for his fifth straight season with two or more sacks. He would join Rodney Harrison and Adam Archuleta as the only NFL defensive backs to accomplish that feat in five consecutive seasons since sacks became an official statistic in 1982.
Woodson is currently tied for No. 4 in team history with S LeRoy Butler with 38 interceptions. He needs one more to tie CB Herb Adderley (39) for No. 3 in franchise annals.
LB Clay Matthews ranks No. 7 in in franchise history with 35.5 career sacks. He needs one sack to move past No. 6 Tony Bennett (36.0).
WR Greg Jennings needs one more touchdown catch to hit the 50-TD reception mark for his career. It would move him into sole possession of the No. 6 spot for most TD receptions by a Packer (currently tied with WR James Lofton).
WR Donald Driverneeds one more touchdown to move into a tie with RB Paul Hornung (62) for the No. 5 spot in team history for most overall touchdowns.
Driver enters today's contest having played in 195 career regular-season games, one shy of tying QB Bart Starr (196 games) for the second most in team history.
WR Jordy Nelsonhas caught 13 TD passes at Lambeau Field since 2011, the most in the league by a player at home over that span.
NOTABLE CONNECTIONS
Packers head coach Mike McCarthy served as the Saints offensive coordinator from 2000-04...Other members of the Packers staff who coached in New Orleans include defensive coordinator Dom Capers (1986-91), offensive coordinator Tom Clements (1997-99), quarterbacks coach Ben McAdoo (2004) and assistant head coach/linebackers Winston Moss (2000-05)…Packers offensive line coach James Campen played two seasons in New Orleans (1987-88) after playing collegiately at Tulane…Tight ends coach Jerry Fontenot was born in Lafayette, La., and played center for the Saints for seven seasons (1997-2003)...Packers assistant offensive line coach Joel Hilgenberg played 10 seasons (1984-93) for New Orleans and was inducted into the Saints Hall of Fame in 2006...Packers safeties coach Darren Perry played for the Saints in 2000, the final year of his nine-year playing career...Packers special teams assistant Chad Morton was a fifth-round draft choice of the Saints in 2000 and played one season in New Orleans…Packers CB Tramon Williams attended Assumption High School in Napoleonville, La., and played at Louisiana Tech…Packers LB Dezman Moses played two seasons (2010-11) at Tulane University...Packers vice president of football administration/player finance Russ Ball spent six seasons (2002-07) with the Saints, the final two as vice president of football administration and the first four as senior football administrator...Packers director of college scouting Brian Gutekunst assisted the offensive line of the Saints during training camp in the summer of 1995...Saints secondary coach Ken Flajole served as defensive assistant/quality control for the Packers in 1998...Saints QB coach Joe Lombardi is the grandson of legendary Packers head coach Vince Lombardi…Saints LB Jonathan Casillas was a three-year starter at the University of Wisconsin…Saints RB Mark Ingram's father, Mark Sr., played WR for the Packers in 1995.
As per team tradition, the Packers select game captains each week.
Today's captains will be WR Jordy Nelson(offense), DT B.J. Raji (defense) and LB Brad Jones (special teams).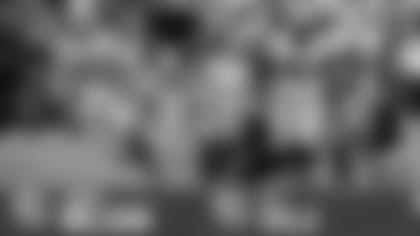 Today's officiating crew includes referee Jeff Triplette (42), umpire Jeff Rice (44), head linesman Phil McKinnely (110), line judge Jeff Bergman (32), field judge Barry Anderson (20), side judge Dave Wyant (16) and back judge Steve Freeman (133).