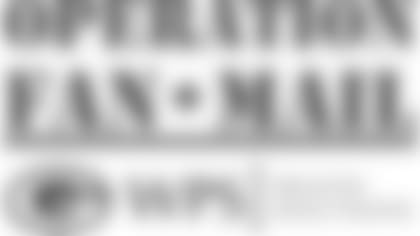 The Green Bay Packers and WPS Health Solutions paid special tribute to six combat-disabled and wounded veterans during Sunday's Packers-Giants game for 'Operation Fan Mail.'
The veterans, all of whom served in the U.S. Marine Corps or U.S. Army, include:
Sgt. Gregory Haak from Oregon, Wis.
Cpl. Jeremy Stengel from Mukwonago, Wis.
Sgt. Jason Johns from Oregon, Wis.
Staff Sgt. Andrew Diaz from Ralls, Texas
Lance Cpl. Scott Kruchten from Madison, Wis.
Cpl. Kevin Hanrahan from Black River Falls, Wis.
Between them, the veterans served for a total of more than 48 years of combined military service. Their collective service includes deployments to Afghanistan, Iraq and the Western Pacific.

Many members of the group served together, and currently work closely with veterans organizations.
Highly decorated veterans, the group's awards include numerous Meritorious Service Medals, ribbons, Purple Hearts, Commendation Medals with Valor in combat, and multiple Combat Action Ribbons per person.
Operation Fan Mail, which debuted in 2007, is designed to recognize families with a member who is on active duty. The Packers and WPS Health Solutions will host a family at each 2016 home game and recognize them on the field during pregame activities. A total of 92 individuals or families have been recognized through the program thus far.
To choose families, the Packers and WPS Health Solutions are asking interested families, or friends of eligible families, to submit an essay, 500 words or less, on why a particular fan should be saluted. Essays can be sent to: Operation Fan Mail, P.O. Box 10628, Green Bay, WI, 54307-0628 or submitted online at packers.com/gameday/gamedaypromotions/operationfan_mail.
In addition to being recognized on-field prior to the game, selected families receive four tickets to the game. Families intended for recognition are those that have a member serving on active duty. The family member can be a spouse, mother, father, son, daughter or sibling.