This is an abbreviated version of the Dope Sheet. To read the full version, download the PDF by **clicking here**.
SEATTLE (2-0) AT GREEN BAY (1-1)Friday, Aug. 23 - Lambeau Field - 7 p.m. CDT
PACKERS HOST SEAHAWKS IN HOME PRESEASON FINALE
Green Bay returns home to Lambeau Field on Friday night to host the Seattle Seahawks in a matchup of two 11-win teams from 2012 that both advanced to the postseason.
The game will be broadcast to a national audience on CBS. For the Packers, it marks the 20th time in the last 21 seasons that they have had at least one of their preseason games aired to a national audience. The 2009 preseason was the lone exception over that span.
This marks the Packers' fifth all-time preseason meeting with the Seahawks and the third under Head Coach Mike McCarthy (also 2007 and 2010). The last preseason matchup between the clubs at Lambeau Field was on Aug. 18, 2007, a 48-13 Green Bay victory that included two TD passes from QB Aaron Rodgers.
The Packers and Seahawks met for the first time in the regular season in 1976, but didn't square off in the preseason until 1983. After the '83 meeting, the teams didn't face each other in the preseason again until 2004. The all-time preseason series is tied at 2-2.
Friday night's contest will be a matchup of the No. 5 scoring offense from 2012 (Green Bay, 27.1 ppg) against the No. 1 scoring defense (Seattle, 15.7 ppg).
Green Bay has an all-time regular-season record of 8-6 against the Seahawks and has also won both playoff meetings between the clubs. The teams have squared off in five of the last seven seasons (including a meeting in the 2007 postseason). The Packers visited CenturyLink Field last season in Week 3, a 14-12 Seattle victory.
The Packers will close out their preseason slate next Thursday night against the Kansas City Chiefs at Arrowhead Stadium, the fourth straight season that the clubs have squared off in the preseason finale.
One of the NFL's longest team traditions, the Upper Midwest Shrine Game kicks off its 64th installment Friday night. It marks the second time the Packers have hosted the Seahawks in the charity game (2007). Green Bay is 32-28-3 all-time in the series.
Each season, the Packers donate a percentage of the gate to the Shriners' Hospitals for Children. The Shriners' facilities provide specialized medical services, helping children with birth defects and other injuries, at absolutely no cost. To date, the series has raised more than $3.4 million for the Midwest Shrine's burn centers and hospitals for disabled children.
The series has called three separate stadiums home: Milwaukee's State Fair Park (1950-51), Milwaukee County Stadium (1952-82, 1984-94) and Lambeau Field (1983, 1995-present).
In his first season leading the Packers, Vince Lombardi made an agreement with George Halas to play in the Shrine game annually. Green Bay and Chicago played each preseason at County Stadium from 1959-73.
The Packers annually designate the Shrine game as the first 'Gold package' game for season-ticket holders primarily from the Milwaukee area. The team created the three-game package after moving all of its home games to Green Bay in 1995. Also in the 'Gold package' this season are the contests against Detroit (Oct. 6) and Philadelphia (Nov. 10).
Friday night's game will be televised to a national audience on CBS, with play-by-play man Ian Eagle and color analyst Phil Simms handling the call from the broadcast booth and Tracy Wolfson reporting from the sidelines.
In Wisconsin, CBS affiliates around the state, including WFRV (Ch. 5) in Green Bay and WDJT (Ch. 58) in Milwaukee, will carry the Friday night contest.
Milwaukee's WTMJ (620 AM), airing Green Bay games since 1929, heads up the 50-station Packers Radio Network, with Wayne Larrivee(play-by-play) and two-time Packers Pro BowlerLarry McCarren (color) calling the action. The duo enters its 15th season of broadcasts together across the Packers Radio Network, which covers 42 markets in six states.
THE DOPE ON THIS WEEK'S OPPONENT:
Packers vs. Seahawks:
Regular season, all-time:8-6-0
Preseason, all-time:2-2
Postseason, all-time:2-0
Streaks:The Packers have won three of the last four meetings (including playoffs).
Last meeting, regular season:Sept. 24, 2012, at CenturyLink Field; Seahawks won, 14-12
Last meeting, preseason:Aug. 21, 2010, at Qwest Field.; Packers won, 27-24
Mike McCarthy: 80-42-0, .656, (incl. 6-4 postseason); 8th NFL season
Pete Carroll:61-58-0, .513 (incl. 3-4 postseason); 8th NFL season (4th with Seahawks)
Head to Head:Carroll 1-0
vs. Opponent:McCarthy 3-2 vs. Seahawks; Carroll 1-2 vs. Packers
MIKE McCARTHY…Is in his eighth year as the Packers' 14th head coach.
Joined Vince Lombardi and Mike Holmgren as the only coaches to guide the Packers to a Super Bowl title with a win over Pittsburgh in Super Bowl XLV.
Has led the Packers to playoff appearances in five of his seven seasons at the helm, and the team's five postseason berths over the past six seasons are the most by an NFC team.
Led Green Bay to 47 regular-season victories from 2009-12, the second most in the NFL over that span and the second most in franchise history over a four-year period.
His .656 winning percentage (including playoffs) ranks No. 3 among active NFL coaches (min. 50 games) entering the 2013 season.
Was named Packers head coach on Jan. 12, 2006, his first head-coaching job after 13 years as an NFL assistant.
Became the first Packers coach since Lombardi to lead the team to a championship game in his second season (2007).
PETE CARROLL…Is in his fourth year as the Seahawks' eighth head coach.
Spent nine years as head coach at Southern California (2001-09), where he led the Trojans to seven consecutive Pac-10 titles and two national championships (2003-04).
Previously served as a head coach in the NFL with the New York Jets (1994) and New England (1997-99), leading the Patriots to two playoff appearances.
Began his NFL career as a defensive backs coach for Buffalo (1984). Also served as an assistant coach for Minnesota (1985-89), N.Y. Jets (1990-93) and San Francisco (1995-96).
A former all-conference free safety at Pacific, he started his coaching career at his alma mater in 1974.
THE PACKERS-SEAHAWKS SERIES
The two clubs have met 16 times, including the regular season and playoffs. The two playoff games (2007 Divisional, 2003 Wild Card) were both at Lambeau and won by the Packers.
For a span of eight head-to-head meetings from 1996-2008, Mike Holmgren was the head coach for one of the teams.
Since Seattle's shift to the NFC in 2002, the two teams have met eight times (including playoffs). They met in six of seven seasons from 2003-09, with 2004 being the lone exception.
Neither team has ever won more than three in a row in the series.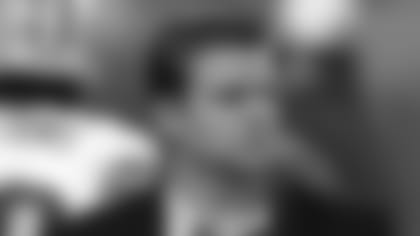 Seahawks GM John Schneider
Packers GM Ted Thompson spent five seasons (2000-04) as the Seahawks' VP of football operations...Packers asst. head coach/ILBs Winston Moss played his final three seasons in Seattle (1995-97) and began his coaching career with the Seahawks as defensive quality control coach in 1998...Packers assistant director of pro personnel Tim Terry played for the Seahawks for three seasons (2000-02)...Packers FB Jonathan Amosa attended the University of Washington and Rainier Beach High School in Seattle...Packers LBs Clay Matthews and Nick Perry played for Seahawks head coach Pete Carroll at Southern California; Matthews was also tutored by Seahawks linebackers coach Ken Norton with the Trojans...Seahawks P Jon Ryan played for Green Bay from 2006-07...Seahawks CB Will Blackmon (fourth round, 2006), T Breno Giacomini (fifth round, 2008) and WR Brett Swain (seventh round, 2008) were all drafted by the Packers and played for Green Bay...Seahawks S Chris Maragos, G John Moffitt, LB O'Brien Schofield and QB Russell Wilson all played at the University of Wisconsin...Maragos is from Racine, Wis. ...Seahawks GM John Schneider served two different stints in the Packers' personnel dept. (1993-96, 2002-09), concluding as director-football operations...Seahawks senior personnel executive Scot McCloughan worked as a Packers scout (1995-99)...Seahawks senior VP/general counsel Lance Lopes worked in the Packers' front office from 1993-2000...Seahawks wide receivers coach Kippy Brown previously coached the Green Bay RBs (2000) and Seahawks asst. strength and conditioning coach Mondray Gee held the same position in Green Bay in 2008-09...Seahawks offensive coordinator Darrell Bevell played QB at the University of Wisconsin and coached on Green Bay's staff from 2000-05...Seahawks assistant special teams coach Marquand Manuel played for the Packers in 2006...Seahawks assistant offensive line coach Pat Ruel held the same position with the Packers from 2001-02...Packers outside linebackers coach Kevin Greene and Norton were teammates with the 49ers in 1997...Packers defensive coordinator Dom Capers and Seahawks quarterbacks coach Carl Smith coached together with the Philadelphia/Baltimore Stars (USFL) and with New Orleans...Packers secondary-safeties coach Darren Perry and Seahawks asst. head coach/offensive line Tom Cable coached on the staff together in Oakland...Packers LB A.J. Hawk is the brother-in-law of Seahawks QB Brady Quinn; Hawk's wife, Laura, is Quinn's sister...Former college teammates include Packers QB Aaron Rodgers and Seahawks RB Marshawn Lynch and DT Brandon Mebane (California), Packers DT Ryan Pickett and Seahawks CB Antoine Winfield (Ohio State), Packers TE Jermichael Finley and Seahawks S Earl Thomas (Texas), Matthews and Perry and Seahawks LBs Allen Bradford, Mike Morgan and Malcolm Smith (Southern California), Packers T Marshall Newhouse and Seahawks LS Clint Gresham (Texas Christian), Packers DE Mike Neal and Seahawks DE Cliff Avril (Purdue), Packers T/G Don Barclay and Seahawks DE Bruce Irvin (West Virginia), Packers DE C.J. Wilson and Seahawks DT Michael Brooks (East Carolina), Packers RB Eddie Lacy and Seahawks G James Carpenter and DT Jesse Williams (Alabama), Packers RB Johnathan Franklin and DE Datone Jones and Seahawks RB Derrick Coleman (UCLA), and Packers WR Randall Cobb and Seahawks S Winston Guy (Kentucky).
Aug. 21, 2010, at Qwest Field; Packers won, 27-24
QB Aaron Rodgers connected on 8 of 11 passes in two series of work for 116 yards and two TDs (146.2 passer rating).
Rodgers' first TD pass was a 1-yarder to FB John Kuhn, while his second one came on a 12-yard strike to TE Jermichael Finley.
With the Packers trailing 24-20 late in the fourth quarter, RB Brandon Jackson scored on a 12-yard run with 3:34 remaining to give Green Bay the win.
On defense, CB Sam Shields and LB Spencer Havner both registered interceptions.
After enjoying a day off from the practice field following the game at St. Louis on Saturday night, the Packers will practice three times this week, with all of the sessions scheduled for late-morning start times.
Monday's practice was at 11:30, Tuesday's is scheduled for 11:15 and Wednesday is slated for 11 a.m.
Not including the Family Night scrimmage, the team will have 17 practices under its belt when it takes the field against the Seahawks on Friday night.
Following the contest against Seattle, the team will take a day off (Aug. 24) from the practice field before returning on Sunday, Aug. 25. The Packers will practice on Sunday, Monday and Tuesday (Aug. 25-27) leading up to the preseason finale against the Kansas City Chiefs on Thursday, Aug. 29, at Arrowhead Stadium. The team departs for Kansas City on Wednesday.
PACKERS TOP RAMS IN SECOND PRESEASON CONTEST**
Green Bay opened its road preseason slate this past Saturday night at St. Louis and posted a 19-7 victory in front of 53,375 at the Edward Jones Dome.
QB Aaron Rodgersplayed three series after appearing on just one in the preseason opener vs. Arizona and led the offense into St. Louis territory on all three possessions. Rodgers connected on 10 of 12 passes for 134 yards for a 113.2 passer rating, but the first-team offense was only able to come away with six points on its three drives.
Rodgers' primary target was TE Jermichael Finley, who caught four passes for 78 yards (19.5 avg.), highlighted by a 33-yard grab early in the second quarter that helped set up a 48-yard Mason Crosby field goal. Crosby connected on all three of his FG attempts on the evening, with the others coming from 34 and 30 yards out.
The first-team offense featured a balanced attack, with RB Eddie Lacy churning out a team-high 40 rushing yards on eight carries (5.0 avg.) in his pro debut.
Green Bay's defense did not allow any points until the Rams scored on a 26-yard TD pass with less than a minute remaining in the contest. The Packers limited St. Louis to just 52 rushing yards on 22 carries (2.4 avg.) and the Rams converted only 1 of 14 (7.1 percent) opportunities on third down.
DE Johnny Jolly had a hand in two Green Bay takeaways, with both of those plays coming in the third quarter. The first came on the opening drive of the second half when Jolly tipped a Kellen Clemens pass on third down that was intercepted by CBJarrett Bush. Two series later, it was Jolly with the interception as he picked off Clemens in the end zone on a ball tipped by CBLoyce Means after the Rams had taken over at the Green Bay 10 following a muffed punt by CB Brandon Smith.
Green Bay's defense recorded three sacks, with a trio of rookies (DE Josh Boyd, CB Micah Hyde, LB Andy Mulumba) each posting one.
The Packers had 15 players that did not dress due to injuries, with T Bryan Bulaga (knee), WR Randall Cobb (biceps), WR Kevin Dorsey (hamstring), RB DuJuan Harris (knee), CB Casey Hayward (hamstring), WR Charles Johnson (knee), DE Datone Jones(ankle), WR Jordy Nelson (knee), TE Andrew Quarless (quad), S Sean Richardson(neck), T Derek Sherrod (leg), TE Ryan Taylor(knee), T JC Tretter (ankle), CB Tramon Williams (knee) and DE Jerel Worthy (knee) all sidelined on Saturday evening.
Important dates to remember (all times CDT):
Friday, Aug. 23 – Preseason game vs. Seattle Seahawks, 7 p.m., Lambeau Field (Midwest Shrine Game)
Tuesday, Aug. 27 – Final practice open to public, 11 a.m., Nitschke Field
Tuesday, Aug. 27 – Roster reduction to a maximum of 75 players by 3 p.m.
Thursday, Aug. 29 – Preseason game at Kansas City Chiefs, 7 p.m., Arrowhead Stadium
Saturday, Aug. 31 – Roster reduction to a maximum of 53 players by 5 p.m.
Sunday, Sept. 1 – After 11 a.m., clubs may establish a practice squad of eight players
Sunday, Sept. 8 – Regular-season opener at San Francisco 49ers, 3:25 p.m.
This is an abbreviated version of the Dope Sheet. To read the full version, download the PDF by **clicking here**.