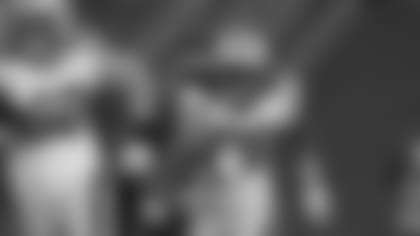 CB Tramon Williams got his first INT of the season last week vs. the Giants.
GREEN BAY—The cornerback position is more banged up than it's been all year for the Packers, and not exactly at a good time.
The Packers got through practice on Thursday with just four healthy corners, as Micah Hyde (groin) was added to an injury list that already included Sam Shields (hamstring), Casey Hayward (hamstring), and James Nixon (knee).
Hyde said he plans to return to practice on Friday, but the defense will have to prepare to adjust in any case.
That's what happened last Sunday, when Shields was a surprise pre-game scratch for the Giants game. His absence created a trickle-down effect that put Davon House into the starting lineup opposite Tramon Williams, moved Hyde into the full-time nickel role and brought veteran Jarrett Bush into the dime spot.
Shields hasn't practiced yet this week and Head Coach Mike McCarthy called him "50-50." The Packers clearly missed their top cover corner against the Giants, surrendering four pass completions of between 25 and 35 yards. Three different New York receivers made those four catches, and each big gain led to a score (two TDs, two FGs).
As long as Hyde can play, the rotation can stay the same this week. If he can't, a young safety – likely either Chris Banjo or Jerron McMillian – would have to be the dime back if that package is needed.
"We just have to figure out how we have to do it, whether it's some guys come in and get extra film study in, maybe a guy gives a little extra effort, if he's not giving it already," Williams said. "Whatever it is, we have to give it now."
The big plays have been the secondary's bugaboo of late. In the previous two losses before last week, the Packers surrendered four TD passes of between 23 and 55 yards, plus a handful of other 20-plus receptions.
Keeping explosive plays to a minimum was one of the keys to the four-game winning streak that lifted the Packers to 5-2 before the current slide. The defensive backs need to return to that level of play, and they know it.
"I think a lot of guys are kind of anxious, a little sour taste in their mouths," Bush said.
If they have to go another week without Shields, that only makes it tougher, but no one's calling it mission impossible. The biggest threat the Vikings pose in the passing game is Greg Jennings, who will be making his return to Lambeau Field after being held to just one reception against Green Bay a month ago in Minnesota.
"We've still got guys who can play," said Williams, who had probably his best game of the season against the Giants, with a diving interception and several open-field tackles against the run.
"Against the Giants, regardless of what elements were brought about, I feel like we should have won that game. Against Chicago, I feel like we should have won that game, and everyone else, too.
"That's the frustrating part about it. We didn't get it done, and we know that we have the guys to do it, and we still should have done it."
Elsewhere on defense, the ranks aren't exactly fully stocked. In the front seven, Johnny Jolly (groin) and Nick Perry (foot/ankle) have yet to practice this week, while Ryan Pickett (knee) and Mike Neal (abdomen) remain limited.
Clay Matthews continues to work his way back from a broken thumb, but he'll play with a cast on his right hand, again.
"I don't think we really have a doomsday mentality in regards to the injuries," Matthews said. "It is at some times kind of comical.
"The mantra we've had around here is the next man up, and it's no different, it's just the next man up was the next man to the next man. It's part of the deal."
Matthews will be limited to some extent as long as his thumb remains immobilized, though he did have a sack and two deflected passes in last week's game. He believes the more he plays, the more accustomed he'll get to the cast and the less it'll affect his game.
The rest of the defense needs to follow suit, because as Matthews said, "It starts this week, and we need this one." Additional coverage - Nov. 21