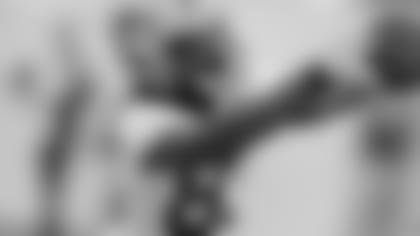 WR Tyrone Walker is one of five tryout players from rookie orientation to sign a contract.
The Green Bay Packers have signed FB Jonathan Amosa, LB Donte Savage, CB Brandon Smith, WR Tyrone Walker and LB Jarvis Wilson and released LB Micah Johnson and FB Ryan Roberson. The transactions were announced Monday by Ted Thompson, Executive Vice President, General Manager and Director of Football Operations.
Each of the signed players participated in the team's rookie orientation camp this past weekend on a tryout basis. Smith is a first-year player, while the other four are rookies.
No-Pos-Name-Ht-Wt-College-HS Hometown
48 FB Jonathan Amosa, 5-11, 247, Washington, Seattle, Wash.
94 LB Donte Savage, 6-1, 252, New Mexico State, Portland, Ore.
34 CB Brandon Smith, 6-1, 205, Arizona State, Bakersfield, Calif.
83 WR Tyrone Walker, 5-10, 191, Illinois State, Indianapolis, Ind.
47 LB Jarvis Wilson, 6-1, 245, Prairie View A&M, Fort Worth, Texas
Amosa, 22, played in 24 games over his final two seasons with the Huskies after joining the program as a walk-on in 2008. As a senior in 2012, he appeared in all 13 contests and caught two passes for 19 yards (9.5 avg.). Amosa played in 11 games as a junior and caught a 7-yard TD pass.
Savage, 24, played in all 12 games at defensive end for the Aggies in 2012 and led the defensive line with 45 tackles, including seven tackles for loss, three sacks, four QB hurries, two blocked kicks, a fumble recovery and a pass defensed. As a sophomore in 2009, he registered 53 tackles, including 12 tackles for loss, six sacks, two forced fumbles, two fumble recoveries, two passes defensed and a blocked punt.
Smith, 26, entered the NFL as a non-drafted free agent wide receiver with Carolina in July 2011 and spent time with the Panthers and the Seattle Seahawks that preseason. He played in 19 games with three starts during his career at Arizona State and caught 10 passes for 196 yards (19.6 avg.) and two TDs.
Walker, 22, finished his career as the school's all-time leader in receptions (250), receiving yards (3,565), receiving touchdowns (32) and 100-yard receiving games (16). He earned first-team All-Missouri Valley Football Conference honors in 2012 after leading the conference in receptions (90), receiving yards (1,319) and TD catches (nine).
Wilson, 22, appeared in all 11 games as a senior in 2012 and registered 63 tackles, including eight tackles for loss, a half-sack, a forced fumble, four QB hurries and two passes defensed. As a junior in '11, Wilson posted 59 tackles, 11 tackles for loss, seven sacks, a forced fumble, three QB hurries and two passes defensed.