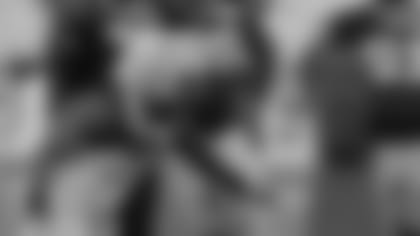 Mike Neal
GREEN BAY—If there's one noticeable emphasis in this year's OTA practices, it's that the Packers defense is intent on creating more fumbles.
"Statistically, we haven't done very well creating fumbles. It's definitely an emphasis of ours. We need to create more fumbles. The emphasis is clearly in place," Head Coach Mike McCarthy said following Tuesday's practice in the Don Hutson Center, on a chilly and wet day in Green Bay.
Every running play ended with a convergence of defensive players ripping at the ball tucked under the running back's arm. On one occasion, the effort was successful at ripping the ball from Alex Green's grasp.
"The first three years, we were No. 1 in takeaways. Last year, we fell off. You get what you emphasize," Defensive Coordinator Dom Capers said.
Even incomplete passes were pursued by defenders as though they were fumbles rolling along the ground. Practice was noticeably more spirited and the emphasis was on stripping the football.
"That's the game of football. The energy is supposed to be that way," McCarthy said.
This is the installation season, not a time for evaluation, McCarthy added. He's trying to set a tone for the start of training camp that can then be used for evaluating talent. McCarthy has said he regrets last year's OTAs regimen and was intent on changing it this year, with a greater emphasis on fundamentals and less emphasis on team drills.
"I really don't evaluate. I'm looking for the ability to cross-train, create as much competition as you possibly can. The learning phase is my focus. The tempo of practice is where it needs to be. You have to teach your team how to practice. No one is going to win a job this week. I can promise you that," McCarthy said.
"It's important for everybody to learn how to practice the right way. Hopefully, we'll accomplish that by the end of OTAs," he added.
Johnny Jolly, a promising defensive lineman before substance abuse issues clouded his career, still hasn't joined the team. McCarthy was asked again about Jolly's availability and the response remained scripted.
"I'll comment on Johnny Jolly's situation when he's back with the football team. He's still going through the process," McCarthy said.
Jolly's former position coach, Mike Trgovac, is eager for his former pupil to return to the Packers.
"I stayed in contact with him through the whole process, never thinking he'd come back here. I just care about him as a person. I was in contact with his mother. I tried to stay within all the rules," Trgovac said.
"Once he gets through that (process), he'll be here and we'll see where he is," Capers said. "You just don't know when a guy's been away from it."
Meanwhile, Capers is using defensive lineman Mike Neal as a linebacker during OTAs. The intent, part of the cross-training about which McCarthy spoke, is to expand Neal's role.
"We like his strength and athleticism. We think he can rush either inside or outside. Now is a good time to take a look at that. If he can rush inside or outside, it opens the door to a lot of different things," Capers said. Additional OTA coverage