PACKERS HEAD TO PITTSBURGH
Two of the NFL's most storied franchises square off in Pittsburgh for an inter-conference game with playoff implications for both teams.
The two clubs come into play on the opposite side of streaks. Green Bay has reeled off five consecutive victories, while Pittsburgh has dropped its last five.
Though the Packers played a preseason game in Pittsburgh in 2007, Sunday will mark the team's first-ever regular season game at Heinz Field since its opening in 2001. Green Bay's last game in Pittsburgh came in 1998 at Three Rivers Stadium.
The two teams first met in 1933, when the Packers soundly defeated the Pittsburgh Pirates 47-0. They have since played 30 times, with the Packers holding an 18-13-0 advantage in the all-time series. Included in that record is a 9-6 mark in the city of Pittsburgh.
The two historic franchises have combined for 18 NFL championships and 39 members of the Pro Football Hall of Fame. No franchise has captured more NFL titles than Green Bay (12), while Pittsburgh has a league-best six championships in the Super Bowl era.
The Packers finished their division slate with a 21-14 victory over the Bears in Chicago last Sunday. Their five consecutive victories is the fourth-longest active streak in the league.
With a win, Green Bay would achieve double-digit victories for the 24th time in Packers' history. A win would also go a long way in the team's bid to play in the postseason for the 25th time in team history.
Pittsburgh still remains in the AFC Wild Card hunt despite its five-game losing streak. Also, the Steelers come into play against the Packers as a rested team, having last played on Dec. 10, when they dropped a 13-6 contest in Cleveland.
Head Coach Mike McCarthy, the 14th coach in Green Bay Packers history, returns to his hometown for the first time in his NFL career.
As an assistant coach with Kansas City, Green Bay, New Orleans and San Francisco, he faced the Steelers six times – each time at home. The Packers did make a preseason trip to Pittsburgh in 2007.
McCarthy grew up one of five children in the Irish Catholic family of father Joe and mother Ellen in the Pittsburgh neighborhood of Greenfield. His father was a longtime firefighter and police officer.
He graduated from Bishop Boyle High School in Homestead, Pa., and later served on Paul Hackett's staff at the University of Pittsburgh for four seasons (1989-92).
In both 2008 and '09, McCarthy partnered with the Packers to make donations of $100,000 to Pittsburgh's Greenfield Neighborhood to benefit youth and community programs.
McCarthy will have over 30 family and friends in attendance.
WINNING WHEN IT COUNTS – IN DECEMBER
Green Bay continued its success in December, eliminating its archrival from playoff contention and moving to 2-0 in the final month.
The physical game at Soldier Field not only typified the Packers-Bears rivalry, but what December football in the National Football League is all about.
Armed with an incredible home-field advantage, Green Bay has been a consistently successful team this decade as the regular season winds down in December and January. Often times, as will be the case Sunday in Pittsburgh, those games are the final determining factors in the race for playoff berths and seeding.
The Packers own one of the NFL's best records since 2000 in regular-season games played in December and January. With a 19-4 (.826, third best in NFL) mark at home and a 13-8 record (.619, tied for fourth best) in road games, Green Bay has been a consistent winner in the winter months.
Green Bay now faces the challenge of Pittsburgh, also one of the top teams when it comes to regular-season games played in December and January since 2000:
Team, W-L in Dec/Jan (Pct.)
New England, 35-8-0 (.814)
Green Bay, 32-12-0 (.727)
Pittsburgh, 32-13-0 (.711)
Philadelphia, 30-13-0 (.698)
Indianapolis, 31-15-0 (.673)
As per team tradition, the Packers select game captains each week.
Today's captains will be T Mark Tauscher (offense), CB Tramon Williams (defense) and LB Brandon Chillar (special teams).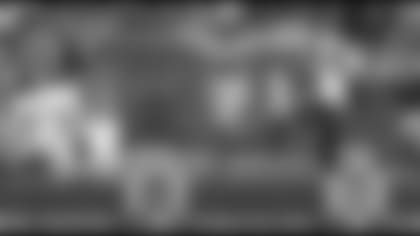 Today's officiating crew includes referee John Parry (132), umpire Dan Ferrell (64), head linesman George Hayward (54), line judge Tom Barnes (55), field judge Buddy Horton (82), side judge Don Carlsen (39) and back judge Todd Prukop (30).
With 13 interceptions since 2008, ranks second among NFL players behind Charles Woodson (15).
With 405 interception return yards since 2008, leads all NFL players.
For his career, has hit 57-of-62 field goals from 39 yards-and-closer.
Has hit 18-of-27 field goals from 40-49 yards.
Has hit 7-of-16 field goals from 50-plus yards.
Needs 113 yards to reach 1,000 in 2009. His six 1,000-yard seasons is a franchise record, ahead of James Lofton and Sterling Sharpe (five each).
Needs 124 receiving yards for 9,000 career. He ranks No. 2 on the franchise's all-time receiving yards list (8,876 career) behind No. 1 Lofton (9,656).
Has a catch in 124 straight games, besting the franchise's previous mark of Sharpe's 103 (1988-94).
With 49 career TD catches, could join Don Hutson (99), Sharpe (65), Antonio Freeman (57) and Max McGee (50) as the only Packers with 50 career.
Needs 132 yards to become only the third player in franchise history to post back-to-back seasons of 1,200-plus rushing yards (Ahman Green, 2001-03; Jim Taylor, 1961-62).
Has 12 career 100-yard games.
In 29 career starts, has eclipsed a 100.0-plus passer rating 15 times.
Has eight career 300-yard games and eight 3-TD games.
Needs 421 passing yards over the final three games for another 4,000-yard season, which would make him the first player in NFL history to post 4,000 yards passing in each of his first two seasons as a starter.
Has 44 career interceptions, 27 in 59 games since coming to Green Bay in 2006. Woodson had 17 interceptions in 106 games with Oakland.
His 27 interceptions since 2006 is tied with Philadelphia's Asante Samuel for the NFL lead. Woodson's 15 since 2008 leads all NFL players.
His five sacks since 2008 lead all NFL defensive backs.