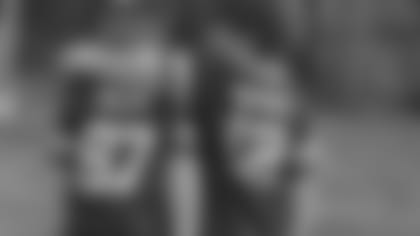 The Green Bay Packers again this year offered fans the chance to have their photo printed on more than 80,000 game tickets through the "Packers Ticket Takeover Contest." After thousands of entries and a record 63,797 votes, Staci Abel of Pray, Mont. was chosen as the winner.
Abel's photo of her 4-year-old twin sons, Desmond and Christian, will be printed on the tickets for the Fan Appreciation Game against the Minnesota Vikings on Dec. 24.
The contest, brought to fans by American Family Insurance, ran from March 23 through April 27, and invited fans to submit a photo for a chance to have it printed on game tickets.
A panel of Packers officials chose the top five photos, and those five were posted on packerseverywhere.com to be voted on by fans. Abel's photo had the most votes in the contest and was named the grand prize winner.
Abel grew up in Wisconsin, but her family relocated to Montana four years ago. The twins have been Packers fans since they were born, and the photo features them dressed in Packers jerseys, one with his arm around the other's shoulders.
"I had two little boys who wouldn't stand still for a photo. I was running out of daylight, so I gave up and said we were done," said Abel. "They walked away, and when I looked up, I caught this nice moment."
In addition to having her photo printed on approximately 80,000 tickets for the 2016 season's Fan Appreciation game, Abel and her family will receive tickets to the game, including hotel and flight accommodations. This will be the first Packers game Desmond and Christian will attend. Voters in the contest this year also were entered to win a signed Packers jersey each time they voted. The winner of the jersey is Roger Neitzel from Beloit, WI.