PACKERS HOST THE TITANS IN REGULAR-SEASON FINALE
The Packers (10-4) welcome the Tennessee Titans (5-9) to town for the first time since 2004 in Green Bay's final home contest of the regular season.
This will be the 11th meeting between the franchises in the regular season, with the Titans holding a 6-4 edge. It will be the sixth time the clubs have squared off at Lambeau Field.
The Packers clinched their second straight NFC North title with a 21-13 win over Chicago at Soldier Field last Sunday. Green Bay entered this weekend with the third-best record in the NFC behind Atlanta (12-2) and San Francisco (10-3-1).
The Packers have won at least 10 games each of the last four seasons, which ties the franchise record (1929-32, 1995-98, 2001-04). Green Bay and New England are the only teams in the league with 10-plus wins each of the last four seasons (2009-12).
Green Bay has won eight of its last nine games entering today's contest, which is the second-best record in the league since Week 6 behind only Denver (9-0).
The Packers have won their final home game of the season each year under Head Coach Mike McCarthy (2006-11). Green Bay also won its home finale in 2005, giving them a seven-game winning streak in its final home game of the season, the second-longest current streak in the NFL behind only Baltimore (nine straight home finales).
Over the past 20 years (1992-2011), the Packers have won their final home game of the season every year but one (2004).
Today will be Green Bay's fourth and final game against an AFC South foe this season. The Packers posted wins earlier this season at Houston (Week 6) and vs. Jacksonville (Week 8), with a loss at Indianapolis in Week 5.
The Packers enter today's contest having won five of their last seven regular-season games against teams from the AFC.
Green Bay has won 19 of its last 20 regular-season games (.950) at Lambeau Field and 25 of its last 27 (.926) at home.
The Packers have won 27 of their last 32 regular-season games overall (.844), the best record in the league over that span.
The Packers have won two straight NFC North titles for the first time since 2002-04, when the team captured three consecutive divisional crowns.
This season's NFC North title marks the Packers' 20th division crown in franchise history.
With the win last Sunday at Chicago, Green Bay clinched its 28th postseason berth in team history and its 15th appearance in the last 20 seasons.
The Packers have made the playoffs in five of the last six seasons, the only NFC team to accomplish that feat over that span (2007-12).
Green Bay currently ranks No. 3 in NFL history with its 28 playoff appearances, trailing only the N.Y. Giants (31) and Dallas Cowboys (30).
The Packers' 15 postseason appearances in the free-agency era (since 1993) are the most of any team in the NFL.
The Packers (6-1 at home this season) will be looking to post their third straight season with seven or more wins at home. That would mark the second-longest streak in franchise history behind only a span of five straight seasons from 1994-98.
Green Bay has a 15-2 record in December/January regular-season games at Lambeau Field under Head Coach Mike McCarthy, an .882 winning percentage that ranks No. 2 in the league since 2006 behind only New England (15-1, .938). The Packers have won nine consecutive games at home in December/January.
A victory today would give the Packers 47 wins over the past four seasons (2009-12). It would be the second most over a four-year span in team history behind only the 48 victories posted from 1995-98.
Green Bay has either won the takeaway battle or come out even in 28 of its last 32 regular-season games.
The Packers have held their opponents to 20 points or less in seven of their last eight contests.
Entering Week 15, the Packers are tied for No. 5 in the NFL in sacks (39) and rank No. 3 in sack yardage (263).
WR Randall Cobbneeds 10 combined net yards to set the single-season franchise record. He enters today's contest with 2,241 yards on the season, trailing only RB Ahman Green (2,250 in 2003) for the most combined net yards in a season (rushing, receiving, interception returns, punt returns, kickoff returns, fumble returns).
Cobb needs 108 receiving yards and 36 kickoff return yards to become the first player in NFL history with 1,000 receiving yards and 1,000 kickoff return yards in the same season.
With a TD pass, QB Aaron Rodgerswill set the franchise record for the most TD passes over a two-season span. He is currently tied with QB Brett Favre (1995-96) with 77 TD passes over the past two seasons.
Rodgers needs 2 rushing yards for his fourth consecutive 250-yard rushing season. He would join Tobin Rote (five straight, 1954-58) as the only quarterbacks in franchise history to accomplish that feat.
WR James Jones leads the NFL with 12 TD receptions this season. His receiving-TD total is tied for No. 8 in franchise history.
LB Clay Matthews ranks No. 6 in team history (since 1982) with 40.5 career sacks, one shy of tying No. 5 Ezra Johnson (41.5).
CB Casey Haywardhas six INTs this season, which is tied for No. 5 in franchise history among rookies. He is currently tied with CB Mike McKenzie (six in 1999) and is one shy of tying DB Rebel Steiner (seven in 1950) for the fourth most by a rookie in team annals.
P Tim Masthay has placed 29 punts inside the 20 this season, which ranks No. 2 in franchise history (since 1976) behind only Sean Landeta (30 in 1998).
As per team tradition, the Packers select game captains each week.  
Today's captains will be WR James Jones(offense), LB Clay Matthews (defense) and FB John Kuhn (special teams).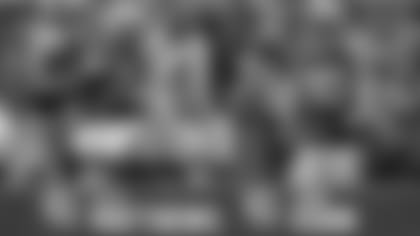 Today's officiating crew includes referee Clete Blakeman (34), umpire Garth DeFelice (53), head linesman Tony Veteri (36), line judge Ron Marinucci (107), field judge Buddy Horton (82), side judge Greg Meyer (78) and back judge Terrence Miles (111).