The Green Bay Packers and Kohl's Department Stores will recognize National Breast Cancer Awareness Month on Oct. 2 against the Denver Broncos, with Lambeau Field and Packers players prominently featuring the color pink in several ways.
Fans will be involved from the start when they receive pink Kohl's Cares rally towels as they enter the stadium, and then see cheerleaders (pink jerseys) and TundraLine members (pink hats) sporting the color. Other pink elements fans will notice include pink ribbon stencils on Lambeau Field, pink wall banners, pink goal post padding, special game balls with pink ribbon decals, a pink coin used for the coin toss and pink-trimmed sideline caps for coaches and team personnel. Players will be using and wearing pink equipment, including pink cleats, wristbands, gloves, sideline caps, helmet decals, sideline towels and quarterback towels. Game officials will be wearing pink caps and pins.
All apparel worn at games by players and coaches, along with special game balls and pink coins will be auctioned off at NFL Auction (www.NFL.com/auction), with proceeds benefitting the American Cancer Society and team charities.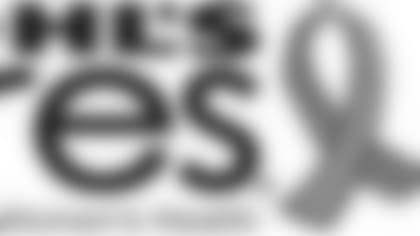 Kohl's sponsorship **of the breast cancer awareness game is the most recent example of the company's commitment to the fight against breast cancer.  In 2010, Kohl's announced a new philanthropic initiative supporting women's health with a commitment of $7 million over three years to the American Cancer Society's Midwest Division and the Southeast Wisconsin Affiliate of Susan G. Komen for the Cure to support breast cancer research, education and patient assistance programs.  Kohl's also has the Kohl's Cares cause merchandise program, which sells exclusive merchandise in all 40 Wisconsin Kohl's stores and online at Kohls.com/cares, with 100 percent of the net profit of these items donated to support the fight against breast cancer.
Sunday's game also features collegiate and alumnae members of the Zeta Tau Alpha Fraternity for women distributing pink ribbons and breast cancer awareness information from 11:15 a.m. to 3:15 p.m. in the Lambeau Field parking lots. The Packers are among 22 NFL teams to partner with ZTA as part of the league's celebration of Breast Cancer Awareness Month this season.
The National Football League has partnered with the American Cancer Society during October with a campaign called "A Crucial Catch: Annual Screening Saves Lives," which encourages annual mammograms for women over 40. More information about the effort, as well as about preventing breast cancer and getting screened, can be found online at www.nfl.com/pink.