Today, the Green Bay Packers and Verizon announced their continuing campaign to collect no-longer-used wireless phones, chargers and accessories from fans to support prevention efforts and assist survivors of domestic violence during October's Domestic Violence Awareness Month at a special gameday collection Sunday, Oct. 22.
Devices, from any carrier in any condition, can be donated from 10 a.m. until kickoff as the Green Bay Packers face the New Orleans Saints. Volunteers will be at the Oneida Nation, Mills Fleet Farm, Verizon and Miller Lite (Atrium) gates to collect donations.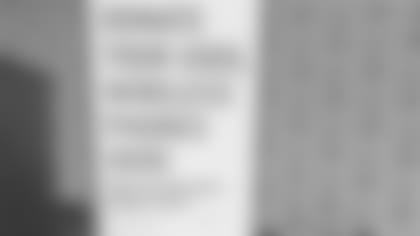 "The Green Bay Packers are proud to once again partner with Verizon for the HopeLine program to continue working to end domestic violence," said Packers President/CEO Mark Murphy. "The phone drive provides an opportunity for our fans and guests to join the campaign, donate their used phones and help us support those who have experienced domestic violence."
"At Verizon, our employees have long supported our efforts to help prevent domestic violence," said Steve Van Dinter, Verizon. "We're calling on Green Bay Packers fans to keep up the amazing support they've shown for over the years. Together, we can truly make a difference."
At Tuesday's press conference, Verizon made a $50,000 grant presentation to End Domestic Abuse WI from funds generated by Verizon to continue to provide supportive funding for the organization's Teen Leadership and Economic Empowerment programs.
"Teen dating violence is more common than we think," said Patti Seger, executive director, End Domestic Abuse WI. "While most parents don't believe it's an issue in the lives of their teens, we know that one in three adolescents will be affected by dating violence. We are grateful that Verizon supports End Domestic Abuse WI in its work to address teen dating and sexual violence."
End Domestic Abuse WI promotes social change that transforms societal attitudes, practices and policies to prevent and eliminate domestic violence and abuse. The organization fosters the leadership of young people through its Teen Dating Violence and Health Relationships Project. This project helps young people promote the values of mutual respect, equality and open communication with their peers and in their communities. With this grant, End Domestic Abuse WI will continue and expand the number of Teen Council meetings, which are gatherings of these youth leaders from across the state, and will continue to build skills among program coordinations, prevention educations and teen organizers.
HopeLine from Verizon connects survivors of domestic violence to vital resources, funds organizations nationwide and protects the environment. HopeLine provides ways for individuals to take action against domestic violence by donation no-longer-used wireless phones and accessories in any condition from any service provider. Verizon turns these devices into support for domestic violence organizations and programs nationwide.