PACKERS HOST VIKINGS IN PRIME-TIME DIVISIONAL MATCHUP
Green Bay hosts the division-rival Minnesota Vikings tonight at Lambeau Field in a nationally televised game.
This is the third straight year and the fifth time in six seasons that the border rivals have squared off in a prime-time matchup.
It is the first time since 2003 that the teams will meet in a Sunday night contest. Green Bay won the Nov. 2, 2003, matchup at the Metrodome, 30-27. Prior to that the teams had squared off on Sunday night twice before (1990 and 2002).
The Packers have an 18-8 (.692) mark against NFC North opponents under Head Coach Mike McCarthy, which ranks first among NFC North teams over that span, including a 10-3 (.769) mark at home. Green Bay's divisional record since '06 is tied for fourth in the NFL, and the Packers have posted a 4-2 record or better in the division each season under McCarthy.
Tonight's contest is the second straight home game for a Green Bay team that is in the midst of a stretch of three of four games at Lambeau Field.
Green Bay had its six-game home winning streak snapped last Sunday in a 23-20 overtime loss to the Miami Dolphins, the third loss for the Packers this season by three points and the second straight in overtime. The Packers have won 20 of 29 games (.690), including playoffs, at Lambeau Field since 2007.
Next Sunday, the Packers will travel to New York to face the Jets in a noon (CDT) contest at New Meadowlands Stadium. It will be the first time since 2002 that the Jets have hosted Green Bay. Minnesota visits New England next Sunday for a 3:15 (CDT) game with the Patriots.
Few rivalries in sports have exhibited the parity of the Green Bay-Minnesota series since it began in 1961.
Through 98 meetings, which includes one postseason game, the Packers hold a slight 49-48-1 advantage over the Vikings.   
Fans can bet on a back-and-forth contest when these two clubs meet, one that always seems to come down to the final possession. In fact, 13 of the past 15 regular-season games have been decided by seven points or less, the lone exceptions being the Packers' 34-0 blanking of the Vikings in 2007 at Lambeau Field and Minnesota's 38-26 victory in Green Bay last season.
Not only do the games seem to always come down to the last possession, but more recently they have come down to a final kick. From 2004-2008, six out of the 10 contests were decided by a field goal at the end of the fourth quarter. Vikings K Ryan Longwell kicked two game-winning field goals – for the Packers – in the '04 meetings.
The Vikings swept the series in 2009 and have won the past three matchups against the Packers. Prior to that, Green Bay had won each time against Minnesota in Head Coach Mike McCarthy's first five games vs. the Vikings.
Over the last 16 seasons (1994-2009), these teams have accounted for 12 NFC Central/North division championships.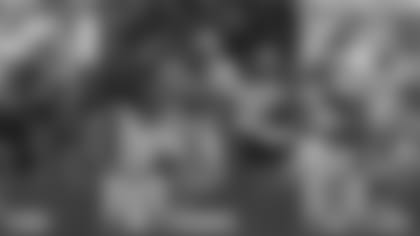 TONIGHT'S CAPTAINS
As per team tradition, the Packers select game captains each week.   
Tonight's captains will be G Josh Sitton (offense), LB A.J. Hawk (defense) and CB Pat Lee (special teams).
WEARING THE STRIPES
Tonight's officiating crew includes referee Scott Green (19), umpire Bruce Stritesky (102), head linesman Tom Stabile (24), line judge Tom Barnes (55), field judge Dyrol Prioleau (109), side judge Larry Rose (128) and back judge Scott Helverson (93).
By appearing in tonight's game, will become the 19th player in franchise history, and the sixth offensive lineman, to appear in 150 career games in a Packers uniform.
80 DONALD DRIVER
By appearing in tonight's game, will move into the No. 7 spot for most games played in team history with 168.
Enters game with a streak of 133 games with at least one reception (139 including postseason), the longest streak in franchise history. Ranks third among active NFL players behind Pittsburgh's Hines Ward (182) and Atlanta's Tony Gonzalez (152).
His two highest single-game yardage performances have come against Minnesota (162 yards, Dec. 24, 2004; 191 yards, Nov. 12, 2006).
12 AARON RODGERS
Has a passer rating of 103.6 in his four career starts against the Vikings, completing 85-of-126 passes (67.5 percent) for 991 yards and six TDs with one INT.
38 TRAMON WILLIAMS
Has posted an interception in each of the past two games, the fourth time in his career he has registered an INT in back-to-back contests.
GREEN BAY PACKERS
The Packers have scored points off a takeaway in 13 straight games at Lambeau Field, the longest current home streak in the NFL.
Dating back to last season, the Packers have posted 14 takeaways in their last six games at home.
Green Bay has not allowed an opposing RB to rush for 100 yards in 19 straight games, the longest current streak in the league and the second longest in team annals since the 1970 AFL-NFL merger (24 games, Sept. 20, 1970-Nov. 22, 1971).