PACKERS AND VIKINGS SET TO SQUARE OFF FOR 100TH TIME
Coming off their bye, the Packers go on the road to face the division-rival Minnesota Vikings at noon today in the 100th overall meeting between the teams.
Green Bay enters today's game on a three-game winning streak following victories over Minnesota, the N.Y. Jets and Dallas before the bye. It was the first time since 2004 that the Packers won three straight contests heading into their bye.
The Packers last played the Vikings in the game immediately following Green Bay's bye in 2005, which was the third straight year that the teams faced each other following the Packers' week off.
In games immediately following their bye week, the Packers have won 10 of their last 14, and under Head Coach Mike McCarthy, the team is 3-1. Since 2000, the Packers over the balance of their season after the bye are a combined 62-36 (.633), including a 9-3 mark in 2009.
The Packers come out of the bye with back-to-back games on the road at Minnesota and Atlanta. It is the third time in four seasons that Green Bay has had consecutive road games (2007, 2008) after the week off.
Of Green Bay's first five games following the bye, four of them will be away from Lambeau Field. Since the NFL introduced a bye week to the schedule in 1990, the Packers have never played four road games in its first five contests after the bye, and they are one of only two teams (St. Louis) in the NFL to do so this season.
The last time the Packers played four road games in a five-week stretch was in 2007 (Weeks 12, 13, 15, 16).
The Packers have a 19-8 (.704) mark against NFC North opponents under McCarthy, which ranks first among NFC North teams over that span. Green Bay's divisional record since '06 is tied for third in the NFL, and the Packers have posted a 4-2 record or better in the division each season under McCarthy. Green Bay is 2-1 in divisional games this year.
A COMPETITIVE SERIES
Few rivalries in sports have exhibited the parity of the Green Bay-Minnesota series since it began in 1961.
Through 99 meetings, which includes one postseason game, the Packers hold a slight 50-48-1 advantage over the Vikings.   
Fans can bet on a back-and-forth contest when these two clubs meet, one that always seems to come down to the final possession. In fact, 14 of the past 16 regular-season games have been decided by seven points or less, the lone exceptions being the Packers' 34-0 blanking of the Vikings in 2007 at Lambeau Field and Minnesota's 38-26 victory in Green Bay last season.
Not only do the games seem to always come down to the last possession, but more recently they have come down to a final kick. From 2004-2008, six out of the 10 contests were decided by a field goal at the end of the fourth quarter. Vikings K Ryan Longwell kicked two game-winning field goals – for the Packers – in the '04 meetings.
The Packers snapped the Vikings' three-game winning streak in the series earlier this season with a 28-24 victory at Lambeau Field in Week 7. Prior to that, Green Bay had won each time against Minnesota in Head Coach Mike McCarthy's first five games vs. the Vikings.
NOTABLE CONNECTIONS
Vikings QB Brett Favre played 16 seasons for the Packers (1992-2007), leading the team to four NFC Championship Game appearances and two Super Bowls, and setting all the major NFL passing records for career attempts, completions, yards, TDs and INTs as a member of the Packers...Vikings K Ryan Longwell is Green Bay's all-time leading scorer, having racked up 1,054 points in nine seasons with the Packers (1997-2005)...The Vikings' coaching staff has several ties to the University of Wisconsin, where Childress (1991-98) and asst. offensive line coach Jim Hueber (1992-2005) worked together, where offensive coordinator Darrell Bevell played QB (1992-95), and where asst. DB coach Matt Sheldon coached DBs (1997-99) and special teams coordinator Brian Murphy (2000-05) held various recruiting and administrative roles...Bevell also was a Packers offensive asst. coach from 2000-05, including QB coach (2003-05) for Favre, while Sheldon grew up in Wausau, Wis. ...While running Seattle's drafts, Packers GM Ted Thompson selected Vikings G Steve Hutchinson in the first round in 2001; Hutchinson and Packers CB Charles Woodson were teammates on Michigan's 1997 national championship team...Packers NT Howard Green spent 2007 training camp with Minnesota...Green Bay director of research and development Mike Eayrs (similar capacity, 1985-99) previously worked for the Vikings, as did Packers VP of football administration/player finance Russ Ball (1999-2000) and VP of sales and marketing Tim Connolly (1998-99).
TODAY'S CAPTAINS
As per team tradition, the Packers select game captains each week.   
Today's captains will be WR Jordy Nelson (offense), CB Charles Woodson (defense) and P Tim Masthay (special teams).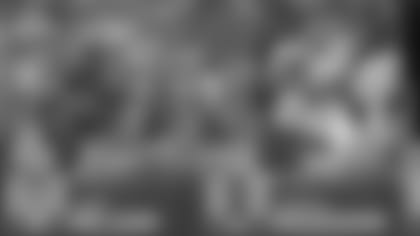 WEARING THE STRIPES
Today's officiating crew includes referee Clete Blakeman (34), umpire Garth DeFelice (53), head linesman Tony Veteri (36), line judge Jeff Seeman (45), field judge Mike Weir (50), side judge Greg Meyer (78) and back judge Terrence Miles (111).
With 40 rushing yards and 7 receiving yards, would become first Packers RB since Ahman Green in 2006 to post 500 rushing yards/200 receiving yards in the same season.
85 GREG JENNINGS
Has caught six or more passes in each of the past four games, the longest streak of his career. With six receptions today, would become first Packer WR since Sterling Sharpe to post six-plus receptions in five straight games (12, 1993).
86 DONALD LEE
Needs two receptions to move past Rich McGeorge (175) and into the No. 5 spot on the team's all-time tight ends list.
12 AARON RODGERS
Has a passer rating of 99.6 in five career starts against the Vikings, completing 106-of-160 passes (66.3 percent) for 1,286 yards and eight TDs with three INTs.
GREEN BAY PACKERS
The Packers rank No. 2 in the NFL in scoring defense, allowing opponents an average of 15.9 points per game. Green Bay has allowed just seven points in its past two games.
Green Bay ranks No. 1 in the NFL with 80 points off of takeaways this season, and the Packers have posted a plus-10 turnover differential (10 takeaways, 0 giveaways) in their last 10 quarters of play.
Under Head Coach Mike McCarthy, the Packers have a 9-3 regular-season road record in domes. That .750 winning percentage since 2006 is No. 1 in the NFL among teams with at least eight road dome games.