PACKERS HOST VIKINGS IN PRIME-TIME MATCHUP
Green Bay returns home for the first time in nearly a month to host the division-rival Minnesota Vikings on Monday Night Football.
This is the fourth straight year and the sixth time in seven seasons that the border rivals have squared off in a prime-time matchup.
Green Bay owns the NFC's longest MNF appearance streak at 19 seasons (1993-2011). In the NFL, only Denver (20, 1992-2011) has a longer streak. This is the Packers' lone appearance on MNF this season and their third of four scheduled prime-time games.
It is the third straight season that the two meetings between the clubs have come within a month of each other. Green Bay topped Minnesota, 33-27, in Week 7 this season at Mall of America Field in Minneapolis.
The Packers are off to an 8-0 start for the first time since 1962 and only the fifth time in franchise history.
The four previous 8-0 starts in team history (1929-31, 1962) all resulted in NFL titles for the Packers.
Including playoffs, the Packers have won14 straight games, the longest winning streak in team history. That tops the previous mark of 12 games from 1961-62.
The Packers' streak of 10 consecutive wins in the regular season (2010-11) ranks No. 3 in franchise annals behind only 11-game streaks in 1928-29 and 1961-62.
This is the second regular-season winning streak of eight or more games during McCarthy's tenure (eight-game streak in 2006-07).
The Packers have won eight straight contests at Lambeau Field and 14 of their last 15 at home. It is the longest home winning streak by Green Bay since an 11-game streak from 2001-02 and thelongest current home winning streak in the NFL.
Green Bay's 14-1 (.933) home mark since Week 10 of 2009 is tied for No. 1 in the NFL over that span with New England (14-1, .933).
Through 101 meetings, which includes one postseason game, the Packers hold a 52-48-1 advantage over the Vikings in the all-time series.
Fans can bet on a back-and-forth contest when the two clubs meet, one that always seems to come down to the final possession. In fact, 15 of the past 18 regular-season meetings have been decided by seven points or less, the lone exceptions being the Packers' 34-0 blanking of the Vikings in 2007 at Lambeau Field, Minnesota's 38-26 victory at Green Bay in 2009 and Green Bay's 31-3 win at Minnesota last season.
The Packers will be looking for their fourth sweep of the Vikings in six seasons under McCarthy, having won both games in '06, '07 and '10.
This will be the eighth meeting between the teams on Monday Night Football, with the Vikings holding a 4-3 edge in those matchups.
Green Bay will be looking to get off to just its fourth 9-0 start in franchise history (1929, 1931, 1962).
The Packers rank No. 1 in the NFL in scoring at 34.4 points per game...Their 275 points this season are the most in franchise history through eight games and the fourth most since the 1970 AFL-NFL merger by an NFL team through eight contests...The team record for most points in the first nine games of a season is 292 posted by the Packers in 1962.
The Packers have scored at least 24 points in every game this season, the only team in the NFL to accomplish that feat in 2011. That ties the franchise record for most consecutive 24-point games in a single season (eight games, Sept. 22-Nov. 10, 1963).
QB Aaron Rodgers – Is the first QB in NFL history to post 2,600 passing yards/24 passing TDs in the first eight games of the season...Has registered a 110-plus passer rating in every game this season, an eight-game streak that is the longest single-season rating games in a single season...With a 300-yard passing game tonight, would tie Favre (1995, 2007) for the most 300-yard games by a Packer in a single season with seven...Needs two TD passes tonight to top the franchise mark for most TD passes in the first nine games of the season (Favre, 25, 1996) and 58 passing yards to top the team mark for yardage through nine contests (Lynn Dickey, 2,676, 1983).
K Mason Crosby – Has made 22 straight field goals entering tonight's contest, the longest regular-season streak in franchise history and the longest current streak in the NFL.
LB Clay Matthews – Ranks No. 4 all-time (since 1982) among Green Bay players for the most sacks in his first three seasons in the NFL with 26.5, trailing only LB Tony Bennett (29.5), LB Tim Harris (28.5) and DE Kabeer Gbaja-Biamila (27.0).
WR Donald Driver – Needs 43 yards from scrimmage for 10,000 yards for his career. Ranks No. 2 in franchise history in yards from scrimmage behind only RB Ahman Green (11,048).
WR Jordy Nelson – Has topped the 100-yard receiving mark in two of his last three games...Needs just 13 receiving yards to top his career high of 582 yards receiving in 2010.
TE Jermichael Finley – Two of his three career 100-yard receiving games in the regular season have come on Monday Night Football (128  yards at Minnesota in 2009 and 115 yards at Chicago in 2010)...In his last three games on MNF, has caught 22 passes for 322 yards (14.6 avg.) and three TDs...Needs one TD reception to top his career high of five TD catches in 2009.
As per team tradition, the Packers select game captains each week.
Tonight's captains will be FB John Kuhn(offense), LB Erik Walden(defense) and WR Randall Cobb(special teams).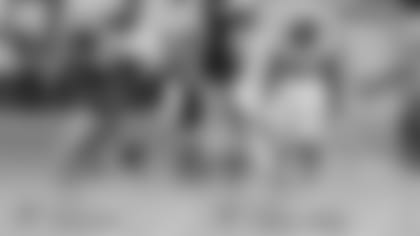 Tonight's officiating crew includes referee Mike Carey (94), umpire Chad Brown (31), head linesman Dana McKenzie (8), line judge Tim Podraza (47), field judge Mike Weir (50), side judge Boris Cheek (41) and back judge Kirk Dornan (6).