PACKERS HOST VIKINGS IN NFC NORTH MATCHUP
The Packers (7-4) return home for the first time in nearly a month when they welcome the division-rival Minnesota Vikings (6-5) to Lambeau Field today.
It kicks off a stretch of three straight NFC North games for Green Bay, the first time the Packers have had three consecutive divisional contests on the schedule since 2006 (Weeks 15-17). Four of Green Bay's final five games are against divisional foes.
The Packers have won afranchise-record nine consecutive games against NFC North opponents. It is the second-longest current divisional winning streak in the NFL behind only Baltimore's 12-game winning streak against AFC North teams.
This is Green Bay's first meeting with Minnesota this season, the latest that the first game has come in the history of the series (since 1961).
The teams will also face off in Minnesota in the season finale. It marks the first time in the series that both season meetings will come in December.
Today will mark the first time the teams have squared off in a noon kickoff at Lambeau Field since 2007. Three of the last four meetings in Green Bay (2008, 2010-11) have been prime-time matchups.
The Packers have won 17 of their last 18 regular-season games (.944) at Lambeau Field and 23 of their last 25 (.920) at home.
Green Bay has won 24 of its last 29 regular-season games overall (.828), the best record in the league over that span.
The Packers' are coming off a 38-10 loss to the N.Y. Giants last Sunday night, one that ended Green Bay's five-game winning streak.
Green Bay currently sits at No. 2 in the NFC North with its 7-4 mark, one game behind Chicago (8-3) and one game ahead of Minnesota (6-5).
Through 102 meetings, which includes one postseason game, the Packers hold a 53-48-1 advantage over the Vikings in the all-time series.
Fans can bet on a back-and-forth contest when the teams meet. In fact, 15 of the last 19 regular-season meetings have been decided by seven points or less, the lone exceptions being the Packers' 34-0 win at Lambeau Field in 2007, Minnesota's 38-26 win at Green Bay in 2009, Green Bay's 31-3 win at Minnesota in 2010 and the Packers' 45-7 victory at Lambeau last season.
The Packers have swept the season series in four of six seasons under Head CoachMike McCarthy (2006-07, 2010-11).
Green Bay has won four straight against the Vikings, its longest streak since a five-game winning streak vs. Minnesota from 2006-08.
Green Bay's 38-point win (45-7) over Minnesota last season in Week 10 was the largest margin of victory by either team in the history of the series.
GETTING IT DONE IN THE DIVISION
With its current nine-game winning streak in NFC North games, Green Bay has set the franchise record for the longest divisional winning streak, surpassing eight-game winning streaks in 1996-97 and 2001-02.
During their current nine-game divisional winning streak, the Packers have outscored their opponents by a combined total of 269 to 161 and have a combined turnover differential of plus-13.
The Packers have a 29-9 (.763) regular-season record against NFC North opponents under*McCarthy, a divisional mark that ranksNo. 2 in the NFL* since 2006 behind only New England (32-8, .800).
The Packers have won 16 of 19 NFC North games at home under McCarthy, the No. 2 home divisional mark in the league over that span behind only the Patriots (17-3, .850).
Green Bay has averaged 31.4 points per game at Lambeau Field since 2009, No. 2 in the league at home over that span behind only New England (32.5).
The Packers have a plus-41 turnover differential (72 takeaways, 31 giveaways) at home since 2009, No. 1 in the NFL over that span.
Green Bay has either won the takeaway battle or come out even in 26 of its last 29 regular-season games.
Entering Week 13, the Packers rank No. 3 in the NFL in sacks (34) and in sack yardage (222). Green Bay has had 14 different players record at least one sack this season, tied for the second most in a season in franchise history (since 1982) behind only the 1987 season (15 players).
Since Week 4, Green Bay ranks No. 4 in the NFL in rushing yards allowed per game (91.9) and No. 5 in yards per carry (3.8 avg.).
QB Aaron Rodgers has thrown a TD pass in 34 consecutive regular-season games at Lambeau Field, a team record (previous mark was 25 by Brett Favre from 1992-96). Rodgers' home streak is the longest in the NFL since Dolphins QB Dan Marino (39 games, 1983-88).
Rodgers needs 162 passing yards to reach the 3,000-yard mark for the season. It would be his fifth straight season with at least 3,000 yards passing.
Rodgers has a combined 116.5 passer rating in eight career starts against Minnesota, having connected on 175 of 251 passes (75.8 percent) for 886 yards and 11 TDs with zero INTs for a 145.4 passer rating. He has posted a 140-plus rating in each of his last three starts against the Vikings, the first NFL quarterback since the 1970 AFL-NFL merger to register a 140-plus rating in three consecutive games against the same opponent.
Over his last 16 regular-season starts at home, Rodgers has completed 369 of 536 passes (68.8 percent) for 4,614 yards, 48 TDs and nine INTs for a 118.2 passer rating. He has posted a 110-plus passer rating in 10 of those 16 games.
WR Randall Cobb has six TD catches over the past five games, the second most in the NFL over that span behind only Patriots TE Rob Gronkowski (seven). Over the last eight games, Cobb has 47 receptions for 517 yards (11.0 avg.) and seven TDs.
WR Jordy Nelsonranks No. 2 in the NFL with 21 TD catches since 2011, trailing only Gronkowski (27). Nelson ranks No. 2 in the league in TD catches at home since 2011 with 14 and No. 5 in receiving yards per game at home at 88.1.
P Tim Masthay has placed a career-high 26 punts inside the 20 this season, which is tied for No. 3 in the league. The single-season franchise record (since 1976) for most punts inside the 20 is 30 by Sean Landeta in 1998.
C Jeff Saturdayis expected to make his 200th career regular-season start as a pro today.
As per team tradition, the Packers select game captains each week.
Today's captains will be G Josh Sitton(offense), DT B.J. Raji (defense) and CB Jarrett Bush (special teams).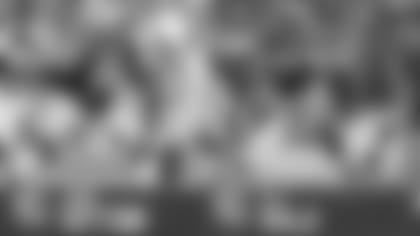 Today's officiating crew includes referee Ed Hochuli (85), umpire Rich Hall (49), head linesman Mark Hittner (28), line judge Adrian Hill (29), field judge Craig Wrolstad (4), side judge Keith Washington (7) and back judge Don Carey (126).