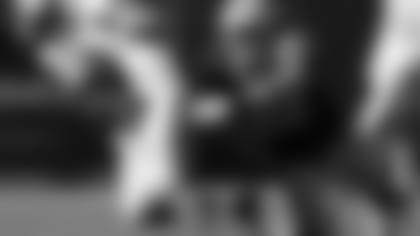 LB Clay Matthews injured his thumb making this sack on the final play of the third quarter Sunday.
GREEN BAY—Mike McCarthy said on Monday afternoon that not all the medical opinions are in on Clay Matthews' broken thumb.
So whether or not Matthews will have to miss any time, and if so how much, won't be known until later in the week.
"I'm hopeful it's not season-ending," McCarthy said. "We're all hopeful. But you have to get all the opinions and make sure you always do right by the player."
The worst-case scenario for the Packers is if Matthews' thumb requires surgery, because that would likely end his season. The best case would be for Matthews to be able to continue playing with his hand wrapped in a "club," which defenders Morgan Burnett and Cullen Jenkins have done for the Packers in recent years. There's also the possibility the prognosis is something in between, requiring rest for now with the potential for playing with a protective club later.
"They're all a little different," McCarthy said. "We've had guys that have played with them and didn't miss any time, without a club. We've had guys play with clubs, and we've had guys that have had to go to season-ending surgery. That's why you go about it the way we do."
Regardless of Matthews' situation, an encouraging development on defense was the play of fellow outside linebackers Nick Perry and Mike Neal, who would become the starting duo in Matthews' absence.
Both McCarthy and Defensive Coordinator Dom Capers felt Neal and Perry played their best games as pros to date as they combined for three of the Packers' five sacks. Neal also had two additional tackles behind the line of scrimmage.
"Not knowing the status and what's going to go on (with Matthews), we need for Mike Neal and Nick Perry to be ready to play next week the way they played this week, because they played their best football," Capers said.
So did Capers defense as a whole, allowing the Lions just 286 yards, nearly half of which (131) came on the two-minute scoring drives at the end of each half. Without star receiver Calvin Johnson, Detroit's offense revolved around running back Reggie Bush, who was held to just 4.1 yards per play on his 17 touches (13 rushes, four receptions).
"We played with an edge. I liked our intensity," Capers said. "Our pursuit, getting people to the ball, the leverage on the ball was as good as it's been. Where that showed up is it was our best game in terms of not giving up big plays.
"We came out of the game yesterday without any takeaways, but I really believe if we play with the kind of intensity and pursuit we did yesterday, those things will come."
On the offensive side, the running game continues to come along. The Packers gained 180 yards on the ground for the second straight game, moving up to fifth in the league in rushing offense.
This time much of the credit went to guards T.J. Lang and Josh Sitton, who were charged with blocking Lions defensive tackles Ndamukong Suh and Nick Fairley.
"That was clearly the matchup we were focused on, their two defensive tackles," said McCarthy, who called the guards' performance their best as well. "I thought our interior line definitely answered the bell there."
Offensive Coordinator Tom Clements added that center Evan Dietrich-Smith, who was uncovered at the line of scrimmage, was able to provide help to one side or the other on a given play. That helped keep quarterback Aaron Rodgers upright – he was sacked just once – and it helped keep the ground game moving.
Randall Cobb's 67-yard scamper was the lone big run, but Eddie Lacy managed to churn out a 4.3-yard average on his 23 carries without any run longer than 13. Clements said the potential was there at times for more, but overall the steady production is what mattered.
"There are a number of good pictures yesterday where we got through the line and then we needed to make a guy miss or sustain some blocks a little longer on the second level," Clements said. "There were other pictures where it was kind of clogged up and we kind of pushed the pile for 5, 6, 7 yards, and you need those types of runs, too. If you have a number of those, it wears on the defense, and then eventually you're going to hopefully get through there and make some longer runs.
"We're not going to rest on our laurels. We have to work each week to try to have an effective running game." Additional coverage - Oct. 7