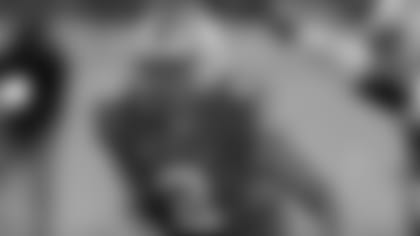 Ohio State LB Ryan Shazier
GREEN BAY—Draft analyst Tony Pauline says the Packers are in a perfect spot at pick No. 21 to select the best available player.
"If I'm the Packers I grab the best available player with that pick because where they're drafting the best available player should fit their need," Pauline told packers.com.
Pauline said he has recently updated his value board, moving safeties Calvin Pryor and "Ha Ha" Clinton-Dix so they sandwich the Packers' pick. Pauline ranks Pryor as the 20th-best player in the draft and Clinton-Dix as the No. 24 overall prospect. Defensive tackle Louis Nix is at No. 21 and linebacker Ryan Shazier is at No. 22 on Pauline's board.
"I've moved things around slightly. Several guys have moved down," Pauline said in explaining his decision to move the two safeties up his board. Early in the evaluation period, Pauline didn't include a safety among the top 32 picks of the draft. He's also moved Shazier up the board in recent updates.
Who has Pauline moved down? "Teddy Bridgewater, Timmy Jernigan, Bradley Roby, RaShede Hageman," he said.
"I'm hearing there are medical red flags on C.J. Mosley. It's the M.O. of Alabama players," Pauline added. He continues to rank Mosley high, No. 15 overall.
"Mike Evans is flying up draft boards. A lot of teams didn't see a big separation between Evans and Sammy Watkins. I'm hearing he could go before Watkins. If he doesn't go to the Browns at four, the Raiders could take him," Pauline said of a player who could have a major impact on how the early picks fall.
The most important strategic pick of the draft?
"Right now, it's Houston. They'd be apt to make a trade down and take (quarterback) Blake Bortles later on," Pauline said, referring to a possible trade by the Falcons into the top spot to select defensive end Jadeveon Clowney. The asking price will likely decide that issue.
"I don't know that Clowney takes that team over the top," Pauline said.
"There are a lot of people who think there are 42 first-round talents in this draft. I think there are only 20-21 first-round players, but I believe there are 45-50 players that have second-round grades. People keep talking about how deep the draft is. That's why it's so deep," Pauline added.
"It's great at receiver. You don't have any Calvin Johnsons but you have tremendous depth. You're going to get receivers on the last day of the draft that can help as rookies," Pauline said.
"The second round might be (the Packers') area, and there are some projects later in the draft. A.C. Leonard, 6-2, 252, ran a 4.53 at the combine. He looks and plays like a possession receiver in a tight end body. He's a talent. Richard Rodgers is another guy."
Developmental quarterback?
"Logan Thomas, Jeff Matthews (6-4, 223) of Cornell has a big-time arm. Tajh Boyd has tremendous physical skills but he needs work from the ground up. I hear Rex Ryan loves him," Pauline added.
The pre-draft hype continues as the countdown begins toward the May 8 kickoff to the three-day event.