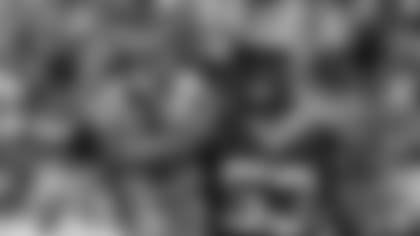 OLB Nick Perry
GREEN BAY—Clay Matthews is out and Nick Perry is in. Will Perry be able to fill the biggest pair of shoes on the Packers defense?
That's the No. 1 storyline heading into Sunday's game between the Packers and Super Bowl-champion Baltimore Ravens.
Perry played his finest game last Sunday when he recorded two sacks, two tackles for loss, two quarterback hurries and one forced fumble, in the Packers' critical win over the Detroit Lions. It evened the Packers' record at 2-2 and put them a half-game behind the Lions and Bears in the NFC North title race.
"We see constant progress with Nick. He played his best game last week," Defensive Coordinator Dom Capers said of the Packers' 2012 first-round pick.
The Packers would no doubt like to see defensive end Datone Jones, the team's first-round pick this year, assist Perry in picking up the pass-rush slack Matthews' broken thumb has created. Jones has yet to record his first sack as a pro.
"With No. 1 picks, the expectation level is high. He missed quite a bit (of training camp) with that ankle. I've seen some things in practice where he's practiced better. He's had a couple of days of better practice this week," Capers said of Jones.
Ravens quarterback Joe Flacco has been vulnerable to being rushed this season. He's been sacked 14 times and the problems have primarily been on the Ravens' left side, where the team traded with Jacksonville last week to acquire left tackle Eugene Monroe.
"Their quarterback is experienced. They're going to take their shots downfield. They make big plays. They haven't run the ball as well as they have in the past, but they're still committed to the run," Capers said of the Ravens.
On offense, the Packers' focus will be on blocking Terrell Suggs, who's near the top of the league with seven sacks.
"He's an outstanding player. He has all the tools you look for in a rusher. He likes to get sacks. He's a force to be reckoned with," Packers Offensive Coordinator Tom Clements said of Suggs.
"That division (AFC North) is noted for being hard-nosed, playing good defense and running the ball. They're like us; they're going to take their shots," Clements added.
The Packers have discovered a running game to match their passing game in efficiency this season. Currently, the Packers are No. 3 in the league in total offense, with the No. 4 passing game and the No. 5 rushing attack.
"We're committed to it," Clements said of the run. "We're getting the attempts and the yards. It helps us control the ball and it helps us when we pass. It slows down the rush a bit."
On special teams, kicker Mason Crosby is coming off a dead-solid-perfect performance. Following a slump in 2012 that extended into the early part of this summer's training camp, Crosby has since become the trusted weapon he was in 2011.
"There was one day in training camp," Special Teams Coordinator Shawn Slocum said of when he noticed the Crosby of old emerging. "Since that day, I've seen him really approach the ball with confidence. I respect the work ethic in him to be able to work through that." Additional coverage - Oct. 11