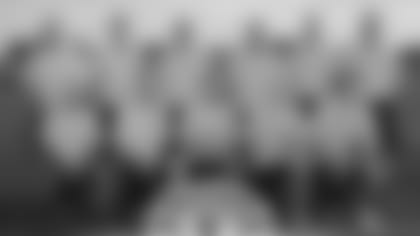 Pictured: Front Row (left to right): Reid Chase, Mike Connell, Nick Olla, Kevin Yarbrough, Matt Donath, Back Row (left to right): Chad Buchholz, Eric Solberg, Dave Pfeiffer, Cheston Blenker, Steve Timm, Steve Graf
The Packers have announced that Dave Pfeiffer of Kettle Moraine High School has been named Green Bay Packers High School Coach of the Week.
Pfeiffer, in his second year as the head coach of Kettle Moraine, led the Lasers to a 38-31 victory over the Classic 8 powerhouse, Mukwonago Indians. The Lasers scored 31 unanswered second half points to keep their playoff hopes alive.
"Friday's game was a tale of two completely different halves," said Pfeiffer. "At halftime, I told the team that life is full of a lot of hard lessons and how you react to those difficult situations is going to lead your legacy. We needed to rise up, win, lose or draw, and both the kids and coaches responded and did a marvelous job in the second half. It was a wonderful comeback."
A Hartland, Wis. native, Pfeiffer is a 1974 graduate of Arrowhead High School, where he played on the offensive and defensive line under coach Larry Reinhold. The football field at Arrowhead, Pfeiffer Field, is named after his father, Frank, who was an assistant football and baseball coach. After high school, he attended Gustavus Adolphus College (St. Peter, Minn.) where he played on the defensive line under Dennis Raarup. Upon graduating in 1978, he served as an assistant at Evansville, Arrowhead, Sussex Hamilton, Waukesha West and North before accepting the head coaching position at Sheboygan South in 1996, where he spent 11 seasons. Starting in 2007, he assisted at Kewaskum, Concordia and Arrowhead before accepting his current position in 2013. Pfeiffer is also the school's study hall and lunch supervisor.
Pfeiffer and his staff oversee a program of 100 players, including a varsity roster of 60. His assistant coaching staff includes Cheston Blenker, Chad Buchholtz, Reid Chase, Mike Connell, Matt Donath, Steve Graf, Chris Halloway, Nick Olla, Eric Solberg, Steve Timm and Kevin Yarbough.
Pfeiffer and his wife, Melissa, have a son, Jacob, and daughter, Elizabeth.
About the Green Bay Packers High School Coach of the Week Program
The Packers will recognize one outstanding high school coach as their 'Coach of the Week' winner during the 2014 high school football season. Winners are awarded several items and privileges, including a $1,000 donation to the school's football program from the Green Bay Packers and the NFL, as well as recognition of the award on Packers.com, Wissports.net and Wifca.org.
Nominations for Coach of the Week should be submitted by 10 a.m. every Monday to Tim Schroeder, youth football coordinator, at coachoftheweek@packers.com or by fax at (920) 569-7302. Please include the nominee's name, address, school, phone number and reason he/she is deserving of the award.