This weekend, the Green Bay Packers will welcome another rookie class to their roster through the NFL Draft, held April 27-29 in Philadelphia.
Armed with seven of their own selections – plus one compensatory pick – the Packers will have plenty of opportunities to add more talent and depth to their roster. All picks are eligible to be traded.
Green Bay enters the draft with a pick in every round, including two selections in the fifth round.
The event will begin in prime time on Thursday night, with Round 1 on April 27 beginning at 7 p.m. CT.
Rounds 2-3 also will be held in prime time, beginning on Friday, April 28, at 6 p.m. CT. Rounds 4-7 will complete the draft on Saturday, April 29, starting at 11 a.m. CT.
Teams will have 10 minutes in between selections in the first round and seven minutes between each choice for Round 2. Rounds 3-6, including compensatory picks, will allow up to five minutes in between picks and Round 7, including compensatory picks, will allow four minutes. A look at where Green Bay currently stands in the draft order: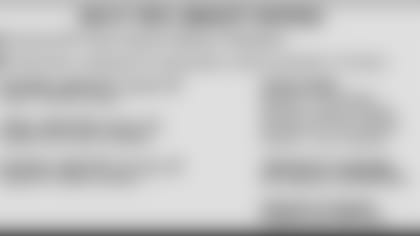 THOMPSON LEADS PACKERS INTO ANOTHER DRAFT
GM Ted Thompsonenters his 13th draft with the Packers, and he has long viewed the draft as the most important aspect of player acquisition.
Thompson entered his first draft with Green Bay in 2005 armed with seven picks. Through draft-day trades, he wound up with 11 selections, highlighted by a pair of Pro Bowlers in QBAaron Rodgers (first round) and S Nick Collins(second).
In 2006, Thompson began draft day with seven selections, this time turning those seven picks into 12. The class included another pair of Pro Bowlers in LB A.J. Hawk(first) and WR Greg Jennings(second).
In 2007, Thompson again used draft-day trades to acquire more selections and increase the competition for roster spots. That class included significant contributors such as WR James Jones (third), LBDesmond Bishop and K Mason Crosby (consecutive picks in the sixth round).
That strategy was also implemented in 2008, as Thompson turned eight choices into 10 draft picks (nine players and a future pick). Selections such as Pro Bowl WR Jordy Nelson (second), TE Jermichael Finley (third) and Pro Bowl G Josh Sitton (fourth) made a significant impact.
In 2009, the Packers entered the draft with nine selections but made one of the most dramatic moves over the course of the weekend when they traded back into the first round. After selecting DT B.J. Raji with the No. 9 pick, Thompson moved back into the first round to select LB Clay Matthews at No. 26.**Though the Packers surrendered a second-round pick and two third-round choices to New England for the opportunity to draft Matthews plus a fifth-round pick, the Southern California linebacker has proven to be well worth it, earning six selections to the Pro Bowl in his first eight years.
In 2010, Green Bay selected TBryan Bulagain the first round at No. 23. He started 33 games from 2010-12 and 43 of 48 over the last three seasons after missing 2013 due to injury. Thompson moved up in the third round to select SMorgan Burnett(No. 71 overall), who has started 86 contests over the past six seasons.
Seven of the 10 players in the 2011 draft class went on to appear in a game for Green Bay in their first season, highlighted by WR*Randall Cobb *(second round), who was named to the All-Rookie Team by Pro Football Weekly/PFWA as a kickoff returner and earned his first trip to the Pro Bowl in 2014.
The Packers entered the 2012 NFL Draft with 12 picks and traded up three times. The draft was highlighted by first-round selection LBNick Perry, who ranks No. 3 in franchise postseason history with seven sacks, second-round selection CBCasey Hayward, who led all NFL rookies with six INTs in 2012 and became the first Packers CB to be named to the All-Rookie Team by Pro Football Weekly/PFWA since the team was first selected in 1974, and fourth-round pick DTMike Danielswho ranks No. 3 among Packers defensive tackles in sacks (since 1982) with 22.
The 2013 draft was highlighted by TDavid Bakhtiari *(fourth round), who became the first Green Bay rookie to start every game at LT since the league went to a 16-game slate in 1978 and was selected to his first Pro Bowl in 2016, and RBEddie Lacy*(second round), who was named the NFL's Offensive Rookie of the Year by The Associated Press.
In 2014, Thompson used four of his first six picks to draft players who all made starts as rookies: SHa Ha Clinton-Dix(10), WRDavante Adams *(11), TERichard Rodgers(five) and CCorey Linsley*(16).
Thompson followed up the 2014 draft with another class that saw rookies make an immediate impact with each of the first four selections earning starts: CBsDamarious Randall(nine),Quinten Rollins(four), WRTy Montgomery(three) and LBJake Ryan(five).
The 2016 class saw a first-year impact from first-round pick DTKenny Clark, who finished No. 3 among Packers defensive linemen in tackles (33); and from fourth-round selection LBBlake Martinez, who finished as Green Bay's fifth-leading tackler (62) while starting nine of 13 games played during the regular season.
Today's roster consists of 63 players, with 31 being drafted by Thompson.
A LOOK INTO THE DRAFT ROOM
General Manager Ted Thompson heads up the football operations, and he and Green Bay's coaches are well known to Packers fans. But working with Thompson is a talented and experienced football operations staff.
Members of the personnel staff have spent months, if not years with some prospects, studying for the 2017 NFL Draft. They visit schools throughout the season, attending practices, dozens of games and pro days in the spring. In each area, they have formed relationships with high school and college coaches, trying to get a better idea of who the person is, not just the football prospect.
Working closely with Thompson year-round is Director-Football Operations Eliot Wolf(14th NFL season), Director of Player Personnel Brian Gutekunst(19th NFL season), Senior Personnel Executive Alonzo Highsmith(19th NFL season), Director of College Scouting Jon-Eric Sullivan (14th NFL season), West Regional Scout Sam Seale (22nd NFL season) and Assistant Director of Pro Personnel Tim Terry (14th NFL season).
Members of the scouting department include college scouts John Wojciechowski(22nd NFL season), Richmond Williams (10th NFL season), Alonzo Dotson (fifth NFL season), Mike Owen (sixth NFL season), Charles Walls (fifth NFL season) and Matt Malaspina(18th NFL season), pro scout Chad Brinker (eighth NFL season), scouting assistants Joe Hueber (third NFL season) and Charlie Peprah (second NFL season), and college scouting coordinator Danny Mock (30th NFL season).
ANALYZING THE PICKS UNDER THOMPSON
Total Picks: 111 
Offense: 58     
Defense: 52   
Specialists: 1
Quarterback (6): Aaron Rodgers (2005-1), Ingle Martin (2006-5a), Brian Brohm (2008-2b), Matt Flynn (2008-7a), B.J. Coleman (2012-7b), Brett Hundley (2015-5a)
Running Back (6): Brandon Jackson (2007-2), DeShawn Wynn (2007-7a), James Starks (2010-6), Alex Green (2011-3), Eddie Lacy (2013-2), Johnathan Franklin (2013-4c)
Fullback (3): Korey Hall (2007-6a), Quinn Johnson (2009-5a), Aaron Ripkowski (2015-6a)
Tight End (7): Clark Harris (2007-7), Jermichael Finley (2008-3), Andrew Quarless (2010-5a), D.J. Williams (2011-5), Ryan Taylor (2011-7a), Richard Rodgers (2014-3b), Kennard Backman (2015-6c)
Wide Receiver (16): Terrence Murphy (2005-2b), Craig Bragg (2005-6b), Greg Jennings (2006-2b), Cory Rodgers (2006-4a), James Jones (2007-3a), David Clowney (2007-5), Jordy Nelson (2008-2a), Brett Swain (2008-7b), Randall Cobb (2011-2), Charles Johnson (2013-7a), Kevin Dorsey (2013-7b), Davante Adams (2014-2), Jared Abbrederis (2014-5b), Jeff Janis (2014-7), Ty Montgomery (2015-3), Trevor Davis (2016, 5)
Tackle (12): Tony Moll (2006-5b), Breno Giacomini (2008-5), T.J. Lang (2009-4), Jamon Meredith (2009-5b), Bryan Bulaga (2010-1), Marshall Newhouse (2010-5b), Derek Sherrod (2011-1), Andrew Datko (2012-7a), David Bakhtiari (2013-4a), JC Tretter (2013-4b), Jason Spriggs (2016-2), Kyle Murphy (2016-6)
Guard (6): William Whitticker (2005-7b), Daryn Colledge (2006-2a), Jason Spitz (2006-3b), Allen Barbre (2007-4), Josh Sitton (2008-4b), Caleb Schlauderaff (2011-6a)
Center (2): Junius Coston (2005-5a), Corey Linsley (2014-5a)
Defensive End (12): Michael Montgomery (2005-6a), Dave Tollefson (2006-7), Jeremy Thompson (2008-4a), Jarius Wynn (2009-6a), Mike Neal (2010-2), C.J. Wilson (2010-7), Lawrence Guy (2011-7b), Jerel Worthy (2012-2a), Datone Jones (2013-1), Josh Boyd (2013-5b), Khyri Thornton (2014-3a), Dean Lowry (2016-4b)
Defensive Tackle (6): Johnny Jolly (2006-6a), Justin Harrell (2007-1), B.J. Raji (2009-1a), Mike Daniels (2012-4a), Christian Ringo (2015-6b), Kenny Clark (2016-1)
Linebacker (17): Brady Poppinga (2005-4b), Kurt Campbell (2005-7a), A.J. Hawk (2006-1), Abdul Hodge (2006-3a), Desmond Bishop (2007-6b), Clay Matthews (2009-1b), Brad Jones (2009-7), D.J. Smith (2011-6b), Ricky Elmore (2011-6c), Nick Perry (2012-1), Terrell Manning (2012-5), Nate Palmer (2013-6), Sam Barrington (2013-7c), Carl Bradford (2014-4), Jake Ryan (2015-4), Kyler Fackrell (2016-3), Blake Martinez (2016-4a)
Cornerback (10): Mike Hawkins (2005-5b), Will Blackmon (2006-4b), Pat Lee (2008-2c), Brandon Underwood (2009-6b), Davon House (2011-4), Casey Hayward (2012-2b), Micah Hyde (2013-5a), Demetri Goodson (2014-6), Damarious Randall (2015-1), Quinten Rollins (2015-2)
Safety (7): Nick Collins (2005-2a), Marviel Underwood (2005-4a), Tyrone Culver (2006-6b), Aaron Rouse (2007-3b), Morgan Burnett (2010-3), Jerron McMillian (2012-4b), Ha Ha Clinton-Dix (2014-1)
Kicker (1): Mason Crosby (2007-6c)
DRAFT PICKS BY SCHOOL
Where have the 111 Packers draft picks gone to school? Note: BCS schools are those in the ACC, Big 12, Big East, Big Ten, Pac-12 and SEC.
BCS: 75
UCLA 5, California 4, Iowa 4, Arizona State 3, Colorado 3, Louisville 3, Stanford 3, Texas A&M 3, Alabama 2, Boston College 2, LSU 2, Michigan State 2, Mississippi State 2, Ohio State 2, Oklahoma 2, Southern California 2, Virginia Tech 2, Arizona, Arkansas, Auburn, Baylor, Cincinnati, Florida, Florida State, Georgia, Georgia Tech, Indiana, Kansas State, Kentucky, Maryland, Michigan, Nebraska, North Carolina, North Carolina State, Northwestern, Penn State, Purdue, Rutgers, South Carolina, South Florida, Tennessee, Texas, Utah, Vanderbilt, Wake Forest, Wisconsin
Non-BCS: 36
Boise State 2, Fresno State 2, San Diego State 2, Texas Christian 2, Alabama-Birmingham, Albany, Appalachian State, Bethune-Cookman, Brigham Young, Buffalo, Central Florida, Cornell, East Carolina, Eastern Michigan, Furman, Grand Valley State, Hawaii, Illinois State, Louisiana-Lafayette, Maine, Miami (Ohio), Missouri Southern State, Nevada, New Mexico State, North Carolina A&T, Northwest Missouri State, Saginaw Valley State, San Jose State, Southern Mississippi, Tennessee-Chattanooga, Utah State, Western Michigan *BCS/non-BCS is based on school's conference at time of player's graduation
First Round (12):Defensive tackle (3), linebacker (3), tackle (2), cornerback, defensive end, quarterback, safety
Second Round (16):Wide receiver (5), cornerback (3), defensive end (2), running back (2), guard, quarterback, safety, tackle
Third Round (11):Linebacker (2), safety (2), tight end (2), wide receiver (2), defensive end, guard, running back
Fourth Round (18):Linebacker (4), tackle (3), cornerback (2), defensive end (2), guard (2), safety (2), defensive tackle, running back, wide receiver
Fifth Round (18):Tackle (4),  wide receiver (3), cornerback (2), quarterback (2), tight end (2), center, defensive end, fullback, guard, linebacker
Sixth Round (19):Linebacker (4), cornerback (2), defensive end (2), defensive tackle (2), fullback (2), guard, kicker, running back, safety, tackle, tight end, wide receiver
Seventh Round (17):Wide receiver (4), defensive end (3), linebacker (3), quarterback (2), tight end (2), guard, running back, tackle