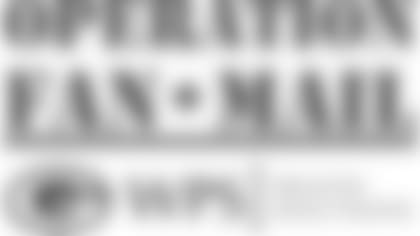 The Green Bay Packers and WPS Health Solutions paid special tribute to Captain Rachel Petri-Rose and her family during Sunday's Packers-Lions game for 'Operation Fan Mail.'
Petri-Rose, originally from Racine, Wis., enlisted in the U.S. Army in 1994 as a supply specialist. In 2004, she enlisted in the U.S. Air Force as a computer networking specialist, and received commission as a logistics readiness officer in 2008.
She has been stationed at various U.S. Air Force bases around the country, and has also been deployed to Djibouti in support of Operation Enduring Freedom, as well as Morón Air Force Base in Spain.
Petri-Rose is currently stationed in Madison, Wis., where she teaches ROTC at the University of Wisconsin-Madison. As Operations Flight Commander, she is responsible for instructing and overseeing the training of 70 cadets.

During her career, Petri-Rose has earned several medals over the years, including the Commendation Medal, Global War on Terrorism Medal, Expeditionary Medal and Joint Achievement Medal.  Between Petri-Rose and her husband, Bryan, who served nine years in the U.S. Army himself, the couple has moved nine times since 1996 due to their military obligations. They have been married for 20 years, and recently celebrated their anniversary by touring Lambeau Field. Petri-Rose, an avid Packers fan, is also a Packers Shareholder.
Sunday's game was Petri-Rose's first time seeing a game at Lambeau Field, and she attended with her husband and two of their four children, Riley and Kelton.
Operation Fan Mail, which debuted in 2007, is designed to recognize families with a member who is on active duty. The Packers and WPS Health Solutions will host a family at each 2016 home game and recognize them on the field during pregame activities. A total of 86 individuals or families have been recognized through the program thus far.
To choose families, the Packers and WPS Health Solutions are asking interested families, or friends of eligible families, to submit an essay, 500 words or less, on why a particular fan should be saluted. Essays can be sent to: Operation Fan Mail, P.O. Box 10628, Green Bay, WI, 54307-0628 or submitted online at packers.com/gameday/gamedaypromotions/operationfan_mail.
In addition to being recognized on-field prior to the game, selected families receive four tickets to the game. Families intended for recognition are those that have a member serving on active duty. The family member can be a spouse, mother, father, son, daughter or sibling.