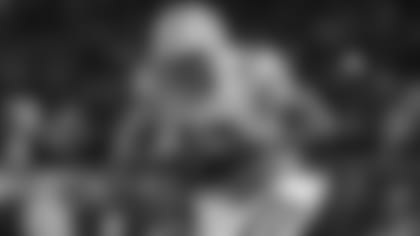 WR Randall Cobb
GREEN BAY—Randall Cobb played more snaps in his first game back on Sunday than planned, and that bodes well for him being able to play a significant role on offense in the playoffs.
Cobb, who missed 10 games with a leg injury, didn't enter the game in Chicago until the second quarter but played the majority of the offensive snaps thereafter. He only had two passes thrown his way, but both went for touchdowns, including the game-winner from 48 yards on fourth down.
"Going in we said if we can get him 15 or so snaps, that would be great," Offensive Coordinator Tom Clements said on Tuesday. "He played more and he felt fine, so I'm sure that's good for his confidence. He didn't have a problem playing the extended number of plays, so that's good."
Cobb's return to closer to a full-time role as the slot receiver will allow Jordy Nelson to remain outside most of the time. Nelson had lined up often in the slot in Cobb's absence, but he's most dangerous along the boundary, and it's probably not a coincidence that he had his best game of the season (10 catches, 161 yards) when Cobb returned.
Meanwhile, Cobb is the Packers' toughest matchup in the slot due to his burst and quickness in tight spaces. He had seven catches for 108 yards and a TD in Week 1 against the 49ers, who visit Lambeau Field on Sunday.
"He's dangerous with the ball in his hands," Clements said. "If you can get him the ball, he has a chance to make big plays out of short gains. Not that Jordy can't, but obviously Randall is a little smaller. He's used to being a punt returner and a kick returner, running in traffic and making guys miss. That's where he excels."
The Packers offense has excelled when the starting five on the offensive line can remain intact, and when running backs Eddie Lacy and James Starks can work as a 1-2 punch.
The offense experienced more fits and starts when it had to shuffle its linemen due to injuries through the middle portion of the season, but the regular starting five stayed together through December, which will help heading into a matchup with San Francisco's renowned front seven.
"It's difficult to keep plugging guys in," Clements said. "Hopefully we'll be at our best."
The running game is the best it's been in any of the matchups with the 49ers over the last two seasons, with Lacy and Starks combining for 282 yards and three TDs over the last two games.
While Lacy continues to battle a bum ankle, Starks is coming off his best outing since filling in for a concussed Lacy in Week 2. Against the Bears, Starks ran 11 times for 81 yards, including a 41-yard jaunt that was his longest of the season.
"When he's gotten his opportunities, he's been very productive," Clements said. "He's run very hard. He's fresh and anxious when he gets in there, and he's done an outstanding job."
Special Teams Coordinator Shawn Slocum's coverage units began the final month of the regular season with two strong games but have leaked some big returns in the past two weeks.
After the Falcons and Cowboys didn't have a punt return longer than eight yards or a kickoff return longer than 26, Pittsburgh's Antonio Brown brought back a punt 41 yards, Emmanuel Sanders returned a kickoff 46 yards, and Chicago's Devin Hester popped a 39-yard kickoff return and a 49-yard punt return.
"I think we've got a real challenge to play consistent football," Slocum said. "It's about 11 guys being efficient and doing their job. We've had times where we've played really well."
San Francisco's primary return man now is former Oregon running back and speedster LaMichael James, who didn't play against the Packers in Week 1 but did in the playoffs last year.
"We faced three guys in two weeks that are dynamic returners and we didn't play exactly right, and you have to do it that way," Slocum said. "You have to play right against those kind of players or they'll burn you." Additional coverage - Dec. 31