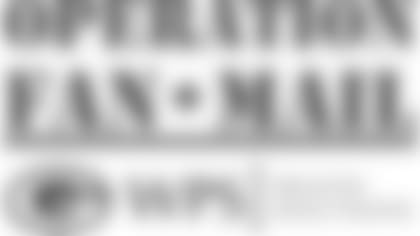 The Green Bay Packers and WPS Health Solutions paid special tribute to retired U.S. Army Col. Dan Goldthorpe and his family during Sunday's Packers-Texans game for 'Operation Fan Mail.'
Goldthorpe, originally from Dodgeville, Wis., enlisted in the U.S. Army in 1983 and spent the next 32 years serving as an airborne ranger and infantry officer until his retirement last year.
He was stationed at many duty stations around the world during his career, encompassing 17 moves and six different deployments including Operation Desert Storm and Operation Iraqi Freedom in Iraq, Operation Joint Guardian in Kosovo and two tours for Operation Enduring Freedom in Afghanistan.
During his career, Goldthorpe earned numerous awards, including the Defense Superior Service Medal, the Legion of Merit and four Bronze Star Medals for his actions in combat. Additionally, he has been awarded the Ranger Tab and the Combat Infantryman's Badge with a star. He has earned combat patches with the 101st Airborne Division, 10th Special Forces Group, and the 10th Mountain Division.
Goldthorpe and his family currently live in Madison, Ala., where he works as a defense contractor. He and his family are also dedicated to supporting military families and are involved with Wounded Warriors.
Goldthorpe and his wife, Kaye, celebrated their 25th anniversary last month by attending their first Packers game at Lambeau Field. Goldthorpe is an avid Green Bay fan and also a Packers shareholder. He was accompanied at Sunday's game by Kaye, his daughter, Lindsay, and his niece, Megan.
Operation Fan Mail, which debuted in 2007, is designed to recognize families with a member who is on active duty. The Packers and WPS Health Solutions will host a family at each 2016 home game and recognize them on the field during pregame activities. A total of 96 individuals or families have been recognized through the program thus far.
To choose families, the Packers and WPS Health Solutions are asking interested families, or friends of eligible families, to submit an essay, 500 words or less, on why a particular fan should be saluted. Essays can be sent to: Operation Fan Mail, P.O. Box 10628, Green Bay, WI, 54307-0628 or submitted online at packers.com/gameday/gamedaypromotions/operationfan_mail.
In addition to being recognized on-field prior to the game, selected families receive four tickets to the game. Families intended for recognition are those that have a member serving on active duty. The family member can be a spouse, mother, father, son, daughter or sibling.