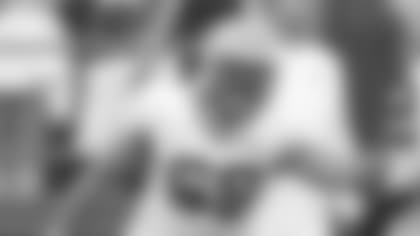 OT David Bakhtiari
GREEN BAY—Of the many impressive things about rookie David Bakhtiari through the first dozen days of training camp, his maturity at the age of 21 has stood out.
Judging by his speech and demeanor, Bakhtiari carries himself in a way that suggests he's much older than an early-entry fourth-round pick in the 2013 draft.
That's just one reason the Packers are comfortable asking Bakhtiari to grow up in a big, big hurry by starting him at left tackle for now, pending the final medical decision on Bryan Bulaga.
In the blink of an injury, Bakhtiari has gone from the rookie with a bright upside to the player under the brightest spotlight, but no one seems to doubt he can handle it.
"I haven't hit too many speed bumps and I've transitioned, I think, pretty well," Bakhtiari said after Tuesday's practice, his first as the No. 1 left tackle protecting Aaron Rodgers' blind side. "With that, they're giving me a big responsibility, and I'll have to step up to the plate."
Bakhtiari already was taking on plenty, working at both right and left tackle through the first week-plus of camp. He had moved squarely into the middle of the competition for the starting job on the right side while also preparing as Bulaga's top backup on the left side.
That has changed with Bulaga's knee injury, which may or may not sideline him for the entire season. If Bulaga is indeed headed for injured reserve, left tackle appears to be the rookie's spot to lose. McCarthy said Bakhtiari had made just one mental error through the first eight installations of the offense, a remarkable feat for a rookie tackle.
"I think having the opportunity to sit in one position and play that position solely will help him," Head Coach Mike McCarthy said. "He definitely has the ability. He's shown that, particularly in the spring. I have no question about his skill set."
Neither do his linemates, based on what they've seen so far. Their offseason flip-flopping of sides remains in place, for now, which says something in and of itself.
"He's done really well in the one-on-one drills, which is really telling, because the defense has the advantage in that drill – they know it's pass," left guard Josh Sitton said. "I've been impressed by him. He's a kid that seems to win a lot."
McCarthy stopped short of declaring Tuesday's lineup his starting unit minus Bulaga. He noted that having seen Marshall Newhouse play two seasons at left tackle and Don Barclay nearly half a season at right tackle, the coaches need to throw Bakhtiari into the fire and see what he can do.
For now, Newhouse will continue to work on both sides, competing with Barclay for the starting job on the right, while Barclay also works at right guard but perhaps no longer at center. Greg Van Roten now appears to be the No. 2 center behind Evan Dietrich-Smith.
"It's still training camp," McCarthy said. "How we end up? Time will answer that."
Time will also tell whether newly acquired quarterback Vince Young can help the Packers, though the next month will be quite the crash course in McCarthy's offense.
The Packers brought Young in, according to McCarthy, "to add more competition to the quarterback room," where Graham Harrell appears to have widened his lead over B.J. Coleman for the top backup job.
Young, the No. 3 overall pick in the 2006 draft by Tennessee, played most recently for Philadelphia in 2011 before failing to make Buffalo's roster last year. To say he has a long way to go would be a major understatement.
"We're back to square one," McCarthy said. "He's learning a new language. There's some carryover from his time in Philadelphia, but they're all different. No one runs the same thing."
Young has to learn the playbook, plus the footwork and timing McCarthy's offense requires, for starters. McCarthy suggested he could help as a scout-team read-option-type quarterback, but the full-fledged preparation for Colin Kaepernick and Robert Griffin III starts after the preseason, so he'll have to make the team first to play that role.
Young did very little in his first day at practice outside of the individual drills. In team (11-on-11) work, he took only a few snaps and handed off each time.
"I'm happy they got me in a couple plays to get my feet wet," Young said. "They're going to keep putting stuff on me to see how I react to it. The biggest thing is stepping into the huddle with confidence, say the play and get the guys up to the line of scrimmage. It's football. You always have to remember that."
Since winning a national championship in college at Texas, Young has been remembered for combining flashes of greatness with untimely meltdowns that hinted at immaturity. This could be his last chance to salvage his career.
"Back in the day I was a young Vince," he said. "Now I'm more mature. I've definitely learned from things that happened in the past. I'm married now, a grown man, 30 years old. I'm kind of like the old head in this locker room."
Additional coverage - Aug. 6