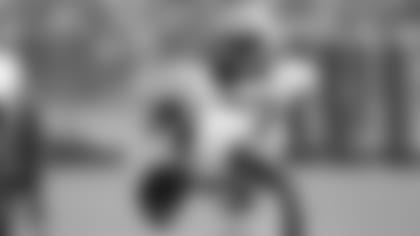 RB Johnathan Franklin
GREEN BAY—These are the new Packers. These are the run-the-ball Packers.
The selections of running backs Eddie Lacy and Johnathan Franklin in this year's draft, coupled with Head Coach Mike McCarthy's promise of an improved rushing attack, has caused an intense focus on the running game in this year's training camp.
"They're awesome," Offensive Line Coach James Campen said of the half-line drills that have highlighted the first week of full-pads practices. "It's like another period. We've done them before, we've just intensified them."
In half-line drills, offensive linemen go head to head with defensive linemen. It's blocker vs. run-stuffer in an old-fashioned run-the-ball drill that features a running back looking for room to run.
The sound of pads popping has also been noticeably intensified in this year's training camp. It would all seem to be part of a plan to make the Packers a more physical team in 2013.
Lacy and Franklin are the headliners in that plan. The Packers' offensive line took a lot of the blame for what was a stodgy running game for much of last season, but McCarthy spoke this week about beating the "free hat," which means making the unblocked defender miss in the secondary, and Offensive Coordinator Tom Clements was even more to the point.
"There were times last year when plays were blocked like they were drawn up on the board, and we only got what was there. It's been encouraging so far," Clements said.
Lacy and Franklin have increased the competition at running back. They bring power and big-play ability to the backfield that was missing last season.
"Eddie's got more power; Johnathan's got more quickness," Running Backs Coach Alex Van Pelt said.
Lacy was the subject earlier this week of internet scuttlebutt questioning Lacy's conditioning. Van Pelt refuted that charge.
"He's definitely in shape. He's running hard. He's finishing drills. He's doing everything we're asking of him," Van Pelt said.
The challenge Lacy is facing is that of a rookie making the adjustment from college to professional football. He's learning new ways and a new system.
"Coming out of Alabama, they run it like a pro system, so he's close. At the line of scrimmage, in the heat of battle, that has to come faster," Van Pelt said of Lacy's decision-making on where the running lanes are.
"The closer you get to the red area, obviously you have a guy down there that can carry tacklers into the end zone," he added.
Franklin has had no difficulty finding the running lanes. Twice this week, he exploded through a hole and was in the secondary making the "free hat" miss. He appears to possess open-field skills that are the perfect complement to Lacy's pounding, between-the-tackles style of running.
Quarterback Aaron Rodgers would likely benefit from an improved running game. It would help force opposing defenses out of the double-high safety look that ripped the big play out of the Packers' playbook last season.
"It's a really good group of guys," Van Pelt said of his running backs. "I love the way they work in the room and they take it over onto the field." Additional coverage - Aug. 2