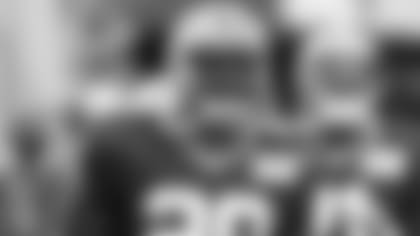 S Sean Richardson
GREEN BAY—There's been little to no shake up in the Packers' depth chart through the first two weeks of training camp, but it's always possible Saturday night in Tennessee could produce a shift.
Head Coach Mike McCarthy on Thursday once again brought up the standout training camp turned in thus far by third-year safety Sean Richardson, who's had a pair of interceptions and continues to get more work on special teams.
In the ongoing competition at safety that includes Morgan Burnett, Micah Hyde, Ha Ha Clinton-Dix and Chris Banjo, is Richardson in position to make a move? Only if he does one thing.
"Carry it over to the game," Richardson said. "If you can make plays in practice but don't make them in the game, then what good does it do?"
Richardson's words apply to virtually every player who's not an entrenched starter as Saturday's preseason opener approaches. McCarthy said he's looking for players to "jump out" on the field and demand "more opportunities" with their play.
Seven players will not make the trip to Nashville due to injuries, beginning with Burnett (oblique), whom McCarthy said could return as soon as next week. Defensive linemen Letroy Guion (hamstring) and Jerel Worthy (back) have yet to practice in camp, safety Tanner Miller (hamstring) has now been out more than a week, tight end Colt Lyerla (knee) is out multiple weeks, and receiver Jared Abbrederis and offensive lineman Don Barclay have season-ending knee injuries.
Of the other 83 players on the roster, more than half are non-starters with two or fewer years of NFL experience, and these preseason games are make or break for them.
Veteran cornerback Sam Shields remembers what that was like. An undrafted rookie back in 2010 still working on a position switch from receiver to defensive back, Shields knows exactly how dozens of the Packers young players will be feeling on Saturday night.
"I remember that I didn't know anything out there," Shields said of his first preseason game four years ago. "I was just out there playing. It was stressful, but it was fun. My whole mindset was just making this team."
Now that he has the security of a new long-term contract, Shields is qualified to give advice on how to do that, but his advice is nothing competitors haven't heard before.
"Just make a play," he said. "Coach always tells us to make a splash play to open somebody's eyes. Like I tell them always, it's going to be difficult. Nothing's going to be easy, but don't give up."
With the changes to the coaching staff this year, McCarthy has decided to arrange his coaches slightly differently on gameday. The first trial run will be Saturday night.
Offensive Coordinator Tom Clements, who in the past has been on the sidelines to work with the quarterbacks, is moving upstairs to the coaches' box, with new quarterbacks coach Alex Van Pelt now taking sideline duty. McCarthy said it's his preference for the QB coach to stay on the field with the QBs, but Clements had simply maintained that gameday role when shifting from QB coach to offensive coordinator in 2012.
Both coaches have experience in both places, according to McCarthy.
"Alex will be meeting with the quarterbacks and going over the pictures, and we'll be in communication the whole time, so there's not going to be that much of a difference," Clements said. "I just thought I'd have a better viewpoint up there and be more helpful."
Saturday night will be all about young players trying to help themselves. There will be nerves and emotions to keep in check, and coaches and teammates can help with that, but ultimately it comes down to how each player responds.
"The biggest thing from a coach's perspective is to get your players in the right mindset to compete," McCarthy said. "That's part of having your finger on the pulse of the team."