GREEN BAY—In only one of his first five seasons as the Packers starting quarterback has Aaron Rodgers been backed up by a quarterback with starting experience in the NFL. That was in 2011, when Matt Flynn had one pro start – at New England in 2010 – to his credit.
Enter Seneca Wallace, the Packers' 11th-hour acquisition as ostensibly Rodgers' No. 2 for 2013. Mostly a backup over his 10-year career, Wallace started 21 games for the Seahawks and Browns from 2006-11.
That, and his previous experience in the West Coast offense, has earned Mike McCarthy's confidence that the backup job is in good hands, even on such short notice.
"He clearly understands the role," McCarthy said. "He has a lot of experience being in and out of systems. Just talking to him last night, he'll be ready to play Sunday.
"He has a lot of experience, period."
After going through his first practice in Green Bay on Monday, Wallace said he's "excited" to be here and now has to "dig into the playbook," which shouldn't be as foreign to him as it was to Vince Young, whose release on Saturday after a failed one-month audition prompted the signing of Wallace.
"It has a lot of carryover from the West Coast terminology that I'm used to," Wallace said of McCarthy's offense. "Mike Holmgren was here and I was with him in Seattle for seven years. There's a lot of carryover. Now it's just trying to hone in, especially in this type of week with a game coming up and I just got here, trying to take in as much as I can."
A last-minute change of this importance to the 53-man roster is not normal in Green Bay, but McCarthy chalked it up to the annual process of evaluating all the players in training camp and building the best possible roster.
It just so happened that the evaluations that weren't up to snuff were bunched at quarterback, where Graham Harrell, Young and B.J. Coleman, who each played in at least three preseason games, were all released in the past nine days.
"If it didn't work out the way people are used to, I make no apologies for that at all," McCarthy said. "We're about building a football team each and every year, building a team to go win a championship.
"You do an evaluation where you give everybody a true opportunity, and it's a responsibility of the individuals to take advantage of those opportunities. That did not happen in certain positions."
It did happen with the three undrafted rookies who made the team. It's almost an annual rite of passage in Green Bay that at least one undrafted rookie beats the odds to stick around, and in this case guard Lane Taylor, outside linebacker Andy Mulumba and safety Chris Banjo all pulled it off.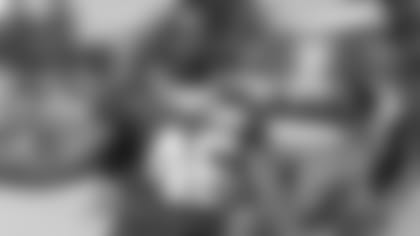 OLB Andy Mulumba, who now wears No. 55
For all three, cutdown day was a nerve-racking Saturday, not knowing whether the phone would ring with any bad news. Generally speaking, a player doesn't know for sure if he's made the team until the 5 p.m. deadline passes without a phone call.
Mulumba spent the day trying to relax at a cookout with his "rider," a local boy named Ben who provided Mulumba with his bike to ride from the locker room to the practice field every day during training camp. Ben's family invited Mulumba over on Saturday to celebrate Ben's 13th birthday, and Mulumba said Ben's birthday wish was that he make the team.
"I was nervous all day. I didn't know what was going to happen," said Mulumba, who's originally from the Democratic Republic of the Congo. "I didn't know the scenario, what they were thinking upstairs. But good things happened."
Banjo's odds may have been the longest of the three undrafted rookies, having not arrived in Green Bay until the fourth practice of training camp.
Despite no offseason or OTAs to get introduced to Dom Capers' defense, Banjo regularly showed up on the practice field and in the preseason games. But then he nearly missed his chance to seal a roster spot last Thursday in Kansas City. Banjo injured his hip defending a pass play in the second quarter and had to leave the field.
"At the time, I was real upset with the whole situation," Banjo said. "I tried my best not to show it. It was real frustrating that I might not get a chance because I got injured at the time. I just told myself I was going to do my best and play through it."
He did, eventually returning to record a 14-yard sack on a blitz in the fourth quarter.
"You have to be impressed with what Chris Banjo's done since the day he arrived here," McCarthy said. "He was productive in every opportunity he was given. Then he goes out in Kansas City and plays through an injury. To me, that was icing on the cake." Additional coverage - Sept. 2