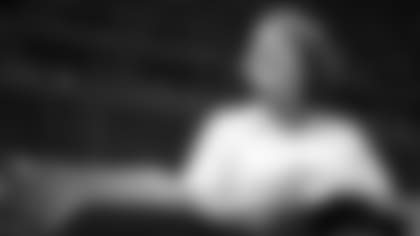 GREEN BAY—As she sat down in the Lambeau Field seats she waited nearly 40 years to acquire, the smile on Irene Larson's face looked like it might never go away.
"Wow," was the first word that came out. "Just amazing. Awesome, as the young people would say."
Larson was getting a sneak peek from her seats in the new south end zone in Section 732, Row 10. All of the new south end zone seat holders are invited to a "Meet Your Seat" event on Thursday, July 18, and she's pretty sure they'll like what they see.
Larson certainly had no complaints now that the long wait was over. She and her husband, Lars, put their names on the season-ticket waiting list after they moved to Green Bay in the mid-1970s.
She doesn't know where she stood on the waiting list back then, but she still has the postcard from 1996 – two years after her husband died and the year the Packers would win Super Bowl XXXI – that placed her 5,137th in line.
By last year, she had moved up to the 1,022nd spot and figured she had a good chance to get season tickets with the pending stadium expansion, which has added roughly 7,000 seats at Lambeau. When she got the letter over the winter confirming her suspicions, she didn't wait long to grab the phone.
"I was thrilled and I couldn't wait to tell the children," she said. "We got seats!"
Those children – two sons and a daughter in their early 40s – and her six grandchildren ranging in age from 2-16 will all share in the family's four seats, numbered 13-16 at the end of the row.
Larson said she had opportunities in the past for "Gold" package tickets but is happy she held out for the larger "Green" package, which includes six of the eight regular-season home games.
"I'm just so glad to see it in my lifetime," she said. "I'm 71 and I hope to make it 20 more years."
Larson has spent the last 20-plus years working concessions at Lambeau for the Green Bay Area Exchange Club. Among its many causes, the organization seeks to prevent child abuse and recognize outstanding youth in the community.
Prior to that, Larson attended several games when she and her husband were able to acquire tickets through friends and other connections. They traveled from their previous home, in Wausau, Wis., to see Paul Hornung play in the 1960s and then endured the dry spell of the '70s and '80s as Green Bay residents.
"Back then," she said, referring to the glory years under Vince Lombardi, "I remember dressing up for the games. Women wore coats and hats and boots. In the '80s, we got practical, at least in the winter months."
A devoted fan, she even tailgated in an otherwise empty Lambeau parking lot. She was part of a large group that fired up their grills on Sunday mornings during the 1982 players' strike when no games were being played.
"All our friends were such die-hard Packers fans, and we were so disappointed the strike was on," she said.
But disappointment was the furthest thing from her mind as she trekked to where she plans to watch the Packers face, among other foes, the NFC North's Bears on Monday, Nov. 4, and Vikings on the Sunday before Thanksgiving. The division rivalries are the games she's looking forward to the most.
Having sat in the regular bowl before, Larson was also quick to notice the seat backs, armrests, cup holders and leg room that come with her new seats.
"We won't need seat cushions anymore, and we won't be concerned about having enough room," she said.
Most important, the concern about when her wait will end was gone, too.
"The neat thing is that most season-ticket holders keep it in the family. Nobody gives them up," she said. "That's what we'll do, too. From my 16-year-old granddaughter down to my 2-year-old granddaughter, I think they'll want to keep them."