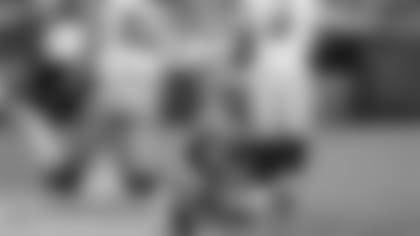 KANSAS CITY—Kicker Mason Crosby capped off his strong finish to the preseason in good fashion, and receiver Jeremy Ross may have nailed down the fifth receiver spot for the Packers.
Those were two of the most notable developments in an otherwise forgettable 30-8 defeat to the Chiefs in the preseason finale at Kansas City's Arrowhead Stadium on Thursday night.
Crosby provided the Packers their only points of the first half with field goals from 45 and 48 yards. Having dispatched the two competing kickers in training camp earlier in the week, Crosby boosted his camp-ending run to 26 of 27 field goals since a three-miss practice prior to preseason game No. 3.
"I feel great," Crosby said. "It was a lot of kicks this week, but I'm thankful for them, because I think they got me to a good point."
He also feels fine with his restructured contract, which dropped his base salary for the upcoming season but gives him the chance to earn all of the original amount through incentives.
"I have every opportunity to make that back as long as I perform and do my job," he said. "It's all right there in front of me, and I'm looking forward to the season. I feel as good as I ever have.
"The ball is going through the uprights, and that's what matters at the end of the day."
What matters for Ross is he put together the type of consistent performance the coaching staff has been asking for. He caught three passes for a team-high 50 yards receiving while also recording a tackle on special teams.
His best play was a 26-yard catch on a deep sideline pass from quarterback Vince Young that helped set up one of Crosby's field goals. Ross made a nice adjustment on the ball while it was in the air and kept his feet in bounds while spinning to the ground.
"I just tried to go up and get it," Ross said. "Our coach is constantly telling us to go up and attack the ball, don't wait for it to come to you. That's what I did. I knew where I was. I knew I was kind of running out of sideline."
A potential return man for the Packers, Ross also knew he needed to make the final roster first as a receiver, and he hopes to have done that.
With Randall Cobb, Jordy Nelson, James Jones and Jarrett Boykin the offense's top four receivers, the fifth and possibly sixth spots were up in the air coming into this last preseason game, and Ross made a strong final statement.
"Just playing the waiting game now," he said. "Going into this last game, my focus was doing my best, giving it my all out there on the field, put on a show and give that last impression."
Several players on the roster bubble were trying to do the same thing, and many of them had ups and downs, making impact plays as well as mistakes.
Rookie receiver Tyrone Walker, battling for a spot just like Ross, gained 30 yards on a team-leading five receptions but fumbled after a catch late in the fourth quarter (the Packers recovered).
Rookie outside linebacker Nate Palmer sacked Chiefs QB Tyler Bray and forced a fumble, but he also got caught crashing way too far inside on a run that blew right past him for a big gain.
Rookie inside linebacker Sam Barrington got a sack in the end zone for a safety but whiffed on a tackle attempt on a punt return and allowed a way-too-easy third-and-10 completion right in front of him by Kansas City's Junior Hemingway.
Rookie cornerback Brandon Smith made a textbook interception early, but later he fell down in coverage to allow a 43-yard TD pass to Josh Bellamy. He also got beat on a slant for a 9-yard TD by Frankie Hammond Jr.
Even veteran defensive lineman Johnny Jolly couldn't escape youthful inconsistency. He recorded a sack and one of his trademark deflected passes, but he also committed two penalties – an offsides that moved a Chiefs field goal five yards closer and a personal foul for spearing the Chiefs player who recovered the fumble on Palmer's sack.
Of all those aforementioned players, Jolly likely has the best chance of sticking on the roster when final cuts are announced on Saturday afternoon. Out of football for three years, he was one of the longest of long shots of the 90 players in camp, but he's been too disruptive up front to ignore.
"I just leave it on the field every chance I get, and hopefully it worked out and I've done what I need to do to be here," Jolly said. Additional coverage - Aug. 29