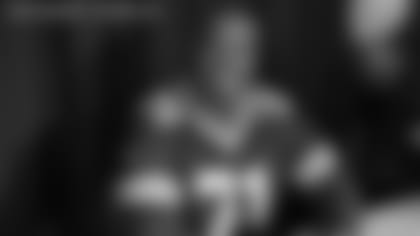 Santana Dotson
OSHKOSH, Wis.—The Oshkosh Convention Center was filled with fans to cheer the Packers as they were individually announced and entered the room on Tuesday night, in what was the first of five tailgate parties in the Packers eighth annual "Tailgate Tour."
A contingent of three current Packers players (Randall Cobb, Alex Green and Jarrett Bush), three Packers alumni (Santana Dotson, Aaron Taylor and Frank Winters) and Packers President and CEO Mark Murphy highlighted the event, which raised about $40,000 for the "Christine Ann Domestic Abuse Services" of Winnebago and Green Lake counties.
The six players were accompanied into the room by youth dressed as game officials, which prompted Murphy to begin the program presentation with: "I wish they would've worked our Seattle game. I know they would've gotten the call right."
Cheers filled the room for a gala event that included an official proclamation that made Tuesday Green Bay Packers day in this lower Fox Valley community of nearly 70,000 people. The highlight of the program was a no-holds-barred question and answer session.
Will Charles Woodson be re-signed by the Packers?
"I really don't think so," Murphy said. "We have a lot of confidence in our young safeties."
In response to another question, Murphy said: "I am really pleased we open in San Francisco. When you start off with a really tough game, all offseason you work harder. I think our team is going to be focused and ready. Defensively, we're going to have a lot of answers to what they did to us."
The Oshkosh event ended the first day of the "Tailgate Tour," which was to travel to Beloit on Wednesday, Dubuque (Iowa) on Thursday, Tomah on Friday and Wisconsin Rapids on Saturday. Tuesday began with a surprise visit to Denmark High School, and with stops at the Nestle Pizza Factory in Little Chute and at Children's Hospital in Neenah.
At all of the stops, Cobb was easily the most popular person on the Tour.
"They do like me. I guess it's just my personality. I like them; just being able to talk and to get to know people," Cobb said.
Taylor, Dotson and Winters were prominent players on the Packers' 1996 Super Bowl XXXI champions. The Tour allowed them to reunite.
"The Green Bay Packers have always been about tradition, legacy and family. Win, lose or draw, they're all about family and see their players as their own. Being able to bring that winning tradition back to the Packers is big for us," Dotson said in speaking for the '96 team, which claimed Green Bay's first NFL title since Super Bowl II.
What if that team had won a second consecutive Super Bowl the following year, instead of having lost to Denver?
"You hate that we missed that second Super Bowl. There would be more of a legacy had we won that second Super Bowl, but you'd have to say we were one of the top teams in the NFL," Dotson said.
He said he welcomes the opportunity to relive past glories and experience the Packers' rabid fan base.
"When you're playing, you have tunnel vision. Now that I'm retired and out of uniform, you start to realize your fan base is magnificent and it extends beyond the borders of Wisconsin. This is one of those events that you get to network with the fan," Dotson said. More from the Tailgate Tour