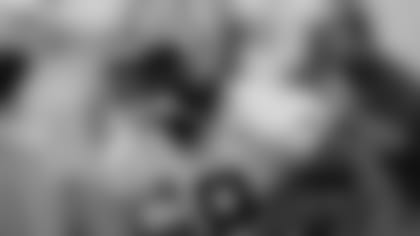 WR Randall Cobb
GREEN BAY—The comment has generated a fair amount of attention over the past couple of weeks, since quarterback Aaron Rodgers said receiver Randall Cobb could be a "100-catch guy" in the Packers' offense.
Fellow receiver James Jones would like to set the record straight.
"I said it first," Jones said with a smile and a laugh after Wednesday's minicamp practice, the last of the week due to a team-building activity scheduled for Thursday. "He stole it a little bit, but you know, his name is bigger than mine, so it gets blown up."
Jones was referring to an appearance he made on NFL Network before the offseason program started, when he said he was asked who on Green Bay's offense might get 100 receptions, and Jones' answer was Cobb.
It's a milestone that hasn't been reached in Green Bay since 1995, when Robert Brooks caught 102 passes, but it's certainly not unfathomable with Cobb. He caught 80 passes last season despite a lack of production early (back-to-back one-catch games in Weeks 2 and 3) and late (he sat out Week 17 with an ankle injury).
Whether he actually said it first or not, count Jones on board with the sentiment.
"Aaron does a great job of spreading the ball around, but in our offense, when we're getting a lot of cover two, it gives Randall a chance in the slot to make a lot of plays," he said. "I'm with him. If Randall catches 100, I'm with him, as long as JJ's got some production in there, scores some touchdowns or something to help us out, it's fine."
For his part, Cobb isn't concerned with any individual numbers that might or might not come his way, though when he discusses personal improvement it's not hard to imagine his 2013 receiving stats topping those from 2012 (80 catches, 954 yards, eight TDs).
"You can always improve," said Cobb, who was sprinkled in as a running back last year as well, rushing for 132 yards. "I've always said you can never really reach your full potential. I'll always try to continue to climb that mountain. In the offseason especially, I've worked a lot on my route-running and trying to perfect my craft."
That's been the focus of all the team's top receivers in Cobb, Jones and Jordy Nelson, who plan on sharing the leadership role with the position group previously carried out by the departed Greg Jennings and retired Donald Driver.
Nelson said being a leader won't change the way he plays or practices, but he said he will communicate with the younger receivers more. Training camp promises a spirited competition for the No. 4 and No. 5 receiver spots among holdovers Jarrett Boykin and Jeremy Ross and seventh-round draft picks Charles Johnson and Kevin Dorsey, along with a handful of others.
Johnson has practiced only a little and Dorsey not at all during the current OTAs and minicamp, which has given undrafted rookies Myles White, Tyrone Walker and converted quarterback Alex Gillett a chance to get more snaps.
"They know the playbook, they know it on paper, but it's different when you get on the field," Nelson said, speaking of how he has picked up on specific ways Rodgers likes routes to be run. "There are little things you learn, and you want to inform the younger guys. Right now, we're three, four strong, but we're going to need some help from the younger guys throughout the season."
How much help likely will depend on the health of the group, more than anything. Last year, Jennings missed half the regular season, Nelson missed four games and Cobb missed one, all due to various injuries.
Tight end Jermichael Finley (61 catches, 667 yards) remains a big part of the offense as well, but if the "big three" receivers play a collective 48 regular-season games and Rodgers goes well over 4,000 passing yards again, well, … Jones has another thought.
"I've been on record saying I believe we have three 1,000-yard receivers in this room. I believe me, Randall and Jordy, if we all stay healthy, we can all reach over 1,000," he said.
"It's exciting, and we're all excited because we know with the departure of Greg and Donald it means more opportunities for us. Do you want to lose guys like that? No, but it gives us a chance to step up and make some plays." Additional minicamp coverage