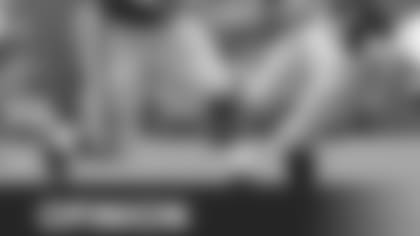 RB Eddie Lacy
GREEN BAY—Packers fans will no doubt have their eyes trained on the Bears at Lions game today. A Lions win would bring the Bears back to the pack, tighten the NFC North race and set the stage for the following week's game between the Packers and Lions at Lambeau Field.
Beginning with that game, the Packers will face each of their three division rivals over a five-week period. It's a stretch of schedule that'll go a long way toward deciding the Packers' fate this season, so gather yourself this weekend and get ready for a lot of big games and tense moments ahead.
So what's the evaluation of this team to date? Well, they lost a close one, won a lopsided one and then gave one away. It's that last one that's eating at everyone. The Packers should be 2-1 and hoping for a Lions win over the Bears that would veritably leave the NFC North in a three-way tie.
Here are 10 things the Packers have to do over the next three months to make it into the playoffs and be a hot team heading into January.
1. Keep running the ball—They're making the transition to a balanced offense. They've produced 100-yard rushers in each of the last two games and a continuation of that trend will force opponents to give more respect to the Packers' running game, and that'll help open the passing lanes for Aaron Rodgers and improve his pass protection.
2. Grow on defense—The signs of growth are there. We saw them in San Francisco in the form of a physical presence the Packers didn't possess in the playoff game they lost in San Francisco last January. We saw the Packers defense dominate the Redskins, and we saw it force four turnovers in Cincinnati. What we haven't seen is consistency. That would seem to be the next step in the defense's growth.
3. Get healthy—There are too many star-type players missing games due to soft-tissue injuries. Recovery isn't something you can order, but it's no less a fact that this team needs Eddie Lacy, Clay Matthews, Morgan Burnett and Casey Hayward in the game for the Packers to be the best they can be.
4. Hold the lead—They've had the lead in the fourth quarter of each of their three games, but lost the lead and the game in two of those games. Playoff teams don't do that.
5. Convert short yardage—This continues to be a major problem for the Packers. They shouldn't have to throw on third-and-one or fourth-and-inches. Lacy's return should go a long way toward resolving this issue.
6. Throw it away—Rodgers has been sacked 10 times, and not all of those have been due to poor blocking. He needs a stronger self-preservation instinct and start throwing the ball away instead of taking sacks, because what's good for Rodgers is good for the Packers.
7. Settle on a return man—He's the star of your special teams and, right now, the Packers don't have one.
8. Win division games—That's how you win the division.
9. Win conference games—That's how you win tiebreakers.
10. Find a true identity—In recent years, that identity has been that of a team that lives and dies with the pass. If that's to change, then it needs to change soon.