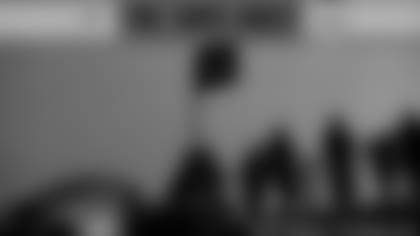 TRAINING CAMP SET TO BEGIN IN GREEN BAY
A day circled on the calendar of every sports fan – the official beginning of the NFL season – will arrive this Thursday when the Green Bay Packers kick off the 2017 campaign at Ray Nitschke Field.
Coming off a 2016 season that saw Green Bay post its eighth straight winning season and make the playoffs for a franchise-best eighth consecutive year, the Packers will begin to write this season's story in front of fans at Nitschke Field.
A tradition first started under Curly Lambeau in 1946,training camp in Green Bay remains one of the most intimate settings in all of professional sports. 2017 marks the ninth summer at Nitschke Field, just a short bike ride away from the team facility.
Nitschke Field boasts the same playing surface as Lambeau Field and seating for 1,500 fans with unobstructed views.
Just as it does at Lambeau Field, new traditions blend with historic ones at Packers training camp, as players continue to ride children's bicycles to practice, a tradition first started under the legendary Vince Lombardi. Players continue to stay in the dorms at St. Norbert College, the NFL's longest training-camp relationship between a team and school.
According to the Greater Green Bay Convention and Visitors Bureau and a 2010 study by AECOM, training camp, along with Packers Family Night, will attract nearly 90,000 visitors from across the nation and as many as 20 foreign countries. With an economic impact estimated at $9 million, training camp is a financial boost to many area businesses.
Media and fans can visit

www.packers.com

for the most up-to-date information regarding the practice schedule, events, dining and accommodation options, activities and more throughout training camp.
](http://prod.static.packers.clubs.nfl.com/assets/docs/dopesheet/2017/170725-dope-sheet-training-camp.pdf)
SAVE THE DATEImportant dates to remember (all times CDT):
Wednesday, July 26 – Players report to training camp
Thursday, July 27 – First practice, 8:15 a.m., Nitschke Field
Saturday, Aug. 5 – Packers Family Night, Presented by Bellin Health, 6:25 p.m., Lambeau Field
Thursday, Aug. 10 – Preseason game vs. Philadelphia Eagles, 7 p.m., Lambeau Field (Bishop's Charities Game)
Saturday, Aug. 19 – Preseason game at Washington Redskins, 6:30 p.m., FedExField
Saturday, Aug. 26 – Preseason game at Denver Broncos, 8 p.m., Sports Authority Field at Mile High
Tuesday, Aug. 29 – Final practice open to public, 11:45 a.m., Nitschke Field
Thursday, Aug. 31 – Preseason game vs. Los Angeles Rams, 6 p.m., Lambeau Field (Midwest Shrine Game)
Saturday, Sept. 2 – Roster reduction to a maximum of 53 players by 3 p.m.
](http://www.packers.com/news-and-events/training-camp/practice-schedule.html)**
Green Bay's training camp schedule features 15 open practices, including Family Night, and four preseason games.
Camp will start with seven practices being open to the public, with the first five beginning at 8:15 a.m. followed by two at 6:15 p.m. that leads into Packers Family Night, which takes place on Saturday, Aug. 5, starting at 6:25 p.m.
The Packers will have two practices open to the public (12:15 p.m. on Aug. 7 and 11:45 a.m. on Aug. 8) before the preseason opener vs. Philadelphia on Aug. 10 at Lambeau Field.
The Packers' two open practices before the second preseason game at Washington on Aug. 19 will be at 12:15 p.m. on Aug. 15 and 11:45 a.m. on Aug. 16.
Green Bay will conduct an open practice on Aug. 22 at 12:15 p.m. and one on Aug. 23 at 11:45 a.m. before traveling to Denver for a game on Aug. 26.
The final week will have an open practice at 11:45 a.m. on Aug. 29 prior to the preseason finale against the Los Angeles Rams on Aug. 31.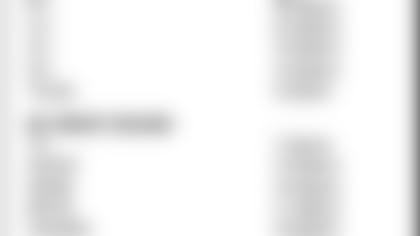 BREAKING DOWN THE ROSTER**
The Packers enter training camp with an 90-man roster that is composed of 44 offensive players, 43 defensive players and three specialists.
Of the 90 players on Green Bay's roster, 41 of them (45.6 percent) were draft picks of the Packers. Dating back to 2007, Green Bay has at least one member of each draft class still on the roster.
Green Bay has 42 players on the roster that began their careers as undrafted free agents, with 37 of those originally signed by Green Bay.
Nearly 60 percent of the players (53 of 90, 58.9 percent) on Green Bay's roster entered the league as a sixth-round or seventh-round pick or as an undrafted player.
The Packers have four players on the roster that played in the NFL prior to the 2009 season. All four of those players were draft picks of the Packers (QB Aaron Rodgers, K Mason Crosby, WR Jordy Nelson and LB Clay Matthews) and three have made at least one Pro Bowl.
Of the 90 players on the roster, 78 began their pro careers with the Packers (86.7 percent).
Only 21 of the 90 players on the roster (23.3 percent) were selected in the first three rounds of the draft, with 19 being drafted by the Packers.
Of the 90 players on the roster, 81 of them (90.0 percent) are 28 years old or younger (as of July 27) and 57 players (63.3 percent) are 24 years old or younger.
Training-camp storylines always hover around new players and just how they figure into the depth chart. The Packers added to an already deep and talented roster with a 10-man draft class.
CB Kevin King was selected by the Packers with the first pick in the second round (No. 33 overall), a selection acquired from Cleveland along with a fourth-round choice (No. 108 overall) in exchange for Green Bay's first-round pick (No. 29 overall). He became the first defensive back from the University of Washington to be drafted by the Packers since S Mark Lee in 1980 (second round, No. 34 overall). King started all 14 games at cornerback as a senior in 2016, earning honorable mention All-Pacific-12 recognition as he helped the Huskies to their first conference title since 2000 and their first College Football Playoff berth. *
The Packers selected S Josh Jones out of North Carolina State with the second of two second-round choices, becoming the highest-drafted safety in school history. He started 32 of 38 games played in three seasons at N.C. State, finishing each season in the top five on the team in tackles (No. 5 in 2014, No. 3 in 2015 and No. 1 in 2016). *
DT Montravius Adams became the first defensive lineman picked by Green Bay out of Auburn since DE Nate Hill (sixth round) in 1988 when the Packers selected him in the third round. He earned first-team All-Southeastern Conference honors from The Associated Press as a senior in 2016 after recording 44 tackles (26 solo), 8½ tackles for a loss, 4½ sacks, a forced fumble, two fumble recoveries (one for a TD) and an interception. *
With the first of two fourth-round picks, the Packers selected Wisconsin native LB Vince Biegel. He joined T.J. Watt (first round, Pittsburgh) as the first pair of linebackers from the University of Wisconsin to be selected in the same draft since Pete Monty (N.Y. Giants, fourth round) and Tarek Saleh (Carolina Panthers, fourth round) in 1997. Biegel matched the school record by playing in 54 games, including 40 starts, and ranked No. 7 all-time at UW with 21½ sacks. *
Green Bay's second selection of the fourth round was RB Jamaal Williams, just the fourth RB out of Brigham Young to be picked in the first four rounds. He finished his career at BYU as the school's all-time leader in rushing yards (3,901), rushing attempts (726) and 100-yard rushing games (16). Williams is one of only four players in school history to register multiple 1,000-yard rushing seasons, posting 1,233 yards in 2013 and a career-best 1,375 yards in 2016. *
The Packers drafted WR DeAngelo Yancey out of Purdue with the first of two selections in the fifth round, a draft pick acquired from the Denver Broncos, along with a seventh-round selection (No. 238 overall), in exchange for a fifth-round choice (No. 172 overall). He finished his Purdue career with the seventh-most receiving yards (2,344) and receiving touchdowns (20) in school history. Yancey also ranked 16th in receptions (141) and eight of his 20 career TDs were at least 50 yards. *
RB Aaron Jones was Green Bay's second pick of the fifth round, a compensatory choice awarded to the team. He was the first running back to be drafted out of UTEP since Marcus Thomas in 2008 (fifth round, San Diego). Jones finished his career at UTEP ranked No. 1 in rushing yards (4,114) and 100-yard rushing games (17), No. 2 in rushing touchdowns (33) and all-purpose yards (4,760), and No. 3 in rushing attempts (658) and points (240). *
Green Bay drafted G Kofi Amichia in the sixth round, making him the first University of South Florida offensive lineman to be drafted by the Packers. He became just the third USF offensive lineman to be selected in the NFL Draft, joining Kenyatta Jones (2001, New England Patriots, fourth round) and Austin Reiter (2015, Washington Redskins, seventh round). *
With the first of two seventh round selections, a pick that was acquired from Denver along with a fifth-round pick (No. 175 overall) in exchange for Green Bay's fifth-round pick (No. 172 overall), the Packers took RB Devante Mays out of Utah State. He became the first running back to be drafted by Green Bay out of Utah State and just the fourth Utah State running back to be drafted in the past 34 years. *
With its final selection of the 2017 NFL Draft, Green Bay chose WR Malachi Dupre out of Louisiana State University. He became the first LSU wide receiver to be chosen in the NFL Draft since Odell Beckham Jr. (first round, N.Y. Giants), Jarvis Landry (second round, Miami Dolphins) and James Wright (seventh round, Cincinnati Bengals) in 2014. Dupre saw action in 36 games with 19 starts in three years and finished with 98 receptions for 1,609 yards (16.4 avg.) and 11 TDs.
ST. NORBERT AND THE PACKERS
Continuing a tradition started under Packers coach Scooter McLean in 1958, the Green Bay Packers will call St. Norbert College home for a 60th consecutive training camp this summer. The relationship between the private college in De Pere, Wis., and the Packers marks the longest continual use of any training-camp facility by an NFL team.
Players will take up residence in Victor McCormick Hall, a 60-room coed dormitory used to house 225 students during the academic year.
St. Norbert, founded in 1898 by Abbot Bernard Pennings, borders the Fox River and enrolls around 2,000 students.
The Packers use their own practice and team-meeting facilities at Lambeau Field during training camp, with the college serving as housing headquarters.
Players return to St. Norbert via cars and vans every evening.
The 6.62-mile commute is estimated at 11 minutes each way.
A look at the longest active training-camp tenures in the NFL: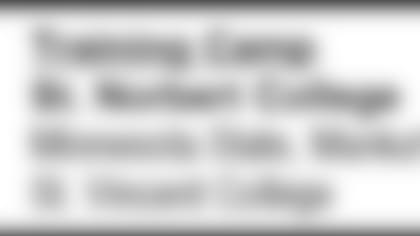 The Green Bay Packers' 97th NFL regular-season schedule – highlighted by five prime-time contests (subject to flexible scheduling) – was released April 20 by the National Football League.
It will be the first regular season that has the Packers playing home games on a Saturday, Thursday and Monday.
Green Bay's schedule includes six games against 2016 playoff teams. Two of those contests (Detroit, Seattle) will be at Lambeau Field, while four (Atlanta, Dallas, Detroit, Pittsburgh) will come on the road. The Packers will play two teams (Atlanta, Dallas) that it played during the 2016 regular and postseason.
For the first time since 2012, the Packers open the season at home, and will play three of their first four games at Lambeau Field.
In Week 1, Green Bay will host the Seattle Seahawks, marking the third consecutive regular season that the Packers have played the Seahawks at home. Green Bay is 10-3 against the Seahawks at home during the regular and postseason, including seven straight wins.
For the second straight season, the Packers will play a prime-time game on the road in Week 2, traveling to Atlanta for an NFC Championship rematch with the Falcons. Nine of the last 10 regular-season matchups between the two have been decided by eight points or less, including six by three or fewer points.
Week 3 will see the Cincinnati Bengals play in Green Bay for just the sixth time, and Week 4 has the Packers hosting the Chicago Bears on a Thursday night for the third consecutive season (12th straight year in primetime). The division rivals square off in a prime-time contest for the 12th straight season.
Green Bay will begin October with back-to-back road games. The Packers will first travel to play the Dallas Cowboys, marking the fourth matchup between the two clubs since 2015 (including postseason), and then will face the Vikings in Minnesota in Week 6.
In Week 7, the New Orleans Saints visit Lambeau, their latest trip by date to Wisconsin since playing the Packers in Milwaukee on Nov. 17, 1985.
The Packers have a Week 8 bye, the latest bye week for Green Bay since 2014 (Week 9).
Green Bay hosts the Detroit Lions on Monday Night Football in Week 9, marking the third time the two teams have met on MNF and the first since 1972. Green Bay swept the regular-season series with the Lions last season for the first time since 2012 and for the seventh time under McCarthy.
In Week 10, Green Bay will face the Bears in Chicago, a place they have won in the regular season each of the last six years.
After welcoming the Baltimore Ravens to Lambeau Field in Week 11 for just the fourth time, the Packers will travel to Pittsburgh to play the Steelers in a Sunday night matchup in Week 12.
After stopping back in Green Bay in Week 13 to play Tampa Bay, the Buccaneers' first December trip to Lambeau since 2000, the Packers will begin a stretch of three road games in four weeks with a trip to Cleveland in Week 14. It is the first time since 2009 that Green Bay will finish the regular season with three of the final four games taking place on the road.
The Packers will finish their slate against the NFC South when they play at the Carolina Panthers in Week 15.
For the second consecutive season, Green Bay will host the Vikings on a Saturday in Week 16. The Packers have won their last five regularseason games played on Saturdays.
Green Bay will close out the regular season at Detroit for the second consecutive year, marking the first time it has finished the regular season on the road against the same team in back-to-back seasons since 1991-92 (Minnesota).
](http://prod.static.packers.clubs.nfl.com/assets/docs/dopesheet/2017/170725-dope-sheet-training-camp.pdf)