2020 Playoffs | Frequently Asked Questions
With guidance from healthcare partner Bellin Health and officials with Brown County Public Health, the Packers will be able to host approximately 6,500 ticketed guests for the NFC Championship game at Lambeau Field. Packers Season Ticket Holders who opted in to purchase tickets will be the only fans eligible to purchase and use tickets to the game. 
Below, please find further information about the tickets and gameday protocols. Season Ticket Holders or members of their ticket "pod" who are not willing to comply with the safety requirements are asked not to purchase tickets or attend the game.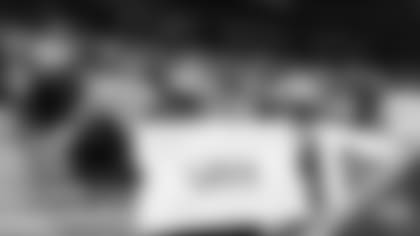 Ticketing:
Who can purchase tickets? Packers Season Ticket Holders who opted in to purchase tickets this summer will be the only fans eligible to purchase and use tickets to the game. Under the protocols, seating for the NFC Championship will be arranged in socially distanced pods of two, four and six tickets throughout the stadium. It is intended that season ticket holders attend the game with members of their household.
When can ticket holders who opted in purchase tickets? Tickets will go on sale at 10 a.m., Wednesday, Jan. 20. Those who opted in will receive email communication from the Packers ticket office with instructions for how to access the sale through Ticketmaster. Tickets will be sold on a first-come, first-served basis, and all tickets will be Mobile Tickets.
Can I request the same seats that I normally sit in during the Packers season? No Season Ticket Holder account details will carry over to this presale opportunity, including a guarantee to the same seats, the same number of seats or any seats to any games. Due to reduced capacity to facilitate social distancing, seats will be available in pods of two, four and six seats, exclusively. No exceptions will be made.
Can I sit in my club seat or suite? The suites and indoor club seats will not be available.
Can I purchase multiple pods of seats? Tickets will be limited to one pod per Season Ticket Holder. The account holder who purchases the tickets will be responsible for coordinating all attendees within the pod, since all the tickets for the pod will be on the ticket purchaser's mobile device.
Can I transfer or sell my tickets? Tickets will not be able to be resold or transferred. The opted in season ticket holders who purchase the tickets must use and facilitate the entry for all attendees within their pod.
How much are tickets? Tickets will range from $215 to $280, based on a range set by the NFL for playoff games. A Ticketmaster fee also will be charged.
Can I purchase parking? Parking passes will be available for purchase by the season ticket holder making the ticket purchase. Access to the parking lot also will be via mobile ticket on the purchaser's mobile phone. Parking passes are not able to be resold or transferred.
Gameday protocols:
What are the protocols in place for game attendees? Game attendees must wear face coverings at all times. Attendees must comply with the seat policy, which requires fans to remain in their socially distanced "pod" of seats unless using the restroom or purchasing food or beverages. Fans will also notice hand sanitizer stations, social distancing markers and one-way traffic throughout the concourse. Concessions will all be cashless (accepting debit/credit cards only), and fans from separate pods are asked not to gather in common areas.
Where/how should I enter? The Season Ticket Holder who purchased the pod of tickets will have each ticket for each member of their pod sent to their mobile device and will be responsible for coordinating entrance as a group. The tickets will designate an entry gate at which each member of the pod should enter. Please do not enter the stadium at a different gate from the one listed on your ticket as the assigned gates will help manage the flow of fans into Lambeau Field so everyone can enter safely and easily.
Will I need to get tested to attend? No testing will be required for Season Ticket Holders to attend, but fans are asked to self-screen for COVID-19 symptoms prior to coming to the game, and must stay home if they are exhibiting any symptoms, if they feel ill, if they have a member of their household who is ill or under quarantine, or if they have recently been in contact with anyone who has tested positive for COVID-19.
What is the carry-in policy? No carry-in items, including seat backs, clear bags or purses will be permitted at Lambeau Field. Clear bags previously allowed under the safety policy will NOT be allowed for this game. A small clutch purse for personal belongings is allowed, but it must not exceed 4.5'' x 6.5'' in size. Additional clothing, blankets, etc. are allowed if carried in loosely.
Where should I park? Parking will be available in the Lambeau Field parking lots, with parking passes available for purchase through Ticketmaster at the time of purchasing the tickets. Parking may also be available on side streets and at private residences in the area as in previous years. Fans are asked to follow all posted street signs.
When can I enter? Parking lots and gates will both open two hours prior to kickoff.
Do I have to wear a mask? Yes, face coverings are required at all times while at Lambeau Field, . Staff members will be helping to enforce this requirement, and fans who do not wear their face coverings will be asked to leave.
Can I tailgate? Tailgating in the Lambeau Field parking lots is prohibited for this game to help further prevent spread of the virus.
Will concessions be available? Due to the crowd size, game attendees should expect a more limited menu of concession items than they'd find at a typical game, with fewer open concession stand locations. Fans are asked to use the concession stands on the 100 level of the concourse as more variety and options will be available. Traditional stadium favorites such as brats, hot dogs, pizza, pretzels and chili will be available at the walk-up concession stands, along with packaged beverages and hot beverages. The new grab-and-go stands, many of which are new to fans this season, will also be open in five locations throughout the stadium with different hot food options such as BBQ, chicken tenders, cheese curds and fries, as well as packaged snacks and bottled beverages. To protect fans purchasing food on gameday, Delaware North has added social distancing measures at points of sale and replaced normal condiment stands with single-use packets. Additionally, no vendors will be selling concessions in the stadium bowl.
How can I pay for concessions? Fans are also reminded that Lambeau Field is entirely cashless, with credit/debit card payment methods as well as contactless payment solutions. Those who do not use credit or bank cards may use free cash-to-card conversion stations, which issue payment cards that can be used at Lambeau Field, as well as at other retailers, restaurants and businesses outside the stadium where MasterCard is accepted. Fans can load between $5 and $500 on the cards, and funds will be available to users for five years from the last date money was loaded on the card. Conversion stations will be available at sections 116, 319, 326, 642, 750 and in the Lambeau Field Atrium.