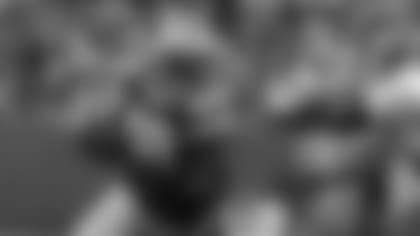 TE Brandon Bostick caught three passes for 28 yards in the preseason as a rookie last year, when he wore No. 48. He will wear No. 86 this year.
GREEN BAY—On the first day of training camp last summer, the first time the rookie tight end tried to catch a pass from Aaron Rodgers, Brandon Bostick dislocated the pinky finger on his left hand.
He taped it up and didn't miss any practice time, but it was one of many reminders that Bostick wasn't at tiny Newberry College anymore.
Now in his second year in the NFL, after spending all of 2012 in obscurity on the Packers' practice squad, Bostick believes it's time to emerge. He says he's better prepared for everything the Packers will throw his way – the thick playbook, the intense workouts and, of course, Rodgers' rocket arm.
"I know the offense. I've been in the offense for a year now," Bostick said following one of his recent offseason workouts. "I've gotten stronger. My blocking has improved, and I'm still working daily on that. I'm ready to make the leap to the 53 this year."
Bostick is soft-spoken, but there's nothing shy about that statement, and it's reason enough to watch him in training camp this summer. It's also testament to how far he's come in 12 months.
A year ago at this time, Bostick had just finished watching the entire draft without receiving a single phone call. He got a chance to try out for the Jets during their rookie camp, but he returned home to Columbia, S.C., without a contract.
The following week, he came on a tryout basis to Green Bay's rookie orientation and again left empty-handed. He admittedly began second-guessing "this football thing."
"Everyone has hopes of getting drafted, so I was that guy waiting at home," he said. "It's tough, not being drafted, not being anything. Football is all you know for the last four years, but I just kept believing in myself and kept training, and it worked out."
It worked out because three weeks after the rookie camp in Green Bay, the Packers called with a contract offer. They wanted the 6-3, 245-pound Division II receiver to convert to a West Coast-offense tight end.
Bostick certainly looks the part. He's tall and lean, with a build and speed similar to Jermichael Finley. But he also came as a project.
The biggest initial challenge for Bostick was learning the offense. In Mike McCarthy's system, tight ends can line up next to the tackle, in the slot, split wide or even at fullback. It's an extensive list of possibilities and responsibilities.
"At Newberry, we had a pretty basic offense," Bostick said. "I was always the back-side receiver, so I didn't have to learn that much."
He also didn't have to block much, and that duty remains a constant work in progress. It helps that he's now up to 260 pounds, and while getting bigger he doesn't believe he lost any agility. On the practice squad last season, he was awarded scout team player of the week multiple times by the coaching staff, emulating the likes of San Francisco's Vernon Davis and New Orleans' Jimmy Graham.
As year two begins, Bostick hears opportunity knocking. The Packers didn't draft a tight end last weekend, and the only free-agent addition to the position thus far is Matthew Mulligan, who was used much more as a blocker than pass-catcher in his four years with the Jets and Rams.
Behind Finley, Andrew Quarless is coming back from injury, while 2011 draft picks D.J. Williams and Ryan Taylor are entering their third seasons. There isn't room for everyone, but it isn't an overcrowded position, either.
When his second go-round at OTAs and training camp begins soon, Bostick believes he'll look like a different player, and not just because he'll be wearing a different jersey. He was given No. 86 at the start of offseason workouts last month after wearing No. 48 as a rookie.
With the additional 15 pounds, he plans to bring more physicality to his game, and with a better understanding of the offense, he hopes to be able to think less and react quicker.
He'll be ready for Rodgers' fastball this time.
"I think they're looking for me to do big things on offense and special teams," Bostick said. "This is the time for me to make that leap."