GREEN BAY – Through the season's first nine games, the Packers produced 14 turnovers, many of them big plays.
Here are the five most significant, in chronological order, and you can vote for your favorite in the poll on the right-hand side of the page.
Clay Matthews, INT at Chicago
The Packers were holding onto a 24-16 lead late in the fourth quarter at Soldier Field, and the Bears had driven to the Green Bay 29-yard line. On first down, LB Clay Matthews stepped in front of TE Martellus Bennett and intercepted QB Jay Cutler's pass, returning it across midfield. The Packers then drove for the game-clinching touchdown in their Week 1 victory.
Jayrone Elliott, INT vs. Seattle
The Packers had just taken a seven-point lead in the fourth quarter against the Seahawks when QB Russell Wilson tried to throw a quick screen pass to RB Marshawn Lynch. LB Jayrone Elliott was there to snag it, setting up the Packers in Seattle territory. The offense added a field goal with two minutes left to put the game away.
Sam Shields, INT at San Francisco
The Packers led 17-3 in the fourth quarter against the 49ers when QB Colin Kaepernick tried to go deep to WR Anquan Boldin. CB Sam Shields used his speed to close the gap on Boldin and then made a leaping interception, the veteran corner's second pick in as many weeks.
Quinten Rollins, 45-yard INT-TD vs. St. Louis
The Packers added to their 7-0 lead late in the first quarter against the Rams when QB Nick Foles threw a bad pass under pressure and rookie CB Quinten Rollins picked it off. Rollins raced untouched 45 yards for the score on the first of his two interceptions on the day – the first two of his pro career.
Ha Ha Clinton-Dix, INT vs. St. Louis
Protecting a two-touchdown lead in the fourth quarter, the Packers kept the Rams out of the end zone as LB Joe Thomas deflected Foles' pass intended for TE Lance Kendricks. The ball bounced off of Kendricks' helmet as well, and S Ha Ha Clinton-Dix made a diving interception in the end zone, the third of Green Bay's four picks on the day.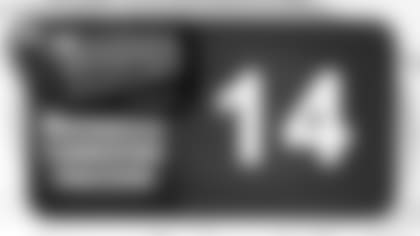 | | | |
| --- | --- | --- |
| Date | Opp | Turnover |
| Sunday, September 13 | at Chicago Bears | 42-yard interception return in 4th qtr. |
| Sunday, September 20 | vs. Seattle Seahawks | 2-yard interception return in 4th qtr. |
| Sunday, September 20 | vs. Seattle Seahawks | 4-yard fumble recovery in 4th qtr. |
| Monday, September 28 | vs. Kansas City Chiefs | 15-yard interception return in 3rd qtr. |
| Sunday, October 4 | at San Francisco 49ers | 0-yard interception return in 4th qtr. |
| Sunday, October 11 | vs St. Louis Rams | 2-yard interception return in 1st qtr. |
| Sunday, October 11 | vs St. Louis Rams | 45-yard interception TOUCHDOWN return in 1st qtr. |
| Sunday, October 11 | vs St. Louis Rams | 0-yard interception return in 4th qtr. |
| Sunday, October 11 | vs St. Louis Rams | 3-yard interception return in 4th qtr. |
| Sunday, October 18 | vs. San Diego Chargers | 0-yard fumble recovery in 2nd qtr. |
| Sunday, November 1 | at Denver Broncos | 0-yard interception return in 4th qtr. |
| Sunday, November 8 | at Carolina Panthers | 4-yard interception return in 4th qtr. |
| Sunday, November 15 | vs Detroit Lions | 2-yard interception return in 3rd qtr. |
| Sunday, November 15 | vs Detroit Lions | 0-yard fumble recovery in 4th qtr. |