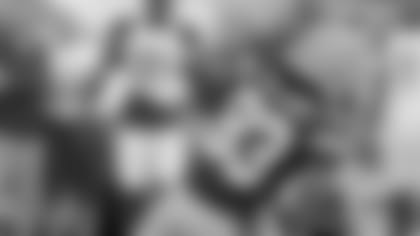 WR Tyrone Walker
GREEN BAY—Left tackle David Bakhtiari needed to show he belonged on Friday night for the Packers' sake. Receiver Tyrone Walker needed to do so for his own sake.
On a night the Packers didn't give a record Lambeau Field crowd of 73,738 much to cheer about in a 17-0 preseason loss to Arizona, rookies Bakhtiari and Walker got their professional careers off on the right foot.
Taking over for the injured Bryan Bulaga, Bakhtiari played the entire first half at left tackle and had no glaring errors. The fourth-round pick didn't allow either Aaron Rodgers or Graham Harrell to get sacked, and thus far he seems unfazed about getting thrown into the fire.
"I didn't feel overwhelmed at all," Bakhtiari said. "I bet I had some minuses when the coaches grade it, but I felt good overall with the way I played, especially for the first game."
Linemate Josh Sitton, who plays next to Bakhtiari at left guard, said the rookie was "100 percent on his assignments," while Rodgers said he wasn't "worried about him."
Those are two worthwhile votes of confidence, though in his level-headed way Bakhtiari acknowledged it was only two quarters of football against a typically vanilla preseason defensive scheme.
"I'll take the game as a confidence booster and know there's room to improve, but definitely not say that I'm there," he said. "I hope to never say I'm there, to continue to say there's always something more I can do. That's what I plan to do tomorrow, come to work and see what I have to improve on."
Walker is taking the same approach after a notable debut that saw him lead the Packers with five receptions for 41 yards.
A standout thus far on the practice field, Walker carried that into the game in his bid for a roster spot. On his biggest play, he caught Harrell's short throw on a crossing route and took it for 22 yards to convert a third down late in the first quarter. He picked up another third down from Harrell on a 7-yard hook route in the third quarter, and he might have had yet another third-down conversion had Harrell seen him waving his arms as he came across the middle.
The undersized, undrafted rookie already has come a long way. At 5-10, 191, Walker was a tryout player at the Packers' rookie orientation after the draft and needed to earn a contract just to get to training camp. Since camp began, he has taken advantage of the absences of receivers Charles Johnson and Kevin Dorsey, both draft picks out with leg injuries.
"That's always been my mindset, just staying positive," said Walker, who took his only college scholarship offer, to Illinois State, and set a slew of receiving records at the school.
"Right after the draft, things were looking down, but a lot of people said that was good for me, just because they saw me tuning in even more, as far as working. That was probably the best part, getting overlooked like that."
Walker was Harrell's favorite target, with six of Harrell's 19 throws coming his way. The No. 2 offense wasn't consistent enough in its six series, though, failing to score despite penetrating Arizona territory three straight times.
Harrell was intercepted when receiver Jeremy Ross ran into a defender on an in cut, and then Harrell lost a fumble on a sack when right tackle Marshall Newhouse was beaten cleanly around the edge by defensive end John Abraham. Harrell also was sacked when blitzing safety Tyrann Mathieu came in unblocked.
"There are a few plays I'd definitely like to have back, like the pick," Harrell said. "The (second) sack was definitely on me. We moved the ball at times, we just couldn't finish the drive. We'd get three or four first downs, and then for one reason or another we'd stall out.
"We couldn't convert third-and-shorts. We have to get better at finishing drives, for sure."
Quarterbacks Vince Young and B.J. Coleman fared no better, picking up just three first downs in five combined series.
Rodgers, whose lone drive ended with a failed fourth down at the goal line, was somewhat sympathetic to the plight of his backups in an early preseason setting but left no doubt that no matter who's on the field, the offense needs to pick its game up.
"The energy wasn't there," Rodgers said. "You expect with this many young guys playing, there'd be more energy from second and third groups, but we didn't have that tonight. I don't know if we're fatigued or not, but we have to bring a little more next week and start getting this looking the right way."
Additional coverage - Packers vs. Cardinals