GREEN BAY—Last year was the first draft in the previous five in which the Packers didn't select at least two offensive linemen.
On Saturday, they took two offensive linemen in less than an hour, drafting a pair of offensive tackles 13 picks apart in the fourth round, David Bakhtiari from Colorado (pick No. 109) and J.C. Tretter from Cornell (122).
Both players started their final two collegiate seasons at left tackle but played different positions prior. Bakhtiari was a right tackle as a sophomore, while Tretter was a tight end for his first two college years.
The Packers are listing both players as tackles, but Offensive Line Coach James Campen said they have the versatility to perhaps play other spots as well.
"We feel they can play multiple positions," Campen said. "Both these kids are very good athletes, flexible kids. A lot of flexibility gives you an opportunity to get better at a lot of positions."
Campen often touts the value of competition on the offensive line, and he emphasized that the competition in an already crowded room has been ratcheted up a notch with the addition of two fourth-round picks.
"That's a good thing to have," Campen said. "The men in that room understand that, they understood that before this draft, and our competition just got better."
Bakhtiari can't wait for that competition to start. He said he was working out earlier this month with Clay Matthews, who is good friends with Bakhtiari's older brother, Eric, who has played defensive end in the NFL for two teams.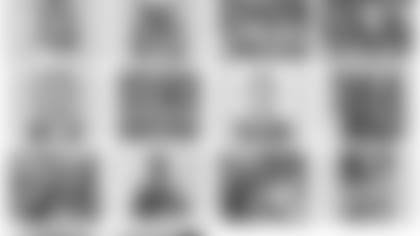 "I'm excited now to compete against him," said Bakhtiari, whose workouts with Matthews ended when the Packers and Matthews agreed to a new contract two weeks ago. "I want to learn from him and learn how to block him."
Listed at 6-4, 300, Bakhtiari started 33 career games in college, 22 at left tackle and 11 at right tackle, and was named second-team All-Pac-12 last year. He entered the draft with one year of eligibility left at Colorado, saying he felt "mentally mature enough" to take the next step. It's a big one, going from a one-win college team to a perennial NFL playoff contender, but Bakhtiari believes he's ready.
"I couldn't be happier than to be in an amazing organization on a great team," he said. "I'm more determined than I already was. I'm excited to get to Green Bay, get the playbook, study it and get to work and compete."
Tretter echoed those thoughts, recognizing he's making a big leap as well, from the Ivy League to the NFL. He joins another Ivy Leaguer on the Packers offensive line, Greg Van Roten from Penn.
Tretter's pre-draft process hit a snag when he broke his nose the day before he was scheduled to fly to the Senior Bowl, getting caught up in a fluke accident with defensive lineman Sheldon Richardson in a one-on-one pass blocking drill at the IMG Academy in Bradenton, Fla. He called that "one of the toughest parts of this whole process," but he was all smiles when he got the call from the Packers.
Making the transition from tight end to tackle, Tretter (6-4 307) steadily put on weight in college, and he believes he can add more if needed. He said his time at tight end, and as a quarterback in high school, has given him a solid understanding of the game and speaks to his athletic ability.
"It helped me understand coverages, kind of read the defense," Tretter said. "Having quick feet, being an athlete always helps on the offensive line. It helped with the (transition) process and I've come pretty far.
"It's a long way from when I was a 230-pound quarterback in high school."