The Green Bay Packers and WPS Health Solutions paid special tribute to U.S. Air Force Senior Airman James German and his family during Saturday's Packers-Vikings game for 'Operation Fan Mail.'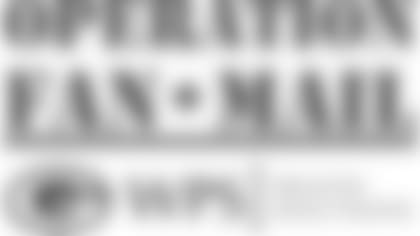 German, originally from Sault Sainte Marie, Mich., has been serving in the U.S. Air Force for five years. He currently serves as a security forces member assigned to the 31st Security Forces Squadron at the Aviano Air Base in Italy. As a member of the security forces, he helps to maintain rule of law on the base, and is responsible for ensuring the safety of all base weapons, property and personnel from hostile forces.
He was deployed from February through August of 2016 to the Incirlik Air Base in Turkey as a part of Operation Inherent Resolve. He previously served with the 91st Missile Security Forces Squadron at the Minot Air Force Base in North Dakota from 2011-13.
German currently lives in Aviano, Italy. A lifelong Packers fan, he is also a Packers shareholder. He attended Saturday's game with his father, Jim, his brother, Christopher, and his aunt, Linda Jukkala.
Operation Fan Mail, which debuted in 2007, is designed to recognize families with a member who is on active duty. The Packers and WPS Health Solutions will host a family at each 2016 home game and recognize them on the field during pregame activities. A total of 98 individuals or families have been recognized through the program thus far.
To choose families, the Packers and WPS Health Solutions are asking interested families, or friends of eligible families, to submit an essay, 500 words or less, on why a particular fan should be saluted. Essays can be sent to: Operation Fan Mail, P.O. Box 10628, Green Bay, WI, 54307-0628 or submitted online at packers.com/gameday/gamedaypromotions/operationfan_mail.
In addition to being recognized on-field prior to the game, selected families receive four tickets to the game. Families intended for recognition are those that have a member serving on active duty. The family member can be a spouse, mother, father, son, daughter or sibling.