The Green Bay Packers and WPS Health Solutions paid special tribute to U.S. Marine Captain Andrew White and his family during Sunday's Packers-Seahawks game for 'Operation Fan Mail.'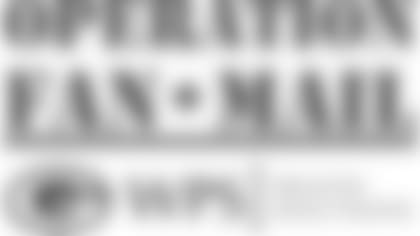 White, originally from Mission, Kan., has been serving in the U.S. Marine Corps for seven years. He currently serves as a military police officer, working as the anti-terrorism officer with the 13th MEU. Previously, he served as a platoon commander, a special reaction team leader, operations officer and company commander.
From 2011-14, White served in Okinawa, Japan, and New Zealand. For much of 2016, he has served with the 13th MEU for a Western Pacific Deployment, supporting operations in 12 different countries including Hong Kong, South Korea, Kuwait and Iraq.
During his career, White has earned numerous awards, including Overseas Service and Sea Service Ribbons, Global War on Terrorism Medals and a National Defense Medal.
White and his family currently live in Oceanside, Calif. He has been a Packers fan since age 6, when he was introduced to the team by his grandfather. He attended Sunday's game with his wife, Nicole, son, Caden, and mother, Denise.
Operation Fan Mail, which debuted in 2007, is designed to recognize families with a member who is on active duty. The Packers and WPS Health Solutions will host a family at each 2016 home game and recognize them on the field during pregame activities. A total of 97 individuals or families have been recognized through the program thus far.
To choose families, the Packers and WPS Health Solutions are asking interested families, or friends of eligible families, to submit an essay, 500 words or less, on why a particular fan should be saluted. Essays can be sent to: Operation Fan Mail, P.O. Box 10628, Green Bay, WI, 54307-0628 or submitted online at packers.com/gameday/gamedaypromotions/operationfan_mail.
In addition to being recognized on-field prior to the game, selected families receive four tickets to the game. Families intended for recognition are those that have a member serving on active duty. The family member can be a spouse, mother, father, son, daughter or sibling.