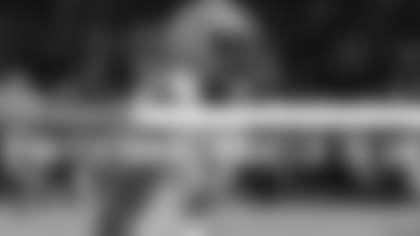 *HAWK FORCES FUMBLE LATE IN FIRST HALF
---
Late in the second quarter with the Packers leading 10-7, Bears QB Jay Cutler completed a pass to WR Alshon Jeffery. But as Packers CB Tramon Williams was in the process of tackling Jeffery, LB A.J. Hawk came in with a big hit to jar the ball loose. S Morgan Burnett recovered, lateraled to CB Sam Shields, and the Packers converted the turnover and good field position into a field goal before halftime and a 13-7 lead.
STARKS TAKES OFF ON 41-YARD RUN
Facing third-and-1 from their own 46-yard line midway through the third quarter, the Packers gave the ball to RB James Starks up the middle, and Starks burst through for what became a 41-yard run. The big play set up a touchdown and gave the Packers a 20-14 lead.
COBB HAULS IN 48-YARD TD PASS ON 4TH-&-8
With the season on the line on fourth-and-8 from the Chicago 48-yard line with less than a minute left, QB Aaron Rodgers dodged a potential sack by Bears DE Julius Peppers – with the help of a great block by FB John Kuhn – and spotted WR Randall Cobb running wide open down the middle of the field. Rodgers' rainbow settled easily into Cobb's arms for the score, and the Packers had a 33-28 victory and their third straight NFC North title.