Backup QB Matt Flynn
With Aaron Rodgers scheduled to play the first series only, this game will feature Flynn's most extensive action as an NFL quarterback. That's the norm for any No. 2 QB in the last preseason game, but in Flynn's case, this will be his first chance to take advantage of it.
Two years ago as a rookie, Flynn was the No. 3 quarterback in camp as a seventh-round draft pick. Then last year he had a shoulder injury and didn't get under center in any of the final three preseason games.
"I'm excited to go out there and play a lot of snaps and have fun out there and try to execute and get the 2's moving down the field and try to get in the end zone," Flynn said. "Really, I think we're all just looking forward to getting out there and giving everyone a chance to see what we're made of."
Thus far in the preseason, Flynn is 27-of-48 passing for 279 yards with two touchdowns and two interceptions, one of those a Hail Mary at the end of the first half against Cleveland. Last week against Indianapolis was his best showing, as he went 8-of-13 for 80 yards and two TDs. He led the offense on an impressive 15-play drive for a field goal against the Colts' No. 1 defense at the start of the third quarter, and then he twice took advantage of good field position (on a Colts turnover and failed onside kick) to throw his two TD passes.
Rodgers said he's having fun watching Flynn this year, seeing him make some of the same progression Rodgers felt he made himself from his second to his third season. Thursday night will be his best chance to show just how far he's come.
"He's had a couple bad breaks, otherwise I don't think he'd have an interception this preseason," Rodgers said. "He's done a great job moving the offense, his checks have been on point, he's throwing the ball better than he ever has. I think last week was kind of … it's about time. He's been playing like that for a while, and it's nice that the stats matched up to the way he's been playing."
Last chance
Twenty-two players will have to be cut by Saturday afternoon, so this is the last opportunity for a lot of rookies to show what they can do for the Packers, or to put something on film for other teams to evaluate.
Among many players who sit on or even outside the roster bubble, it's worth watching how receiver Jason Chery does handling all the punt- and kick-return duties, following his 75-yard punt return for a score last week against the Colts. Also, safety Anthony Levine may have a shot at a roster spot with Will Blackmon's injury status so iffy. Within a deep offensive line group, tackle Chris Campbell and guard Nick McDonald have one more game to show how much they've improved throughout camp.
After final cuts, the Packers also will be establishing their practice squad, so players are fighting for potential jobs there as well.
The punters
The battle has been ongoing since mid-March between Tim Masthay and Chris Bryan. Head Coach Mike McCarthy said early in camp he thought it might last all the way through the preseason, and it has.
The competition was as even as could be until probably last Thursday, when Masthay outperformed Bryan in the Colts game. Bryan now gets one more chance to make up for it, though he missed practice on Tuesday for personal reasons (his wife has been expecting) and his availability for the game was a bit up in the air.
McCarthy and special teams coordinator Shawn Slocum both feel that both of these punters will be working in the NFL this season. But only one can work for the Packers, and decision time has arrived.
RB Kregg Lumpkin
Not that someone with an injury history of his own wanted to see it happen this way, but Lumpkin couldn't have asked for a better opportunity to prove he should be the No. 3 running back on this roster.
Rookies James Starks (hamstring/PUP) and Quinn Porter (knee/IR) are now out of the picture, and if as expected Ryan Grant and Brandon Jackson take only limited snaps on Thursday night, Lumpkin should be handed a considerable workload. He made the roster with a strong preseason in 2008 as a non-drafted rookie free agent before getting hurt in Week 2, and then he was on the practice squad last season.
Fullback John Kuhn is another option to get carries behind Grant and Jackson, but if Lumpkin (20 carries, 68 yards, 2 TDs this preseason) wants the coaches to keep Kuhn as an emergency tailback only, now's the time for a big game.
A role for youth
The non-drafted rookies who have made the strongest case to make this team are outside linebacker Frank Zombo and cornerback Sam Shields. If they have made the roster, the next step is to find a role to play in the regular season.
Zombo's pass rush has stood out the most thus far, and with fellow outside linebacker Brad Jones dealing with a shoulder problem, Zombo could work himself into some pass-rushing packages for the season opener at Philadelphia. Meanwhile Shields could be the front-runner for the nickel cornerback job in Philly now that Al Harris is on reserve/PUP and Brandon Underwood has a shoulder injury. Could Shields be asked to run with speedy Eagles receiver DeSean Jackson on Sept. 12? If he shows enough progress Thursday night, maybe.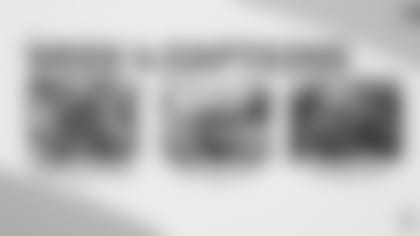 news
Packers pick captains for Thursday Night Football vs. Lions
Team will rotate captains on a weekly basis