Titletown will begin its first Winter Jubilee celebration on Thursday, Nov. 30, at 3 p.m., with the debut of the ice skating rink in Titletown, grand opening of 46 Below bistro and Rockwood Terrace event space and inaugural Winter Jubilee Light Show.
The first day of the Winter Jubilee on Nov. 30, which will also feature ice sculptors and visits from Santa Claus, will kick off a series of festive Titletown activities to be held throughout the winter season, with holiday programming in December and more opportunities for winter recreation in future months.
The Winter Jubilee Light Show at Titletown will take place most Thursday, Friday and Saturday evening from Nov. 30 until Dec. 30. A dazzling blend of holiday-themed lights, music and special effects, this family-friendly presentation will also feature animation, lasers and fireworks.
The free show will be projected onto Lambeau Field's outer west façade, off of Ridge Road. Guests can get the best view of the show by looking at the stadium from the plaza at Titletown or Lambeau Field parking lots 5 and 6. The show is seven minutes long, and will play every half hour from 6 to 9 p.m. For a full list of show dates and times, please visit **packers.com/Titletown**.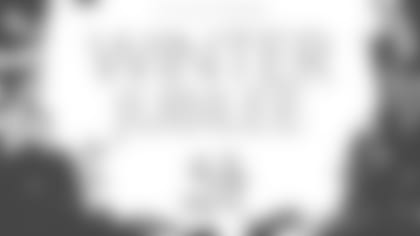 The ice skating rink at Titletown will also open Nov. 30, along with 46 Below and Rockwood Terrace. Hours for the rink, as well as admission and skate rental prices, will be announced soon.
Additionally, kids will have the opportunity to visit with Santa at Titletown from 3:30 to 6 p.m. on Nov. 30, and from 10 a.m. to noon at Titletown on Saturday, Dec. 16.
Visitors to Titletown are invited to watch ice sculptors turn blocks of ice into works of art as part of the Winter Jubilee. Demos will take place at the plaza at Titletown and once they are complete, guests will be able to take pictures with the masterpieces.
Ice sculpting will take place on Thursday, Nov. 30, from 3:30 to 5 p.m., and from 5 to 6:30 p.m. Friday, Dec. 8, Friday, Dec. 15 and Friday, Dec. 22.
All Winter Jubilee events are open to the public, with all activities free unless otherwise noted. Guests on Nov. 30 and throughout the holidays will be able to park at the Titletown parking lot off of Lombardi Avenue or in Lambeau Field parking lots 5 and 6.
With winter activities beginning, the park at Titletown will remain open from 7 a.m. to 10 p.m. Titletown's game courts and playground will be closed for the season, but the field and plaza will remain open for winter activities.
Ariens Hill, the tubing hill adjacent to the ice skating rink, will open in the coming weeks, as soon as weather conditions are favorable for making snow. More information regarding Ariens Hill, tubing hours and admission prices will be announced soon.