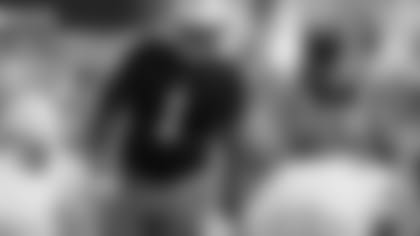 GREEN BAY—The oohs and ahhs at the Senior Bowl are usually reserved for the one-on-one passing drills, but not this year. I can't remember hearing an ooh or an ahh during any of the passing drills, other than for a mild attempt at each on the first day of practice, when Vanderbilt's Jordan Matthews made a pleasant-looking over-the-shoulder catch along the sideline.
This wasn't a passing camp. This was a stage for blockers and tacklers to perform, and they did.
By now, you know all about Aaron Donald and Chris Borland, the stars of this week's Senior Bowl practices. They were, by far, the most dominant players. They're also the most size-challenged players in this year's Senior Bowl, and that begs the question: Has the game's pendulum swung so far to one side that it's now favoring a full swing back to the other side? Is smaller, faster, stronger about to replace bigger, stronger, faster on the defensive side of the ball, or are Donald and Borland accidental aberrations?
Here's another question: Is the game now being played so completely with hands and arms that it's all of a sudden favoring two old-school guys that play with their shoulders and hips? I don't know the answer that question; I'm just asking it.
Donald and Borland aren't the only guys that made an impression in the run-and-hit department. You want defense – I really didn't need to ask that question, did I, Packers fans? All right, here are some other guys I think you'll like:
Jordan Zumwalt of UCLA—He got my attention on day two, when coaches told him to ease up a little bit after a couple of big hits were a little too big. I fell in love with Zumwalt on day three, as we did a walk-and-talk following practice. Something about the blood on his forehead excited me. Yes, I need help, but so do the Packers and I think this guy could give it to them. Zumwalt is a run-and-hit linebacker who can rush and drop.
Christian Kirksey of Iowa—In blitz pickup, when nearly everybody else was trying to run around the block, Kirksey ran through it. Bang! OK, baby, show me more. He did. Kirksey flows to the ball and arrives with force. He's not L.T. but he can rush a little. He's not Jack Ham but he can cover a little. Kirksey is a well-rounded prospect that offers play-right-away potential.
Dee Ford of Auburn—Yeah, I know, he's a one-trick pony, but isn't that why we have coaches? So teach him some more tricks. This guy might have the best speed rush in the draft, and his knee is only at 90 percent. He was hidden by that knee injury all season. He's a tweener playing defensive end, which means we didn't see whether he can drop into coverage, but there'll be time for that down the road. Ford is a natural speed rusher, which is what playing linebacker in a 3-4 is all about.
Jeremiah Attaochu of Georgia Tech—He was a lot better during the season than he was this past week, but this is a natural defensive end making the move to outside linebacker and he deserves time to learn his new craft.
Hey, what do I know? So I asked Tony Pauline: What would you do to fix the Packers defense? Is there one player in this draft that could do it?
"Forget about the safeties," Pauline said, suggesting in rather strong terms that the crop of safeties this year is of a much lesser caliber than last year's crop. "The one guy, linebacker, that can line up in multiple positions and provide impact is C.J. Mosley. They'd probably have to trade up. He's a complete linebacker. He'll play any position."
Mosley was originally on the Senior Bowl roster, but later opted out. He was replaced by Alabama teammate Adrian Hubbard, who at 6-6 has the length scouts and moved with the grace of a power forward, but he never went bang! I need to hear bang! I like bang!
"Tony, what about safety? There must be one worthy of picking, right?"
"The guy that's going to make a late move is Calvin Pryor; very explosive and sudden," Pauline said of Pryor, an underclassman from Louisville.
American Athletic Conference, right? Isn't that what's left from the old Big East, which wasn't very good when it was a whole conference?
"The guy to consider at 21 is Louis Nix of Notre Dame," Pauline said, giving a less than 50-50 chance of being available when the Packers are scheduled to pick at 21. "If he had entered the 2013 draft, he'd have been a top 10 pick. He gained a lot of weight and never got on track."
So, did somebody force him to eat?
"Hey, you asked," Tony said.
You say Donald and Borland will be available at 21, huh? Maybe they could just pick one of them.