Due to the extreme temperature and heat index, the Packers 1K Kids Run, presented by Edvest, has been canceled for Friday evening. The Packers, in partnership with Bellin Health, have been monitoring the weather over the past few days and believe the conditions are too dangerous for the event to proceed.
All pre-registered 1K participants still are encouraged to pick up their packets in the Lambeau Field Atrium on Friday, July 19, from 3 to 6 p.m.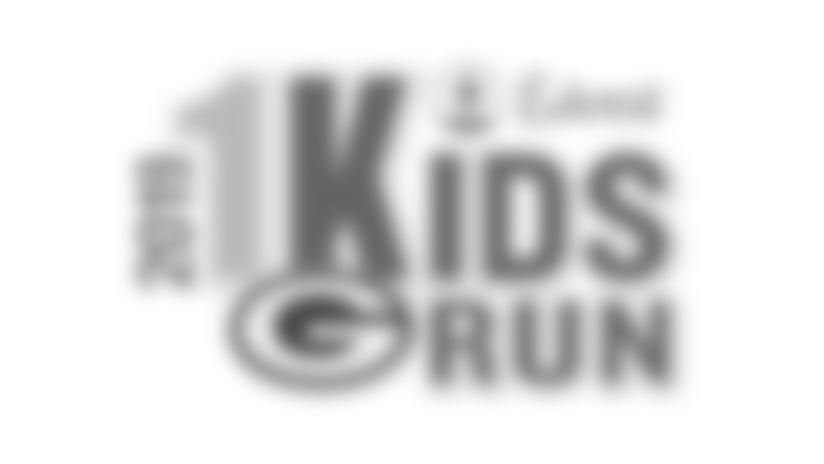 Registration Fees
Kids 10 years old & younger: $10
Online Registration
Online registration for the 2019 Packers 1K Kids Run will open May 6. Walk-up registration will be available on Friday, July 19 from 3 p.m. - 5:30 p.m. Online registration closes July 17, 2019 at 11:59 p.m.
Download the registration form. Please send your completed registration form and a check made payable to:
Green Bay Packers 5K Run/Walk
P.O. Box 10628
Green Bay, WI 54307-0628
Packet Pick-Up
Kids Run participants may pick up their race packets on Friday, July 19 starting at 3 p.m. at Lambeau Field Atrium. Please pick up your race packet at least 15 minutes prior to your designated wave estimated start time.
All Kids Run Participants will receive:
Packers Kids Run T-Shirt
Packers Kids Run Logo Bag
Participant Medal
Staging
The staging of the Kids Run will be outside the Oneida Nation gate in the southeast corner of the Lambeau Field parking lot. There will be four waves of runners, broken up by age, each with their own respective estimated start time. Boys and girls will be broken up in each division to avoid congestion in the stadium.
10 year olds: Approximately 6 p.m.
8 & 9 year olds: Approximately 6:10 p.m.
6 & 7 year olds: Approximately 6:20 p.m.
5 years & under: Approximately 6:30 p.m.
It is mandatory that a parent or guardian accompany children 5 years & under.
Parents/Guardians pushing strollers: Please line up towards the back of the wave out of courtesy to the other parents and children running on their own.
Participants in the 1K Kids Run may move back waves but may not move up waves. We want this to be safe, exciting and memorable for all, please be courteous to ALL participants.